This is my Body, given for you
As we draw near to our God this Christmas morning and receive the great gift of His Body, Blood, Soul, and Divinity, let us not hesitate to give ourselves back to Him. Let us enter the holy game, feel the uncreated rhythm, and join in the eternal dance which sanctifies us and the world. Let us also have a Merry Christmas!
KNOXVILLE, TN (Catholic Online) - Christmas is a time of giving. Giving a gift to others is a good thing, but it points to a deeper meaning. We will not find this deeper meaning under the Christmas tree, but it is not a bad place to start. The deepest meaning, however, is found in the Eucharist because the Eucharist is the absolute fullness of giving in the physical universe. So with this thought in mind, let us reflect on God's gift of Himself to us.
 
"'The Eucharist. . . is the culmination both of God's action sanctifying the world in Christ and of the worship men offer to Christ and through him to the Father in the Holy Spirit'" (1325). This quotation is from the Catechism of the Catholic Church, yet it fills our minds with images and inspires us like good poetry. So what does this divine verse reveal to us?
He is not a poet or a theologian, but Peter Kreeft, a Boston University professor and Catholic philosopher, may be able to help us answer our question. In order to find an answer, Dr. Kreeft does what philosophers generally do: he goes digging all the way back to the beginning in search of the root of the matter, in this case, all the way back to the nature of God and the beginning of creation. The following is a summary of part 3, chapter 4.2 of Dr. Kreeft's book Catholic Christianity.
God's inner life is one of infinite perfection and triune love. It is a life of total giving, the continual and total pouring out of Himself to an infinite and perfect degree. In addition, though fully complete and blessed within His own inner life, God goes beyond His inner life. He desires to pour Himself out beyond Himself, to share his blessed and happy life. This is the reason God created the universe and gave us the gift of existence.
Moreover, God wants to share His life with us. He wants us to enjoy His love in this life and the next. Thus, He revealed Himself to us through His chosen people, through whom He established a covenant; He revealed His laws; He sent His prophets; and He fulfilled the covenant Himself by sending His Son, Jesus, who continues to reveal God's presence in the world.
Jesus was born, lived, died, rose from the dead, and ascended into heaven in order to redeem us from our sins and unite us with God. Jesus also continued God's paternal pattern by appointing apostles, establishing a church--his Mystical Body--and instituting the Eucharist, which is Jesus whole and entire (Body, Blood, Soul, and Divinity) and the mode by which he remains in the world.
Dr Kreeft also says that we can understand the purpose of the universe by looking at a cathedral, because all creation is a gigantic cathedral. "Every detail in the great medieval cathedrals," he says, "was for the Eucharist. They were built primarily. . . to house the Eucharist" (321).  Similarly, the Church that Jesus established on earth is for the Eucharist.
"The Eucharist is the most intimate union between us and Christ that exists in this world" (321). Love's ultimate aim is union, and the Eucharist is the most perfect expression of God's triune life of love. The conclusion, Dr Kreeft says, is that God created the universe for this loving union. In this respect, the poetry of God's action and man's worship reveals the following:
God has given us His all. Jesus poured his divinity into our nature. Then he poured himself out completely on the cross. Then he humbled himself even further, becoming "ground wheat." Jesus gave himself away completely. He loved the Father and us perfectly. All that remains is for us to accept God's great gift of love and give it back to Him by living Eucharistically and entering into His triune life.
Although he is not Catholic, the famous Christian author and scholar, C. S. Lewis, gives us a beautiful description of this life in his book, The Problem of Pain. He begins with the concept of self. He says the self exists to be given away, and in self-giving we touch a rhythm not only of all creation but of all being. The complete description reads like theology, metaphysics and poetry all rolled up in one small package. It is well worth meditating on. I have included it below:
"The golden apple of selfhood, thrown among the false gods, became an apple of discord because they scrambled for it. They did not know the first rule of the holy game, which is that every player must by all means touch the ball and then immediately pass it on. To be found with it in your hands is a fault: to cling to it, death. But when it flies to and fro among the players too swift for eye to follow, and the great master Himself leads the revelry, giving Himself eternally to His creatures in the generation, and back to Himself in the sacrifice, of the Word, then indeed the eternal dance 'makes heaven drowsy with the harmony.' All pains and pleasures we have known on earth are early initiations in the movements of that dance: but the dance itself is strictly incomparable with the sufferings of this present time. As we draw nearer to its uncreated rhythm, pain and pleasure sink almost out of sight" (157-158).
As we draw near to our God this Christmas morning to receive the great gift of His Body and Blood, let us not hesitate to give ourselves in return. Let us enter the holy game, feel the uncreated rhythm, and join in the eternal dance which sanctifies us and the world.  Let us also have a Merry Christmas!
 
 
-----
Michael Terheyden was born into a Catholic family, but that is not why he is a Catholic. He is a Catholic because he believes that truth is real, that it is beautiful and good, and that the fullness of truth is in the Catholic Church. However, he knows that God's grace operating throughout his life is the main reason he is a Catholic. He is greatly blessed to share his faith and his life with his beautiful wife, Dorothy. They have four grown children and three grandchildren.

---
Copywriter 2015 - Distributed by THE NEWS CONSORTIUM
Pope Francis Prayer Intentions for October 2015
Universal:
That human trafficking, the modern form of slavery, may be eradicated.
Evangelization:
That with a missionary spirit the Christian communities of Asia may announce the Gospel to those who are still awaiting it.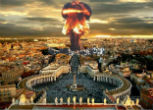 By Marshall Connolly, Catholic Online (CALIFORNIA NETWORK)
Pope Francis has invoked Mark, Chapter 13 as a warning that we may be approaching the end times. He suggested that what he has seen appears to fit the end times as described by Jesus. LOS ANGELES, CA (Catholic Online) - Pope Francis has warned that we could be in the ... continue reading
---

By Kenya Sinclair (CALIFORNIA NETWORK)
Despite the growing belief that religion is losing its influence, people continue to firmly believe in the necessity for exorcisms. LOS ANGELES, CA (Catholic Online) - According to a Pew Research Survey, 68 percent of Americans believe angels and demons exist on Earth. ... continue reading
---

By Kenya Sinclair (CALIFORNIA NETWORK)
Each year, millions of people across the United States rush to grocery stores and prepare to visit their families in celebration of Thanksgiving. Visiting loved ones and enjoying a specially prepared meal are both wonderful parts of celebrating, but don't forget to ... continue reading
---

By Catholic Online (NEWS CONSORTIUM)
Pope Francis has made it clear, Jesus is weeping over a world at war. It has become obvious that this is a time of extreme danger for all people around the globe. No population is safe from terror. The threats aren't just from terrorist organizations like ISIS and Al ... continue reading
---

By Catholic Online (CALIFORNIA NETWORK)
The veneration of relics in the Catholic Church has been one of the most debated practices in the faith. While such veneration is actually common in the human experience -even Communists did it with the body of Lenin, the veneration of relics in the Church is the ... continue reading
---

By Tony Magliano
During the recent U.S. Catholic bishops' fall assembly in Baltimore, several bishops and one abbot, decided to skip dinner at the downtown Marriott Waterfront hotel, and walked several blocks to an inner city parish to share a simple meal with about 30 peace ... continue reading
---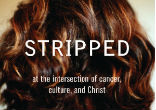 By Mary Rezac, CNA/EWTN News
Heather King never cared much for doctors. Los Angeles, CA (CNA) - It's an attitude she partly inherited from her mother, "who classified ginger ale as a medicine, considered Novocain a snobbish extravagance" and somehow managed to avoid a visit to the doctor's office ... continue reading
---
By Kenya Sinclair (CALIFORNIA NETWORK)
It is easy to fall prey to depression and sadness with everything that has been going on in the world these days. The trick to maintaining a positive attitude and living in the joy God has for us is as easy as following five simple steps. LOS ANGELES, CA (Catholic ... continue reading
---

By Marshall Connolly, Catholic Online (THE CALIFORNIA NETWORK)
Want to lose the War on Christmas? Surrender Advent. We Christians have gone out of our minds, arguing about Starbucks cups and greeters who (correctly) say "Happy Holidays" in place of "Merry Christmas." In all the bustle of the season, we have forgotten that Advent ... continue reading
---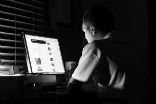 By Catholic Online (NEWS CONSORTIUM)
There is one thing you can do every day that will profit you in many ways. It requires no work and the most minimal effort. It will inform you, inspire you, and ignite your passions. That thing is to visit Catholic Online every day. LOS ANGELES, CA (Catholic Online) - ... continue reading
---
All Living Faith News