When some cross presents itself in our life, let us not fear; for the All-Powerful Child has plans for those whom he loves; plans of such unfathomable beauty and wonder.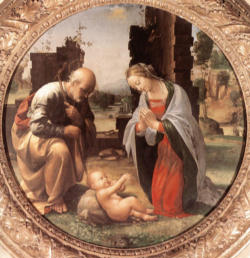 GLADE PARK, CO (Catholic Online) - Christmas is upon us; the Child has arrived; his presence brings inexpressible joy to those who love him. In that joy, each and every Christmas, a new world opens before us as disciples of Christ who plumb the depths of God Incarnate's love.

At prayer, we begin to see something of the boundless Trinitarian river of love. How we so desire to enter into it! Yet there are many tensions in our lives which can cause us to remain some distance away. There are concerns, fears and obstacles; there is some misunderstanding, some darkness in the intellect. There, too, are temptations which labor against our Faith.

A temptation which often presents itself is one which encourages us to separate those unfortunate, tense or even frightening circumstances we encounter in life from God's plan for us. We tend to think our troubles in life are outside of God's providence, and that if we can only extricate ourselves from them we will, then, be happy. The thought is that an unpalatable circumstance is entirely random - what some would call "bad luck".

In the quest to distance ourselves from every anxiety, we often begin to live in such a way as to constantly seek change for "the better". There is a self-inflicted stress in such a life; a nervous movement toward some savored goal which, once attained, turns out empty. It is like chasing a mirage. The image presents itself in what seems such clarity. Yet it can never be reached. It is an illusion.

Everyone experiences unhappiness. As St. Augustine so wonderfully expressed, our hearts will not rest until they rest in God. We will not be fully and completely happy until that point at which we are face to face with God, caught up in the Beatific Vision. Yet, though unhappiness and suffering comes to all, there is a strong tendency to develop a disordered fear of such realities. A cause of this fear is some degree of distrust in God; an effect of the same is distress. Then, when something unpleasant happens, we feel that we have been abandoned.

Further, when what we perceive as a terrible circumstance occurs, we find it difficult to imagine how something good could come of it. We tend to fixate on the arrival of some suffering, closing our eyes to what lies beyond. We self-limit our sight, so to speak: we have an obdurate tendency to evaluate based only on our senses: we see only what reaches the eyes; we hear only what sounds in the ears; we feel only what can be physically touched. Yet if we are to live with the Christ Child we have to look beyond the surface; we have to have eternal sight; we have to hear with our hearts, sense with our immortal and spiritual souls.

If we truly have faith it should not be so difficult to trust God. Understand that what things appear to be on the surface are just that: surface appearances. There is so much more. And it is all in God's control. Catholics and other Christians believe in the All-Powerful God who is infinitely capable and loving; a personal God who created us, cares for us, and guides us. Nevertheless, it is unfortunate that many see little but randomness in life and chaos in Providence.

There is hardly a more terrifying example of suffering than Auschwitz. In exchange of his life for another, St. Maximilian Kolbe was put to a torturous death there. Yet we can be certain that he is now thrilled over what some might see as only a tragic end to his life. With wisdom from heaven, St. Maximilian illuminates the relationship between happiness and the misunderstood circumstances of life: "We are sometimes depressed because we do not see the relationship that exists between our happiness and these circumstances which sadden us; on the contrary, because of our minds' limitation, we are unable to grasp everything. By having faith in God, even without understanding things directly, we can give him great glory, because we acknowledge his wisdom, his goodness, and his power."

While the suffering at Auschwitz was horrifically evil, the sadness St. Maximilian encountered there was temporary. Further, by embracing the cross of suffering which was presented to him, he transformed suffering into a reality of joy. Is that not what Christ did? By all appearances, our Lord's suffering on the Cross was nothing but defeat. Yet in its true dimension it was a success so great as to be unimaginable.

As the frightening realities of the Holocaust raged around St. Teresa Benedicta (Edith Stein), she wrote of the cross which had been placed upon the Jewish people: "Most of them will not understand it. But those who do understand must accept it willingly in the name of all. I wanted to do that. . . . But in what the bearing of the cross was to consist I did not yet know." One week after arriving at Auschwitz, St. Teresa Benedicta of the Cross and her sister Rosa were sent to the gas chambers.

As yet another example, let us consider St. Maria Gorretti. This dear, pure twelve year-old child was brutally and repeatedly stabbed due to her refusal to let a young man have his way with her. She was hospitalized, but died the next day after publicly forgiving Alessandro. One can only imagine the sorrows her mother felt over Maria's violently inflicted injuries and tragic death. The story does not end there however.

Eight years into his prison term, Allessandro experienced a disturbing dream in which he saw Maria picking flowers for him. Allessandro soon converted to Christianity. Twenty-seven years later, his first act of freedom was to visit Maria's mother and beg her forgiveness. On Christmas, 1937, surrounded by a quarter-million brothers and sisters, Alessandro and Maria's mother received Eucharist together in St. Peter's Square.

Pope Pius XII observed that St. Maria is a "martyr for purity". Could her life have turned out any more perfect? Is she the least bit sad over the evil that befell her during her earthly life? Imagine St. Maria in heaven picking those flowers for her former attacker - a man she truly loves in the completeness of her Christian life with God. Those flowers may have been many different colors, but each one's fragrance was Trust.

72 years and a few days later from that time of rejoicing in St. Peter's Square, it is again a time to renew our Faith. Christ is among us; his loving presence graces us with an inward joy and peace beyond the world. When we gaze upon the life of the Child, we see many wondrous things - all of them point in some manner to trust.
"Let nothing disturb thee; nothing frighten thee. All things are passing. God never changes. Patience obtains all things. Nothing is wanting to him who possesses God. God alone suffices." - St. Teresa of Avila

Just days ago we celebrated the Feast of the Holy Innocents. Furious that he had been deceived by the Magi, Herod "ordered the massacre of all the boys in Bethlehem and its vicinity two years old and under . . . Then was fulfilled what had been said through Jeremiah the prophet: 'A voice was heard in Ramah, sobbing and loud lamentation; Rachel weeping for her children, and she would not be consoled, since they were no more'" (see Mt. 2:16-18).

St. Quodvultdeus tells us in a sermon, "The [Holy Innocents] die for Christ, though they do not know it. The parents mourn for the death of martyrs. The [Christ] child makes of those as yet unable to speak fit witnesses to himself. See the kind of kingdom that is his, coming as he did in order to be this kind of king. See how the deliverer is already working deliverance, the Savior already working salvation. . . . How great a gift of grace is here! To what merits of their own do the children owe this kind of victory? They cannot speak, yet they bear witness to Christ. They cannot use their limbs to engage in battle, yet already they bear off the palm of victory" (excerpt from Sermo 2 de Symbolo: PL 40, 655).

The mothers of the Holy Innocents now understand the beautiful goodness the Christ Child brought forth from the evils of their children's death. Their tragic cries have now turned to joy; what once seemed endless unhappiness was actually a pivotal point in the lives of the Innocents. Christ wiped every tear from their eyes.

As the model of Christian trust we turn to our Blessed Mother. We can only speculate as to how much she did or did not understand of the mysterious and wondrous life she was to lead as the Mother of God. Of this we are certain: Mary understood the meanings of suffering, trust, and Providence. From that moment the angel Gabriel announced "Hail, favored one!" (Lk. 1:28), to that eve in the cave at Bethlehem, to that heart-piercing agony she experienced at the foot of the Cross, the Virgin Mary was and is the exemplar of trust. She never attempted to remove herself from whatever God presented. Rather, her answer was: "Behold, I am the handmaid of the Lord. May it be done to me according to your word" (Lk. 1:38).

When some cross presents itself in our life, let us not fear; for the All-Powerful Child has plans for those whom he loves; plans of such unfathomable beauty and wonder that we would die of joy should we experience them too soon. Look beyond the surface. Gaze into eternity. See the Christ Child. Give yourself to him entirely that you may see what he is doing for you.

-----

F. K. Bartels is managing editor of catholicpathways.com. He is a contributing writer for Catholic Online.


---
Copywriter 2015 - Distributed by THE NEWS CONSORTIUM
Pope Francis Prayer Intentions for October 2015
Universal:
That human trafficking, the modern form of slavery, may be eradicated.
Evangelization:
That with a missionary spirit the Christian communities of Asia may announce the Gospel to those who are still awaiting it.

By Kenya Sinclair (CALIFORNIA NETWORK)
Each year, millions of people across the United States rush to grocery stores and prepare to visit their families in celebration of Thanksgiving. Visiting loved ones and enjoying a specially prepared meal are both wonderful parts of celebrating, but don't forget to ... continue reading
---

By Catholic Online (NEWS CONSORTIUM)
Pope Francis has made it clear, Jesus is weeping over a world at war. It has become obvious that this is a time of extreme danger for all people around the globe. No population is safe from terror. The threats aren't just from terrorist organizations like ISIS and Al ... continue reading
---

By Catholic Online (CALIFORNIA NETWORK)
The veneration of relics in the Catholic Church has been one of the most debated practices in the faith. While such veneration is actually common in the human experience -even Communists did it with the body of Lenin, the veneration of relics in the Church is the ... continue reading
---

By Tony Magliano
During the recent U.S. Catholic bishops' fall assembly in Baltimore, several bishops and one abbot, decided to skip dinner at the downtown Marriott Waterfront hotel, and walked several blocks to an inner city parish to share a simple meal with about 30 peace ... continue reading
---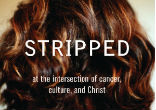 By Mary Rezac, CNA/EWTN News
Heather King never cared much for doctors. Los Angeles, CA (CNA) - It's an attitude she partly inherited from her mother, "who classified ginger ale as a medicine, considered Novocain a snobbish extravagance" and somehow managed to avoid a visit to the doctor's office ... continue reading
---
By Kenya Sinclair (CALIFORNIA NETWORK)
It is easy to fall prey to depression and sadness with everything that has been going on in the world these days. The trick to maintaining a positive attitude and living in the joy God has for us is as easy as following five simple steps. LOS ANGELES, CA (Catholic ... continue reading
---

By Marshall Connolly, Catholic Online (THE CALIFORNIA NETWORK)
Want to lose the War on Christmas? Surrender Advent. We Christians have gone out of our minds, arguing about Starbucks cups and greeters who (correctly) say "Happy Holidays" in place of "Merry Christmas." In all the bustle of the season, we have forgotten that Advent ... continue reading
---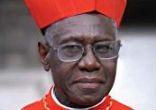 By Elise Harris, CNA/EWTN News
At the presentation of his new book, Cardinal Robert Sarah said that Western society is rapidly forgetting God, and expressed his desire to help people rediscover him through both prayer and witness. Vatican City (CNA/EWTN News) - "I would like to help people ... continue reading
---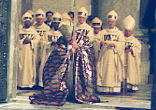 By Elise Harris, CNA/EWTN News
Hidden since the Jubilee of 2000, the Holy Door in St. Peter's Basilica was revealed Tuesday as the brick wall covering it was removed in anticipation of the Holy Year of Mercy launching next month. Vatican City (CNA/EWTN News) - Cardinal Angelo Comastri, the ... continue reading
---

By Abigail James (CALIFORNIA NETWORK)
Fear is a powerful thing. Fear can completely cripple the body and soul. Since the terrifying Paris terrorist attacks last week the news has been full of death, terrorists, murder and fear. LOS ANGELES, CA (Catholic Online) - Those not in power are left wondering ... continue reading
---
All Living Faith News