Holy Week
---
On Palm Sunday, we celebrate the first joy of the season, as we celebrate Our Lord's triumphant entrance into Jerusalem where he was welcomed by crowds worshiping him and laying down palm leaves before him. It also marks the beginning of Holy Week, with the greatest tragedy and sorrow of the year.
Jesus' triumphant return to Jerusalem is only one side of the story.
By now many of the Jews are filled with hate for Our Lord. They want to see him stoned, calling Him a blasphemer, especially after offering proof of His Divinity during a winter visit to Jerusalem for the Feast of the Dedication.
After this, Jesus went to Perea, where he was summoned to Bethany. There he raised Lazarus from the dead, a miracle which wins Him such renown among certain Pharisees that they decided finally to end His life.
Jesus took refuge at Ephrem returning six days before Passover to Bethany, triumphantly entering Jerusalem. That evening, He leaves Jerusalem and returns Monday. He spent time with Gentiles in the Temple, and on Wednesday left for the Mount of Olives. Here he foretold the apostles the events of the next several days, including His impending death.
He returned to Jerusalem on Thursday, to share the Last Supper with His apostles. He was subsequently arrested and tried. He was crucified at Calvary on Friday, outside the gates of Jerusalem.
He was buried the same day, and arose three days later, on Easter Sunday.
All of this is done by our Lord for forgiveness of our sins, and for life everlasting with Him.
God so loved us, that He sent His only begotten Son to die for us, so that our sins maybe forgiven.
---
More Lent & Easter
---
'So it is written that the Christ would suffer and on the third day rise from the dead'
Easter / Lent News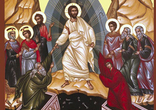 While Easter is a Solemnity and an octave feast, it is also a 50 day season until Pentecost.The Season of Easter is not just about His ... continue reading
---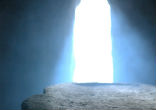 What lesson is the Lord teaching us by keeping his wounds intact? Perhaps we can better answer this question by turning to our own wounds. ... continue reading
---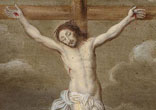 As a teenager I ran into someone who introduced me to the finer points of the occupation. We fell into the tried and proven method of ... continue reading
---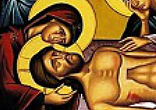 Something strange is happening - there is a great silence on earth today, a great silence and stillness. The whole earth keeps silence ... continue reading
---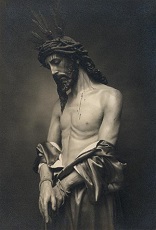 Today as we contemplate the Passion we also plumb the mystery and meaning of the Church. We are members of His Body. She was born ... continue reading
---

Copyright 2017 Catholic Online. All materials contained on this site, whether written, audible or visual are the exclusive property of Catholic Online and are protected under U.S. and International copyright laws, © Copyright 2017 Catholic Online. Any unauthorized use, without prior written consent of Catholic Online is strictly forbidden and prohibited.