The One through whom we were first created is re-creating us through His grace,as we live our lives in Him. We do not yet perceive who we are to become
The admonition from Jesus is clear. It is repeated in other Gospel accounts and developed in several New Testament Epistles. I suggest that our problem with understanding and responding to the passage is twofold; we misunderstand the meaning of the word and we have a limited our comprehension of the goal of salvation in Jesus Christ.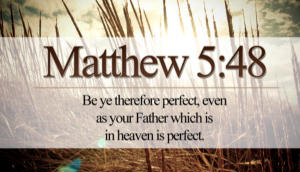 CHESAPEAKE, VA. (Catholic Online) - The Gospel of today's Mass is challenging: "Jesus said to his disciples: "You have heard that it was said, You shall love your neighbor and hate your enemy. But I say to you, love your enemies and pray for those who persecute you, that you may be children of your heavenly Father, for he makes his sun rise on the bad and the good, and causes rain to fall on the just and the unjust."
"For if you love those who love you, what recompense will you have? Do not the tax collectors do the same? And if you greet your brothers only, what is unusual about that? Do not the pagans do the same? So be perfect, just as your heavenly Father is perfect." (St. Matthew 5: 43-48)
Perfect?
The admonition from Jesus is clear. It is repeated in other Gospel accounts and developed in several New Testament Epistles. I suggest that our problem with understanding and responding to the passage is twofold; we misunderstand the meaning of the word and we have a limited our comprehension of the goal of salvation in Jesus Christ. 
The One through whom we were first created is re-creating us through His grace,as we live our lives in Him. We do not yet perceive who we are to become. The beloved dsiciple John explained in his first letter, "Beloved, we are God's children now; it does not yet appear what we shall be, but we know that when he appears we shall be like him, for we shall see him as he is. " (1 John 3:2)
It helps to consider the word translated perfect in English in order to grasp the call to participation contained in this invitation to conversion. Filtering this word through linguistic limitations, we might not even try to respond to the invitation and miss the grace of conversion needed to actually live the call to love.
In Greek, the word is telios.
Telios refers to something being completed, brought to its full purpose, potential and intended end and vocation. For example, in the world of objects, a hammer is telios or perfect when it is hammering a nail. In the world of subjects, things are telios or perfect when they are fulfilling their nature.
We were created in the Image of the God of Love who made us for love. In Jesus Christ, we are now capacitated, to use a term of the early father and Bishop Ireneaus of Lyons, made capable by the grace of His Redemption,  of loving as God loves. In fact we are called to love others with God's very love. "God is love, and he who abides in love abides in God, and God abides in him" (1 Jn 4:16).
As we respond to this invitation with both our words and our actions, as we cooperate with grace, we are completed or perfected in Jesus christ. In our Western minds, we limit this word perfect and can  fail to grasp its promise and potential. We equate it with being sinless, in the sense of never again making a wrong choice. We think of it mathematically rather than relationally.
However, the concept is also applied to Jesus by the author of the New Testament Letter to the Hebrews in chapter 5 verses 8-9: "Although he was a Son, he learned obedience through what he suffered; and being made perfect he became the source of eternal salvation to all who obey him."
He was made perfect through what He suffered? Yet, Jesus was without sin. How then was He perfected? He came into the world to redeem, to transform us all by a life, and a death, of perfect sacrificial love. He fulfilled His purpose when He presided over the new creation from the Altar of that Cross and robbed death of its victory.
We are called to be perfected - to love as He loved, to love with His love. By so doing we prove ourselves to be Sons and daughters of His Father, who, in Him, has become Our Father. When we follow Jesus -in both word and deed - a dynamic process happens within us, a process of ever deepening conversion and transformation.
We actually "participate in the Divine Nature", the Apostle Peter tells us, right now. (2 Peter 1:4). We are made complete, perfected in charity, by grace and our continued cooperation with grace.We begin to change into the very new men and women that Jesus Christ has now capacitated us to become.
We fulfill our purpose of carrying on His life of redemptive love by loving even those who do not love us. We also continue His great work of Redemption, which He will complete upon His return. Only then will the entire creation be reconstituted by love, made perfect, and handed back to the Father as a perfect gift of love.
So, let us be perfect, as the Heavenly Father is perfect. 
I conclude with an excerpt from an explanation of Christian holiness in the Catechism of the Catholic Church which may be helpful:
CHRISTIAN HOLINESS
2012 "We know that in everything God works for good with those who love him . . . For those whom he fore knew he also predestined to be conformed to the image of his Son, in order that he might be the first-born among many brethren. And those whom he predestined he also called; and those whom he called he also justified; and those whom he justified he also glorified."
2013 "All Christians in any state or walk of life are called to the fullness of Christian life and to the perfection of charity."All are called to holiness: "Be perfect, as your heavenly Father is perfect."
In order to reach this perfection the faithful should use the strength dealt out to them by Christ's gift, so that doing the will of the Father in everything, they may wholeheartedly devote themselves to the glory of God and to the service of their neighbor. Thus the holiness of the People of God will grow in fruitful abundance, as is clearly shown in the history of the Church through the lives of so many saints.
2014 Spiritual progress tends toward ever more intimate union with Christ. This union is called "mystical" because it participates in the mystery of Christ through the sacraments - "the holy mysteries" - and, in him, in the mystery of the Holy Trinity. God calls us all to this intimate union with him, even if the special graces or extraordinary signs of this mystical life are granted only to some for the sake of manifesting the gratuitous gift given to all.
2015 The way of perfection passes by way of the Cross. There is no holiness without renunciation and spiritual battle.Spiritual progress entails the ascesis and mortification that gradually lead to living in the peace and joy of the Beatitudes: He who climbs never stops going from beginning to beginning, through beginnings that have no end. He never stops desiring what he already knows.(Gregory of Nyssa) 
---
Copyright 2017 - Distributed by THE CALIFORNIA NETWORK
Pope Francis Prayer Intentions for DECEMBER 2016
Universal:
End to Child-Soldiers: That the scandal of child-soldiers may be eliminated the world over.
Evangelization:
Europe: That the peoples of Europe may rediscover the beauty, goodness, and truth of the Gospel which gives joy and hope to life.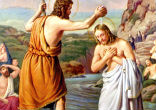 By Fr. James Farfaglia
The consideration of Jesus' baptism, gives us an opportunity to remember our own baptism. If you do not know the date of your own baptism, it is a good idea to go through your personal files and find out when it occurred. CORPUS CHRISTI, TX (Catholic ... continue reading
---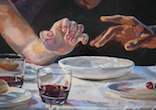 By Fr Samuel Medley, SOLT
I gave my back to those who beat me, my cheeks to those who plucked my beard; My face I did not shield from buffets and spitting. HYTHE, KENT, UK (Catholic Online) - I didn't steal any cookies mommy! says a little boy whose mother asked him if he was hungry, wiping the ... continue reading
---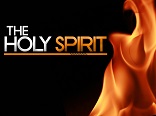 By Catholic Online
The Spirit makes one man a teacher of divine truth, inspires another to prophesy, gives another the power of casting out devils, enables another to interpret holy Scripture. The Spirit strengthens one man's self-control, shows another how to help the poor, teaches ... continue reading
---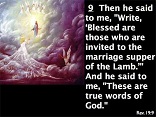 By Deacon Keith Fournier
It is not accidental that the Bible, from beginning to the end, uses marriage as a metaphor and a symbol to reveal the plan of God for the whole human race. Marriage was God's plan from the beginning as we see in the first book of Genesis. Throughout the Old ... continue reading
---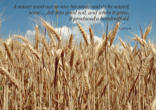 By Deacon Keith Fournier
"A sower went out to sow. And, as he sowed, some seed fell on the path, and birds came and ate it up. Some fell on rocky ground, where it had little soil. It sprang up at once because the soil was not deep, and when the sun rose it was scorched, and it withered for ... continue reading
---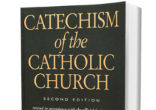 By Michael Terheyden
How we interpret the Bible is of immense importance! It directly affects what we believe about Christ, the Church, and our faith, but it is also related to many of the grave problems in our society and the world. Yet, despite the gravity of this situation, we have good ... continue reading
---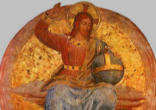 By Deacon Keith Fournier
We celebrate the Feast of Christ the King. It is one of many opportunities the Catholic Church year offers to each one of us to consider the creature called time, receive it as a gift, and begin to really live our lives differently. This is one of ... continue reading
---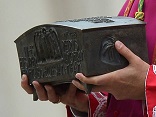 By Deacon Keith Fournier
On the Solemnity of the Feast of Christ the King, the Sunday which marks both the end of the Church Year and the end of the Year of Faith, inaugurated by Pope Emeritus Benedict XVI, Pope Francis greeted thousands of the faithful and presided over Holy Mass and the ... continue reading
---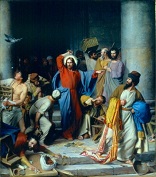 By Father Randy Sly
Becoming a House of Prayer is the best discipline we can take on. St. Ephraem of Syria states that Virtues are formed by prayer. Prayer preserves temperance. Prayer suppresses anger. Prayer prevents emotions of pride and envy. Prayer draws into the soul the Holy ... continue reading
---
By Deacon Keith Fournier
If this day you only knew what makes for peace- but now it is hidden from your eyes. For the days are coming upon you when your enemies will raise a palisade against you; they will encircle you and hem you in on all sides. They will smash you to the ground and your ... continue reading
---
All Year of Faith News