MONDAY HOMILY: The Cost of the Kingdom of God
---
Satan is on the losing side of salvation history and he knows it.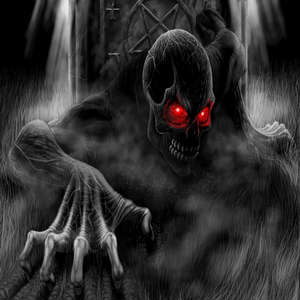 Demon Ghost with Red Eyes.
SUGAR LAND, TX (Catholic Online).  St. Mark recounts the story of Jesus' deliverance of someone afflicted with demonic possession (see Mark 5:1-20).  Traditionally referred to as the "Gerasene demoniac," this poor man suffered from the indwelling presence of evil spirits.  He was possessed by demons.
"Satan or the devil and the other demons are fallen angels who have freely refused to serve God and his plan. Their choice against God is definitive. They try to associate man in their revolt against God" (Catechism of the Catholic Church, no. 414).
Even though the devil is active in the world, we should be careful to avoid a disproportionate interest in him.  By his passion, death and resurrection, Jesus Christ has conquered the devil and all his works.  Satan is on the losing side of salvation history and he knows it. 
We should also reject the idea that the fallen angels are the source of every temptation or hardship we experience.  Most temptations come from within us - through disordered passions and desires; or, from outside of us - through persons, places and things that are occasions of sin.  A direct temptation from Satan is the exception.
Nevertheless, it is possible for a demon to torment a person or even to take possession of them.  The super-human strength shown by the Gerasene demoniac is a sign of the authenticity of his condition.  In addition, the possessing demons manifest a distinct personality, separate from that of the man whom they are afflicting. 
Jesus' arrival promises hope for the possessed man, but is a challenge for those who are not prepared to receive the Kingdom of God.
The encounter between Jesus and this man is illustrative of the Lord's mission. He has come to inaugurate the Kingdom of God and to restore creation to right order.  But Jesus' work provokes opposition.  Even those who admire Jesus' words and miracles will need a deep conversion of heart and mind in order for the Kingdom of God to be made manifest in them.
We see this difficulty in the reaction of the townspeople when they realize what has happened.  In freeing the afflicted man from demonic possession, Jesus allows the evil spirits to enter into the nearby herd of swine.  Driven mad, the pigs stampede, and rush over the cliffs, only to fall into the Sea of Galilee and drown.
St. Mark tells us that these people "were seized with fear," and that "they began to beg [Jesus] to leave their district."  After all, the deliverance of their neighbor had cost the townspeople their herd of swine.  It was a severe economic blow.  Perhaps some families were reduced to poverty and others had their livelihoods damaged or destroyed.  Even for the well-off, the loss of their livestock was unwelcome.
Jesus asked a lot of these people.  Perhaps they were relatives of the possessed man.  Others might have been his friends at one time.  Could it be that Jesus required this sacrifice of the town in order to atone for the rejection of their friend and neighbor; for isolating him rather than trying to help him?
What are we willing to sacrifice in order to make room for the expansion of the Kingdom of God in the world and in our lives?
In his parables and sayings, Jesus address the dangers associated with riches.  They can blind us to the needs of others (Luke 16:19-31), distract us from what is most important (Luke 12:13-21), and be an obstacle to our salvation (Mark 10:23-25).  The right use of our wealth - together with our abilities, talents, and personal gifts - is an important aspect of living in expectation of the fulfillment of the Kingdom of God (see Matthew 25:14-30).
"The time is fulfilled, and the kingdom of God is at hand; repent, and believe in the gospel" (Mark 1:15).  Jesus begins his public ministry with this exhortation.  It remains the standard for discipleship.  May the Lord from everything that obscures the clarity of this precept.
______
Fr. Stephen B. Reynolds is pastor of St. Theresa Catholic Church in Sugar Land, TX, a suburb of Houston.  You may hear his on-line homilies at the parish website: www.SugarLandCatholic.com.
---
Copyright 2018 - Distributed by THE CALIFORNIA NETWORK
Pope Francis Prayer Intentions for JANUARY 2018
Religious Minorities in Asia.
That Christians, and other religious minorities in Asian countries, may be able to practise their faith in full freedom.
---
---
Calling the saints to mind inspires, or rather arouses in us, above all else, a longing to enjoy their company, so desirable in itself. We ... continue reading
---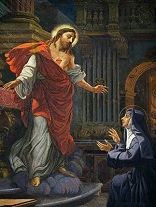 The heart is the center of a person, the place from which he/she makes the choices which will affect the world within them and around them. ... continue reading
---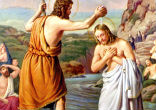 The consideration of Jesus' baptism, gives us an opportunity to remember our own baptism. If you do not know the date of your own ... continue reading
---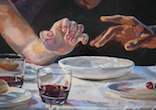 I gave my back to those who beat me, my cheeks to those who plucked my beard; My face I did not shield from buffets and spitting. HYTHE, ... continue reading
---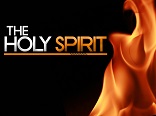 The Spirit makes one man a teacher of divine truth, inspires another to prophesy, gives another the power of casting out devils, enables ... continue reading
---