---
Fat Tuesday Anticipates a Holy Lent
One could call this the last gasp of Ordinary time as the Church anticipates the Season of Lent. Rich foods are consumed as pilgrims prepare for times of fasting, abstinence, confession and penance.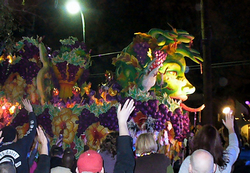 What do many of today's Mardi Gras celebrations have to do with the real meaning of the day? Not much.
WASHINGTON, DC (Catholic Online) - Today is Mardi Gras, or "Fat Tuesday." Usually we think of New Orleans or Rio de Janeiro but there are many places around the world where this day is an excuse for incredible debauchery and depravity.

One could call this the last gasp of Ordinary time as the Church anticipates the Season of Lent. Rich foods are consumed as pilgrims prepare for times of fasting, abstinence, confession and penance.

Traditions arose for Fat Tuesday where people would empty their pantries of many items restricted during Lent

One of the terms often used with Mardi Gras is "carnival." We picture huge public celebrations or parades. Anyone who visits one of the big carnivals held on this day usually bring back stories of self-indulgence and hedonism that make most people blush.

Ironically, carnival comes from the Latin "carne vale" which means "farewell to meat" or "farewell to flesh" indicating the end to certain pleasures has come. Some have tried to argue that this term meant that people should discard their current lives for the night and just "let anything happen." This simply doesn't fit the true nature of the day.

In the Anglican world and other denominations such as Methodist or Lutheran, the commonly used term for the today is "Shrove Tuesday." In early Anglican practice, Lent was preceded by Shrovetide the week before Lent. The faithful were called to go to confession during that time in preparation for the Lenten observance.

The Catholic Encyclopedia explanation of Shrovetide includes a sentence from the Anglo-Saxon "Ecclesiastical Institutes." Translated from Theodulphus by Abbot Aelfric about A.D. 1000, it reads, "In the week immediately before Lent everyone shall go to his confessor and confess his deeds and the confessor shall so shrive him as he then may hear by his deeds what he is to do [in the way of penance]."

For today's Catholics, Fat Tuesday needs to be viewed as a time of anticipation not debauchery. While we can eat pancakes, which has been a tradition, along with sneaking a few extra strips of bacon or links of sausage, today is a day of farewell. We say goodbye to our old norm and preparing our hearts for a Holy Lent.

Farewell should also be considered a more permanent state. Hopefully, we will be changed when we exit at Easter. Self-examination, abstinence and confession, when combined with the additions of formative spiritual disciplines, should result in a life more holy than it was.

The question we should ask ourselves is this: Are we more formed in the image of Christ after Lent than we were before? Do we have our hearts and minds looking more at heaven and less at our material lives? Our prayer life should be richer and more disciplined and our relationships strengthened, both with God and man.

Today is a day of goodbyes. Looking toward the future, some things left behind should not be welcomed again. That is the goal of Lent.

-----

Randy Sly is the Associate Editor of Catholic Online and the CEO/Associate Publisher for the Northern Virginia Local Edition of Catholic Online (http://virginia.catholic.org). He is a former Archbishop of the Charismatic Episcopal Church who laid aside that ministry to enter into the full communion of the Catholic Church.
---
Copyright 2016 - Distributed by THE CALIFORNIA NETWORK
Pope Francis Prayer Intentions for June 2016
Universal:
Human Solidarity: That the aged, marginalized, and those who have no one may find-even within the huge cities of the world-opportunities for encounter and solidarity.
Evangelization:
Seminarians and Novices: That seminarians and men and women entering religious life may have mentors who live the joy of the Gospel and prepare them wisely for their mission.
---
---
---

By Marshall Connolly (CALIFORNIA NETWORK)
Happy birthday to the Catholic Church! Happy birthday to you, who are the body of the Church! LOS ANGELES, CA (Catholic Online) - We're all familiar with our own birthdays, and we celebrate them because they mark the day of the year in which we entered into this life. ... continue reading
---

By Kenya Sinclair (CALIFORNIA NETWORK)
We all love to celebrate Easter with brightly colored hard boiled eggs, candy, cute pictures of bunnies and chicks and we all love to gather together to party! Regardless of how you celebrate Easter, don't forget the real reason for the holiday. LOS ANGELES, CA ... continue reading
---

By Marshall Connolly, Catholic Online (CALIFORNIA NETWORK)
The Easter Bunny is a symbol of Easter that is popular in western culture, especially with children. According to folklore, the Easter Bunny hides Easter eggs for children to find on Easter morning. However, the association between a rabbit and the resurrection of ... continue reading
---

By Kenya Sinclair (CALIFORNIA NETWORK)
On Easter Sunday, March 27, 2016, Pope Francis stood before pilgrims gathered at St. Peter's Square for the traditional Urbi et Orbi blessing. LOS ANGELES, CA (Catholic Online) - According to Vatican Radio, the pontiff stood before the packed square to speak of Jesus ... continue reading
---
By Alex Basile
Author Alex Basile reflects of the true meaning of the Resurrection of Christ and how many Christians overlook the real joy of Easter. In the haziness of the first Easter morning, Mary Magdalene made her way to tomb of her friend and teacher. Fighting back tears and ... continue reading
---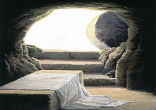 By Fr. James Farfaglia
With the resurrection of Jesus, the physical is exalted. When we truly believe in Jesus, we are resurrected in this life because we are freed from the fear and worry that are characteristic of a godless life; we are freed from the unhappiness of a life filled ... continue reading
---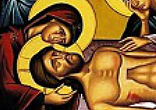 By Deacon Keith Fournier
Something strange is happening - there is a great silence on earth today, a great silence and stillness. The whole earth keeps silence because the King is asleep. The earth trembled and is still because God has fallen asleep in the flesh and he has raised up all ... continue reading
---
By Fr. Randy Sly
Just as the Chief Priests and Pharisees gathered with Pilate to plan on keeping the tomb sealed and guarded with Christ inside, many today want to place a stone in the entrance of the Church, to keep him inside again. On Holy Saturday we remember that no matter how ... continue reading
---

By Michael Terheyden
Pope Francis said something during his first general audience that inspired me to reflect on the suffering Jesus endured during his Passion for the sake of our redemption. He said, "Living Holy Week means increasingly entering into God's logic, the logic of the Cross. ... continue reading
---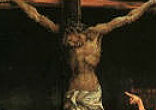 By Deacon Keith Fournier
Christ has flooded the universe with divine and sanctifying waves. For the thirsty, he sends a spring of living water from the wound, which the spear opened in His Side. From the wound in Christ's side has come forth the Church, and He has made her His Bride. ... continue reading
---
All Lent / Easter News