Blacks are perpetuating a false narritive that is truly racist.
Yesterday, Bill O'Reilly delivered a scathing criticism of the leftist narrative and their leadership, which is grounded upon the lie that the right is perpetuating a racist agenda against blacks in America. The commentary is sure to raise some eyebrows, but delivers on the call for a conversation about the subject.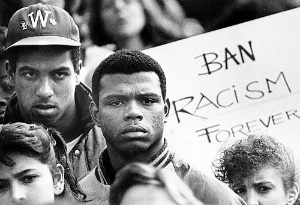 When does racism end? When blacks decide to end it.
LOS ANGELES, CA (Catholic Online) - Bill O'Reilly praised President Obama for addressing the verdict in the Zimmerman case, then explained that he agreed with the need for a national conversation on the topic of race in America.

Unfortunately, such conversations tend to be long-winded and insincere, going nowhere, O'Reilly explained.

O'Reilly cited fear as the reason why politicians and leaders never truly address the underlying issues. "The sad truth is that from the President on down, our leadership has no clue, no clue at all about how to solve problems within the black community," O'Reilly explained.  "And many are frightened to even broach the issue. That's because race hustlers and the grievance industry have intimidated the so- called 'conversation,' turning any valid criticism of African-American culture into charges of racial bias."

"So many in power simply walk away leaving millions of law abiding African-Americans to pretty much fend for themselves in violent neighborhoods. You want racism? That's racism," he continued.

The real issue is that leftist leaders from Obama to Sharpton, to Jackson, derive their power from the disproven narrative that portrays blacks as victims of white oppression. Poverty, unemployment, drugs, violence, exploitation, all these are a product of the sins of the white man.

Yet, there is no white man alive who once held a black in bonded slavery. Indeed, we are several generations removed from the scourge of slavery. Throughout the intervening generations, we have followed policies designed to give blacks compensation for their disadvantaged start in America, including affirmative action policies and a degree of preferential treatment within society.

The treatment has been so special, so delicate, that we have decreed certain words off limits, and forbid discussion of topics which we fear would offend black sensibilities. We dedicate a month to "black history" make special mention of blacks in schools and universities with entire courses of study devoted to black culture. We have black media, black awards and black television channels.

So while we talk about stoplights and peanut butter in school, contributions of black inventors, we ignore the real issues confronting blacks in America.

If you want to help blacks, then let us address the real issues confronting children of the many black races forcibly brought to America nearly two centuries ago.

Let's talk about the black family, and the fact that as O'Reilly explained nearly three quarters of black mothers are unwed. An entire segment of our population is producing children with different fathers and without the stability a marriage provides. This isn't a problem unique to blacks. Whites do this too, as do people of all races. However, the numbers are most alarming within the black community.

Where are all the black dads - babies daddy? What are they doing and what lessons are their children learning?

Many of them are in prison. Is it because the system is corrupted and targets blacks?

No, it's because blacks, many raised without respect and having squandered their best opportunity for an education, turn to drugs and violence, welfare and the public dole, to make their way in the world. Meanwhile, black culture including music and media, enables this choice by glamorizing it, and incorporates this notion into its all-pervasive narrative. It's somehow become normal, almost expected for black to be incarcerated. Really? Since when? Since blacks have allowed this perception to perpetuate, after all, it's easier to deflect responsibility to a "system" that is somehow broken than to take each case individually.

The rest of the nation hears this narrative, and it alarms us. Blacks are poor, oppressed and angry. Blacks are inclined to criminal activity, violence, value money over family, divorce, never build families, kill one another and end up in prison.

Is this racist? You bet it is. It's a terrible thing to say, but it is the narrative that blacks swim in. It's a narrative used by Obama, Shaprton and Jackson to fund their careers. And it's a lie.

Who has control over this narrative? Why is it such a painful thing to regard? It isn't whites, or asians, or Hispanics who control the narrative.

This narrative can be changed, and it begins today, with you. You want to end racism? Okay, end it. Start by getting rid of the race-baiters who capitalize on your pain.

Next, black mothers must insist upon abstinence, marriage and monogamy. They must turn away from abortion which is the first violence that many black youth are exposed to, and certainly do not survive.

Black fathers must commit themselves to their families. They must realize that rap stars, basketball players and other celebrities get rich, but what have these people done for their households except sell a false narrative of black life in America to their blacks and whites alike?

Instead of idolizing rap stars with diamonds where their teeth should be, they should idolize black men who have made a positive difference in society.

How about Jesus?

As the current generation changes the way it relates to the world, they force the world to change the way it relates to them. The world will have no choice. It will be immediate and automatic. Black children, brought up by committed parents will learn the same respect as any other child in any other similar household. That child will attend school, complete their education, and be instilled with values that will break the cycle of poverty that plagues the black races in America.

Soon, race will fade as an issue. We won't talk about "black-on-black" violence or "black culture" because these will become anachronisms. Instead, we will all simply be Americans who share common values and morals and enjoy the same access as all others.

How many people have the courage to call this out? Certainly not Obama, Sharpton, or Jackson. They're too busy selling you a racist lie.

Read O'Reilly's transcript here. It's worth the time.


---
Copyright 2016 - Distributed by THE CALIFORNIA NETWORK
Pope Francis Prayer Intentions for May 2016
Universal:
Respect for Women: That in every country of the world, women may be honored and respected and that their essential contribution to society may be highly esteemed.
Evangelization:
Holy Rosary: That families, communities, and groups may pray the Holy Rosary for evangelization and peace.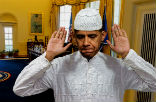 By David Drudge (CALIFORNIA NETWORK)
President Obama has chosen the grandson of a known terrorist suspect to serve as liaison to the Muslim American community. Zaki Barzinji, 27, will serve the White House as the new associate director of public engagement. He was also the president of the Muslim Youth of ... continue reading
---

By Kenya Sinclair (CALIFORNIA NETWORK)
When former Central Intelligence Agency employee Edward Snowden illegally leaked classified information from the National Security Agency (NSA) concerning global surveillance, the world responded with an uproar - but Former U.S. Attorney General Eric Holder claims ... continue reading
---

By David Drudge (CALIFORNIA NETWORK)
A civil rights attorney has pointed out an obvious objection to President Obama's school edict that requires schools to let boys share restrooms and showers with girls, and this has sparked a backlash from Zoe Lofgren (D-CA). LOS ANGELES, CA (California Network) - When ... continue reading
---

By Kenya Sinclair (CALIFORNIA NETWORK)
The Alabama Supreme Court has made a decision many same-sex couples have been hoping for: The state of Alabama now recognizes same-sex adoptions. LOS ANGELES, CA (Catholic Online) - It all began when a lesbian woman demanded visitation rights for the three children she ... continue reading
---

By Kenya Sinclair (CALIFORNIA NETWORK)
Hillary Clinton continues to dodge questions concerning the family's relationship with Goldman Sachs. LOS ANGELES, CA (Catholic Online) - According to <a ... continue reading
---

By Kenya Sinclair (CALIFORNIA NETWORK)
Personal privacy is one of the greatest rights any citizen of the free world enjoys but soon the Federal Bureau of Investigation may have legal access to everything from passwords and personal emails to banking information and search history - all without your ... continue reading
---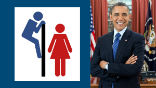 By David Drudge (CALIFORNIA NETWORK)
Eleven states are challenging the Obama edict that schools should allow kids to use whatever bathroom they choose, regardless of their gender. Obama issued the edict last week as a means of joining the "transgender" bandwagon that is sweeping the nation. Unfortunately, ... continue reading
---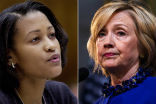 By David Drudge (CALIFORNIA NETWORK)
Hillary Clinton's former chief of staff from the State Department, Cheryl Mills, has asked a court to shield her from conservatives who are seeking the transcripts and recordings of her deposition scheduled for Friday. Mills is worried she will be taken out of context ... continue reading
---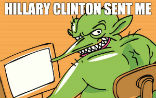 By Marshall Connolly (CALIFORNIA NETWORK)
The next time you encounter an internet troll, be warned, he could be getting paid to fan the flames, or to douse your conversation. A new study our of Harvard reveals that China is using an army of 448 million fake troll accounts to influence public opinion. And China ... continue reading
---

By David Drudge (CALIFORNIA NETWORK)
The State Department Inspector General has ruled that Hillary Clinton broke department rules for using a private email server and for deleting emails she sent and received during her tenure. The report was released on Capitol Hill today. LOS ANGELES, CA (California ... continue reading
---
All Politics & Policy News