By Catholic Online (NEWS CONSORTIUM)
10/17/2012 (3 years ago)
Catholic Online (www.catholic.org)
Both men fought hard as the White House is clearly up for grabs.
Americans love a prizefight, and last night they got one. Both Republican presidential nominee Mitt Romney and President Barack Obama threw verbal punches at one another that at times unsettled many viewers.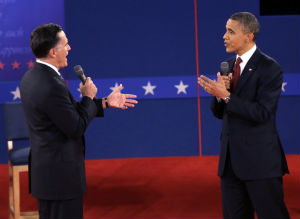 Both candidates sparred with equal alacrity on Tuesday night.
LOS ANGELES, CA (Catholic Online) - Prior to the debates, it was worried that the town hall format would keep the debate low key as the candidates would be surprised by each question and constantly shifting topics, however that turned out not to be the case. 

Both men moved about the floor of the hall, often in close proximity to one another, gesturing, interrupting, and generally disregarding the rules of the debate. 

Both routinely went well over-time in their remarks, and often spent the beginnings of new questions trying to get the last word in on the previous. 

However, these antics didn't provide the fireworks that the statements themselves did. 

The tensest moment of the debate came when a citizen asked Obama if he was responsible for the lack of security in Libya at the time of the recent terror attacks. The atmosphere was hushed and palpable. 

Admirably, Obama took full responsibility for security, but stopped short of saying whether or not he knew the truth about the attacks. Romney pointed that the President referred to terrorism in his immediate remarks, but then began referring to the event as a demonstration gone bad. 

The implication was that the Obama administration had no clue what really happened despite warnings, testimonies, and common sense. Ultimately, Obama tried to believe what he wanted to believe, but the facts did not support him. 

Romney added that Obama departed for two fundraisers in the wake of the tragedy. 

Obama took exception to the notion that he had played politics with the event and delivered one of the most tense lines of the debate. "The suggestion that anybody in my team would play politics or mislead when we've lost four of our own, governor, is offensive. That's not what we do," said Obama. 

Repeatedly, Romney's best moments came when he pointed out that Obama has been president for the past four years. On a wide range of issues, Romney was able to point out where the current administration had failed in one way or another to deliver on promises. 

Immigration reform, a campaign promise that Obama pledged to complete within his first year, remains largely where it was four years ago. Romney also pointed out the administration's failures in controlling the deficit, ensuring energy independence, and foreign policy. 

Romney pointed out that the price of gas had risen to over $4 per gallon during Obama's presidency, up from an average of $1.86. Obama was never able to explain why this was the case. 

Of course, the greatest punch was Romney's statement of fact that unemployment remains much higher than it ought to be. 

Obama countered against many of Romney's ideas saying the Governor lacked specifics. 

With the feisty debate concluded, the question that remains is whether or not either side managed to sway voters. Early polls suggest Obama eked out a narrow victory over Romney, but that this may not be enough to check Romney's momentum. 

As of this morning, Romney had a 49 percent to 47 percent lead over Obama according to Rasmussen Reports.



---
Copyright 2015 - Distributed by THE CALIFORNIA NETWORK
Pope Francis Prayer Intentions for April 2016
Universal:
Small Farmers: That small farmers may receive a just reward for their precious labor.
Evangelization:
African Christians: That Christians in Africa may give witness to love and faith in Jesus Christ amid political-religious conflicts.
---
---
---

By David Drudge (CALIFORNIA NETWORK)
Have we won the ground war in Afghanistan? According to the government reports and the media, we sure have. However, this is not what one whistleblower has said, warning as early as 2012 that the American people are being deceived by the government. LOS ANGELES, CA ... continue reading
---

By Kenya Sinclair (CALIFORNIA NETWORK)
New York Mayor Bill de Blasio's closest aides have been issued subpoenas to aid the investigation into his shady fundraising strategies. LOS ANGELES, CA (Catholic Online) - The scandal surrounding de Blasio's fundraising has made headlines since 2014, when a leaked ... continue reading
---
By David Drudge (CALIFORNIA NETWORK)
Donald Trump delivered his first full speech on foreign policy and he sounded fairly presidential while doing so. Trump is not a politician by trade, but he may make an excellent president thanks to his extensive business acumen. Trump is on the path to the Republican ... continue reading
---
By Kenya Sinclair (CALIFORNIA NETWORK)
The race for the presidential nominee has been full of surprises as history-making events, claims of foul play, dirty dealings and controversial statements have cropped up in abundance. Candidates have, at times, been caught up in a tight race, but Tuesday's primary ... continue reading
---

By David Drudge (CALIFORNIA NETWORK)
Donald Trump is on track to win both the primary and the election, according to the numbers. He is on a better trajectory than Mitt Romney was in 2008. Meanwhile, Hillary Clinton, while winning her primary, is losing support. LOS ANGELES, CA (California Network) - ... continue reading
---
By David Drudge (CALIFORNIA NETWORK)
Ted Cruz and John Kasich have teamed up to block Donald Trump from winning the Republican nomination. The rivals have agreed to divide upcoming primary states, so they can efficiently spend resources attacking Trump instead of each other. LOS ANGELES, CA (California ... continue reading
---

By Thomas Heed (CALIFORNIA NETWORK)
Men with bad motives or who live dissolute lifestyles have always been potential sexual threats to women - and now women have been pushed further into their corners as "transgender rights" rise to prominence as the newest notion of the sexual revolution. These rights ... continue reading
---

By Kenya Sinclair (CALIFORNIA NETWORK)
World leaders have finally realized the destruction they have been allowing the planet to endure - and the ensuing consequences. LOS ANGELES, CA (Catholic Online) - A shocking number of 175 global leaders gathered at the United Nations headquarters to sign the Paris ... continue reading
---

By David Drudge (CALIFORNIA NETWORK)
It's time to imprison America's favorite felon-in-chief, Hillary Clinton. It has now emerged that she broke the law by marking subpoenaed files for archiving and keeping them out of the hands of Congressional investigators for a full year. The deed appears to be a ... continue reading
---

By Kenya Sinclair (CALIFORNIA NETWORK)
Hillary Clinton's campaign chairman, John Podesta, admitted the campaign is considering a woman to take the role of Vice President, should Clinton win the Presidency. LOS ANGELES, CA (Catholic Online) - Clinton wants "the best person to make the case to the American ... continue reading
---
All Politics & Policy News