---
Rick Santorum is a man of courage in an age of cowardice
Santorum does not separate social and economic issues. He is comfortable in his skin and has the communications skills and intelligence required of a leader. Any candidate for the Presidency who hopes to win in 2012 must be an effective communicator. He or she will be contending with President Barack Obama, whose oratory in the last election seemed to mesmerize people. His opponent must be articulate, inspiring and unafraid.
Former Senator Rick Santorum
CHESAPEAKE, VA. (Catholic Online) - I have long admired former Senator Rick Santorum. I was in the Senate Chamber years ago when he defended our first neighbors in the womb against being partially delivered only to have their heads crushed through the infanticide called "partial birth abortion." He spoke with passion, confronting the empty words of an opponent who defended the brutal procedure. Pointing to a picture of a baby being delivered he shouted "This is a baby Senator!" At that very moment a baby cried, filling the chamber with the sounds of life. The Senator delivered the most poignant defense of life I had ever heard. Over the years, our paths have crossed. He has only improved with age as a communicator. His plenary address at the Catholic Leaders Conference two years ago was outstanding. His willingness to take questions and give solid yet spontaneous answers added to the presentation. He is comfortable in his skin and has the communications skills and intelligence required of a leader. Any candidate for the Presidency who hopes to win in 2012 must be an effective communicator. He or she will be contending with President Barack Obama, whose oratory in the last election seemed to mesmerize people.  His opponent must be articulate, inspiring and unafraid. On September 12, 2010 we marked the fiftieth anniversary of the address given by then Senator John F. Kennedy to the Houston Ministerial alliance. In that speech he laid out an approach to the role of religious faith which resulted in "privatizing" the truths informed by faith. He failed to acknowledge the existence of a Natural Law which can be known by all men and women through the exercise of reason and which is meant to govern our life together in Society. In anticipation of this anniversary, Senator Santorum gave a speech in Houston on September 9, 2010 entitled "Charge to Revive the Role of Faith in the Public Square." In that speech he exposed the Kennedy Mistake and offered another model for Catholic political participation, one which is authentically Catholic. The Vatican's Congregation for the Doctrine of the Faith issued a clear directive instruction in 2002 entitled a "Doctrinal Note on some questions regarding the Participation of Catholics in Political Life." It called upon Catholics to be "morally coherent" in the exercise of their citizenship. In an age when many Catholics in public life have not been morally coherent, Rick Santorum stands out as an exception.   We are living under what Pope Benedict XVI called a "Dictatorship of Relativism" in the West. The culture stumbles, drunken on the false notion of freedom as giving some people a "right" to kill the innocent, divorced from norms to guide the exercise of human choice and govern our behavior. When there is nothing objectively true which can be known by all and form the basis of our common life then there is no basis for real freedom. Instead, we teeter on the brink of anarchy. Senator Santorum's speech in Houston was a breath of fresh air. In an age of political sound bites and jingoism, he offered intelligent and impassioned reflection. I identified with his introductory remarks, "Three pictures hung in the home of my devoutly Catholic immigrant grandparents when I was a boy and I remember them well -- Jesus, Pope Paul VI and John F. Kennedy. The president was a source of great pride and a symbol to Catholics that all barriers had finally been broken." I grew up in Dorchester, Massachusetts and we had the same three pictures in our home. I vividly remember the fateful day when President Kennedy was assassinated. I was traumatized. I kept a scrapbook in which I collected newspaper articles, and photos concerning it. My mother kept it for me. She also gave me a card made up marking the day of his funeral with a prayer for the repose of his soul. She wrapped it in Saran wrap and I have it to this day.  There certainly was, and to some degree still is, a "Kennedy Mystique." The Nation's first Catholic President made a serious error in that Houston speech which unleashed tragic results.  In Senator Santorum's words, "Fifty years ago JFK delivered a speech to the Greater Houston Ministerial Association to dispel suspicions about the role the papacy might play in the government of this country under his administration. Let's make no mistake about it -- Kennedy was addressing a real issue at the time. Prejudice against Catholics threatened to cost him the election. But on that day, Kennedy chose not just to dispel fear, he chose to expel faith." John F. Kennedy laid the groundwork for the advance of what the venerable John Paul II called the "Culture of Death."

He also gave cover to countless Catholic politicians to be morally incoherent in their political participation for too many years. Senator Santorum's speech in Houston is the much needed and long overdue corrective. There is a political dualism too often touted in Republican circles - the idea that there are "social" and "economic" issues and they must be kept separate. In the run up to the 2012 campaign it is rearing its ugly head once again.  Santorum does not separate social and economic issues. He knows that the reason we should care about expanding economic opportunity is because we respect the dignity of every human person and want to expand participation. His advocacy of smaller government is not anti-government. He calls for the proper application of the principle of subsidiarity out of respect for the primacy of the family as the first society, the first government, the first church, first school, first economy and first mediating institution. He rejects the idea that there is any true "right" to an abortion even if the positive law currently protects the act. Every procured abortion is the taking of innocent human life and the denial of the true Right, written in the Natural Law, the fundamental and inalienable Right to Life.  He would place the respect for life front and center, using it as the lens through which every other issue would be approached. He does not back away from controversy or opposition because he has real courage. That was demonstrated in January when he gave an interview to Terry Jeffrey of CNSNEWS.com entitled "Santorum Says He Agrees With MLK on Moral Basis for Human Rights; Can't Understand Why Obama Would Deny Them to an Unborn Child." In that interview he reiterated his belief in the Natural Law as the moral basis of a truly free society.  His grasp of authentic Catholic social doctrine is refreshing - and all too uncommon among Catholics in public service. In the interview, the Senator referenced Dr. Martin Luther King Jr.'s reliance on the Natural Law in his "Letter from a Birmingham Jail." Some in the media attacked Santorum and tried to paint him as a racist for even doing so. Some in contemporary political circles might have backed off, but the former Senator from Pennsylvania refused to back down. In that letter, Dr. King did indeed cite the Catholic Natural Law tradition to bolster his defense of fundamental human rights. As the day progressed the Senator stood his ground and responded to repeated efforts to smear him with these words: "For decades certain human beings were wrongly treated as property and denied liberty in America because they were not considered persons under the Constitution. Today other human beings, the unborn of all races, are also wrongly treated as property and denied the right to life for the same reason; because they are not considered persons under the constitution. I am disappointed that President Obama, who rightfully fights for civil rights, refuses to recognize the civil rights of the unborn in this country." This past weekend the Senator again demonstrated courage at the Strafford County Lincoln-Reagan dinner. Among the topics discussed was the threat of militant jihadist ideology. He said, "Jihadism is evil and we need to say what it is.We need to define it and say what it is. And it is evil. Sharia law is incompatible with American jurisprudence and our Constitution." Making reference to the hearings on the radicalization of some American Muslims held last week he noted that the majority of Muslims in the United States do not want Sharia Law in the United States. He said many left their home countries "because of Sharia law" and continued, "Sharia law is not just a religious code. It is also a governmental code. It happens to be both religious in nature and origin, but it is a civil code. And it is incompatible with the civil code of the United States." He is correct and his willingness to say it is refreshing.   Rick Santorum is a man of courage in an age of cowardice. In 1947, C.S. Lewis addressed the decline of Britain in an insightful book entitled "The Abolition of man: How Education Develops Man's Sense of Morality." He warned of the subjective and relativist trends in the British educational system and reasserted the timeless moral truths of Christianity. Lewis called for a return to the classical Christian vision of the human person and the cultivation of virtues as the path to true human flourishing and freedom. He defined what he called "the chest" in this work as the "higher emotions organized by trained habit into stable sentiments or character." He wrote that without this "chest", men and women devolve into self-idolatry, losing their human dignity and true freedom. They become slaves to disordered appetites. The West is a mess, just as Lewis warned. With its decline we face the eclipse of true freedom. Lewis' words in this book are timely: "And all the time - such is the tragicomedy of our situation - we continue to clamor for those very qualities we are rendering impossible. You can hardly open a periodical without coming across the statement that what our civilization needs is more 'drive,' or dynamism, or self-sacrifice, or 'creativity.' In a sort of ghastly simplicity we remove the organ and demand the function. We make men without chests and expect of them virtue and enterprise. We laugh at honor and are shocked to find traitors in our midst. We castrate and bid the geldings be fruitful." Rick Santorum is a statesman in an age of salesmen - and women. He is a "man with a chest."  I will be watching his movements over the next few months as one of the most important Presidential elections in American history begins to take shape.
---
Copyright 2016 - Distributed by THE CALIFORNIA NETWORK
Pope Francis Prayer Intentions for May 2016
Universal:
Respect for Women: That in every country of the world, women may be honored and respected and that their essential contribution to society may be highly esteemed.
Evangelization:
Holy Rosary: That families, communities, and groups may pray the Holy Rosary for evangelization and peace.
---
---
---

By David Drudge (CALIFORNIA NETWORK)
The FBI is investigating Virginia Gov. Terry McAuliffe on the grounds that he accepted illegal campaign contributions. There is overlap between his donors and donors to the Clinton campaign. Investigators have discovered that a Chinese politician made a particularly ... continue reading
---

By Kenya Sinclair (CALIFORNIA NETWORK)
As American steel production falters, China has begun efforts to dump its excess steel at slashed prices. LOS ANGELES, CA (Catholic Online) - According to Thomas J. Gibson, president and CEO of the American Iron and Steel Institute, and Chuck Schmitt, president of SSAB ... continue reading
---

By Catholic Online (NEWS CONSORTIUM)
Chaos erupted as the US House of Representatives refused to pass an amendment meant to strip away religious freedom and protections for religious contractors and those who work with the federal government. LOS ANGELES, CA (Catholic Online) - When House Democrats ... continue reading
---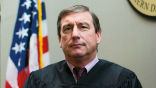 By David Drudge (CALIFORNIA NETWORK)
An angry federal judge has ordered Justice Department attorneys to take annual ethics classes for lying. The lies told by Justice Department attorneys tricked 26 states into filing a lawsuit against the administration. LOS ANGELES, CA (California Network) - U.S. ... continue reading
---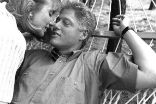 By David Drudge (CALIFORNIA NETWORK)
As Hillary Clinton declares herself the presumptive nominee of the Democratic party amid the cheers of millions of millennial supporters, few people seem to remember that her husband, Bill Clinton, is an accused serial rapist. And far from being a supporter of women' ... continue reading
---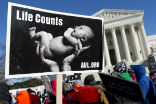 By Marshall Connolly (CALIFORNIA NETWORK)
Oklahoma has outlawed abortion! The state legislature has passed a bill that would criminalize the procedure, except to save the life of the mother. The bill will now go to the governor for signing. LOS ANGELES, CA (Catholic Online) - The final decision will be up to ... continue reading
---

By Kenya Sinclair (CALIFORNIA NETWORK)
Former Massachusetts governor and former Republican presidential nominee Mitt Romney has announced plans to halt all recruitment for a third-party presidential campaign. LOS ANGELES, CA (Catholic Online) - According to Yahoo! News, Romney initially attempted to recruit ... continue reading
---
By Kenya Sinclair (CALIFORNIA NETWORK)
Street artist Shepard Fairey, who created the iconic "Obama Hope" poster, has jumped on board the Bernie Sanders train and claims US President Barack Obama did not meet expectations. LOS ANGELES, CA (Catholic Online) - According to Info Wars, Fairley stated Obama went ... continue reading
---
By David Drudge (CALIFORNIA NETWORK)
It's super unlikely that the Sanders campaign can win the Democratic nomination, short of any deus ex machina event, but that doesn't mean he plans to quit. In fact, Sanders is just getting started. LOS ANGELES, CA (California Network) - Last night, Hillary Clinton ... continue reading
---

By Kenya Sinclair (CALIFORNIA NETWORK)
School is nearly out and summer is upon us. Students and the unemployed will be hired for summer jobs while vacationers spur the economy. Everyone is hiring and the Obama administration is doing its part as well, with a budget of $21 million to create jobs nationwide ... continue reading
---
All Politics & Policy News