---
'Any decision favoring plaintiffs in this case will be permanently marred and universally viewed as stemming from Judge Walker's personal biases.'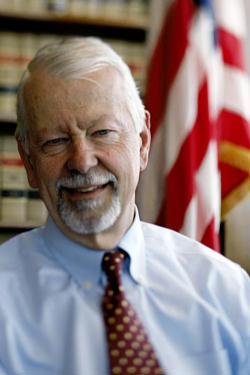 9th Circuit Court of Appeals Judge Vaughn Walker.
LYNCHBURG, VA (Liberty Counsel) - Matt Barber, Director of Cultural Affairs with Liberty Counsel, released the following statement today on news that the San Francisco Chronicle has "outed" 9th Circuit Court of Appeals Judge Vaughn Walker as an active practitioner of the homosexual lifestyle.

Judge Walker has presided over California's Proposition 8 case filed by homosexual extremists who seek to manufacture a constitutional "right" to so-called "same-sex marriage:"

"The revelation that Judge Walker apparently chooses to engage in homosexual conduct, if true, would explain much of his bizarre behavior throughout this trial," said Barber.

"At every turn he's displayed extreme bias in favor of his similarly situated homosexual activist plaintiffs. These individuals have eschewed the democratic process and seek to employ like-minded judicial activists to radically redefine the millennia-old definition of natural marriage.

"Enter Judge Walker. In unprecedented form, and to plaintiffs' delight, he has created a circus-like atmosphere throughout. He even violated federal rules by deciding to allow the trial to be broadcast worldwide, but was subsequently shot-down and sharply rebuked by the U.S. Supreme Court for doing so.

"Unfortunately, the damage was already done," continued Barber. "Prop 8 supporters lost around two-thirds of expert witnesses who, naturally - based on homosexuals' violent reaction to passage of Prop 8 - feared for their own safety and for that of family members.

"Judge Walker then ordered Prop 8 proponents to disclose private communications, work product, emails and campaign strategies to plaintiffs while - in an example of jaw-dropping inequality - permitted plaintiffs to keep the same materials secret.

"He also allowed plaintiffs a parade of 'expert' witnesses who viciously maligned Christians and other observers of natural and historic sexual morality as 'prejudiced,' 'bigoted' and 'homophobic.'

"This is no different than having an avid gun collector preside over a Second Amendment case," continued Barber, "or a frequent user of medical marijuana deciding the legality of medical marijuana.

"Even his fellow judges on the notoriously liberal 9th Circuit have been forced to step-in and overturn more than one of his inexplicable rulings relative to this case. Based on his demonstrated misbehavior, there's no reason to believe anything will change.

"At worst, Judge Walker's continued involvement with this case presents a textbook conflict of interest. At best, it objectively illustrates the unseemly appearance of a conflict.

"If Judge Walker somehow divines from thin air that the framers of the U.S. Constitution actually intended that Patrick Henry had a 'constitutional right' to marry Henry Patrick, then who among us will be surprised?

"Any decision favoring plaintiffs in this case will be permanently marred and universally viewed as stemming from Judge Walker's personal biases and alleged lifestyle choices.

"For these reasons, and in the interest of justice, Judge Walker should do the honorable thing and immediately recuse himself."

---
Liberty Counsel is a nonprofit litigation, education and policy organization dedicated to advancing religious freedom, the sanctity of human life and the traditional family. Established in 1989, Liberty Counsel is a nationwide organization with offices in Florida, Virginia, and Washington, D.C., and hundreds of affiliate attorneys across the Nation.
---
---
---

By Kenya Sinclair (CALIFORNIA NETWORK)
The Alabama Supreme Court has made a decision many same-sex couples have been hoping for: The state of Alabama now recognizes same-sex adoptions. LOS ANGELES, CA (Catholic Online) - It all began when a lesbian woman demanded visitation rights for the three children she ... continue reading
---

By Kenya Sinclair (CALIFORNIA NETWORK)
Hillary Clinton continues to dodge questions concerning the family's relationship with Goldman Sachs. LOS ANGELES, CA (Catholic Online) - According to <a ... continue reading
---

By Kenya Sinclair (CALIFORNIA NETWORK)
Personal privacy is one of the greatest rights any citizen of the free world enjoys but soon the Federal Bureau of Investigation may have legal access to everything from passwords and personal emails to banking information and search history - all without your ... continue reading
---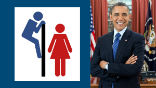 By David Drudge (CALIFORNIA NETWORK)
Eleven states are challenging the Obama edict that schools should allow kids to use whatever bathroom they choose, regardless of their gender. Obama issued the edict last week as a means of joining the "transgender" bandwagon that is sweeping the nation. Unfortunately, ... continue reading
---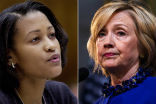 By David Drudge (CALIFORNIA NETWORK)
Hillary Clinton's former chief of staff from the State Department, Cheryl Mills, has asked a court to shield her from conservatives who are seeking the transcripts and recordings of her deposition scheduled for Friday. Mills is worried she will be taken out of context ... continue reading
---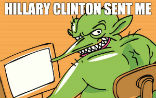 By Marshall Connolly (CALIFORNIA NETWORK)
The next time you encounter an internet troll, be warned, he could be getting paid to fan the flames, or to douse your conversation. A new study our of Harvard reveals that China is using an army of 448 million fake troll accounts to influence public opinion. And China ... continue reading
---

By David Drudge (CALIFORNIA NETWORK)
The State Department Inspector General has ruled that Hillary Clinton broke department rules for using a private email server and for deleting emails she sent and received during her tenure. The report was released on Capitol Hill today. LOS ANGELES, CA (California ... continue reading
---

By Kenya Sinclair (CALIFORNIA NETWORK)
The United States provides 33 percent of the world's arms such as fighter jet aircraft, tanks and more - so which countries are buying? LOS ANGELES, CA (Catholic Online) - According to the Defense Security Cooperation Agency, the number one country purchasing ... continue reading
---

By Kenya Sinclair (CALIFORNIA NETWORK)
With many Senate Democrats calling for a faster processing, the Obama Administration and U.S. Citizenship and Immigration Services (CIS) have drastically increased the number of Syrian refugees admitted into the United States. LOS ANGELES, CA (Catholic Online) - ... continue reading
---

By David Drudge (CALIFORNIA NETWORK)
The FBI is investigating Virginia Gov. Terry McAuliffe on the grounds that he accepted illegal campaign contributions. There is overlap between his donors and donors to the Clinton campaign. Investigators have discovered that a Chinese politician made a particularly ... continue reading
---
All Politics & Policy News