Health Care Reform Passes: Catholic Democrat Bart Stupak Protects Life
---
Saturday night in two historic votes the importance of faithful Catholics in both major political parties became crystal clear.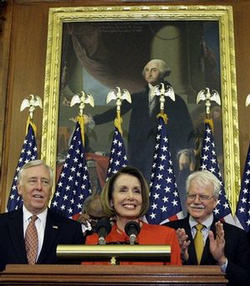 Prior to the Stupak/Pitts Amendment, the funding of abortion would have occurred through both the so called 'Public Option' and through what are called 'affordability credits' which are to be given to certain health care consumers in order to purchase insurance. It was, as many including this writer pointed out, a 'shell game'.
Washington, D.C. (Catholic Online) - In a November 19, 2008 article in his always interesting "Inside Catholic", my friend Deal Hudson, Ph.D., properly praised then candidate Joseph Cao who was running for the 2d District Congressional seat in Louisiana. The article was entitled "The Jesuits Produce a Great Political Candidate" and it noted: "Joseph Cao is a Catholic lawyer and former Jesuit scholastic from New Orleans... Few candidates for public office are as forthright as Cao when asked about their position on abortion. "I am very anti-abortion," he told me without hesitation. Cao would like to overturn Roe, but in the meantime, "We have to find a way to defeat Roe without having to overturn it." His solid pro-life credentials are attested to by the endorsement of the FRC Action PAC, among others."
Saturday night, in two historic votes, the importance of faithful Catholics in both major political parties became crystal clear. I am sure my friend Deal Hudson is surprised at now Congressman Cao's decision to break ranks and become the only Republican to support the passage of the House version of "Health Care Reform". This occurred only AFTER the Bill was amended to remove what Was contained within its scheme, a clear authorization of Federal Funds to kill children in the womb through Abortion. I am not surprised. I may not agree with him because I have other concerns about the legislation, but I understand and respect his decision. After all, in the very same interview cited above, then candidate Cao gave Dr. Hudson an indication of his views concerning how he would approach his public service in these words: "I went all over the world to work with the poor and experienced a crisis of faith in Mexico over human suffering and God. I asked my spiritual director, 'What is God doing about all this suffering?' He told me that 'God sends people to help.' That was when I began to realize my calling was politics."
First, let there be no more wrangling about the facts. The Bill as proposed by Nancy Pelosi - an unfaithful Catholic who should be ashamed and strongly opposed in her next campaign while we all pray for her return to the truth - promoted the intrinsic evil of abortion. It would have funded the feticide of our first neighbors in the womb. End of discussion. All of those folks who tried to argue that all of us who sounded the alarm over this evil were wrong have been exposed as frauds. The phony compromises and fake amendments were a subterfuge.
Before the determined and courageous efforts of Congressman Bart Stupak, a Pro-Life Catholic Democrat whose name along with Republican Joe Pitts of Pennsylvania of the 16th District of Pennsylvania is on the now historic amendment, the legislation would have funded more abortions with tax dollars. The "Health Care Reform" legislation which passed last night as HR 3962 - by a vote in the House of Representatives by a vote of 220 - 215 - would have had a lethal effect, resulting in the intentional killing of potentially millions more of our first neighbors. Thank God for the courage and perseverance of faithful Catholic Democrat Bart Stupak!
The Stupak/Pitts Amendment was strongly supported by the United States Catholic Conference of Bishops who worked with admirable persistence and courageous clarity in order to force its passage. It actually was passed earlier in the evening by an historic vote of 240 to 194.Some cowardly members did not vote at all. This amendment stripped abortion funding from the otherwise anti-life Legislation. Prior to the amendment, the funding would have occurred through both the so called "Public Option" and through what are called "affordability credits" which are to be given to certain health care consumers in order to purchase insurance. It was, as many including this writer pointed out, a "shell game". It would have resulted in the spilling of more of the blood of the innocents in our Nation. Congressman Bart Stupak, Pro-Life Democrat, is the hero of the hour.
Congressman Bart Stupak is a faithful Catholic and a Democrat from the first Congressional District of Michigan who Co-Chairs the Bi-Partisan Pro-Life Caucus with another faithful Catholic, Republican Congressman Chris Smith. Stupak is one of a strong and vocal contingent of Pro-Life Democrats who carry on the legacy of the late, great Governor of Pennsylvania Bob Casey. They hear the cry of all the poor, including children in the first home of the whole human race, their mother's womb. They recognize the truth that these dear children whom Mother Teresa rightly called the "poorest of the poor" have no voice but ours. These fellow Americans living in the womb are our first neighbors. It is men and women like Bart Stupak and Chris Smith who are the models of public service for all Catholics and other Christians.Stupak is a Democrat, Smith is a Republican.
Congressman Stupak told a reporter before the vote, "We're asking members to maintain current law and oppose federal funding on abortion." He affirmed that he did not somehow barter his vote for the legislation in exchange for the allowing of the vote on his amendment. He actually supports the notion of Reform which is offered in the legislation but would never, ever, ever compromise on the fundamental human right to life and the first freedom, the freedom to be born. Now, other Catholics can and do disagree with him on many other aspects of this legislation. In fact, I do - and I have written concerning my disagreements as it relates to the principle of subsidiarity and whether such a concentration of power on the Federal level is prudent. However, Congressman Stupak is an example of how a faithful Catholic can be - indeed must be - morally and politically consistent and never compromise of the inviolable dignity of every human life.
Promoters of the tax funded killing of children in the womb such as Colorado Democratic Rep. Diana Degette, formed a chorus of opposition to the Stupak/Pitts amendment. Among her specious arguments, she tried to compare the funding of abortion (the intentional killing of a child) with cancer treatment! Think about what this reveals, she views the child as a disease to be eradicated? However, Congressman Stupak and his allies did not back down! Congressman Chris Smith noted on the floor the recent account of a former Planned Parenthood director who resigned after watching an ultrasound of an abortion killing a baby and stated "Abortion not only kills children, it harms women physically and psychologically and risks significant subsequent harm for future children... If we truly want to see fewer abortions and want to reduce them, then don't fund it.... Millions of people are alive today because of the Hyde amendment." God Bless faithful Catholic Republican Congressman Chris Smith!
Other courageous Pro-Life voices who spoke out in support of the Stupak/Pitts amendment were Democratic Reps. Kathy Dahlkemper of Pennsylvania, Brad Ellsworth of Indiana, Dan Lipinski of Illinois, Marcy Kaptur of Ohio and Republican Reps. Mike Pence of Indiana, Cathy Rodgers of Washington, Paul Ryan of Wisconsin, Michelle Bachmann of Minnesota, Louis Gohmert of Texas, and Fortenberry of Nebraska. The Anti-Life voices were the Democratic lawmakers who supported the funding of the continued killing of children in the womb with tax dollars included Rosa DeLauro of Connecticut, Lois Capps of California, Nita Lowey of New York, Barney Frank of Massachusetts, Mike Quickley of Illinois, Barbara Lee of California, Jan Schakowsky of Illinois, Sheila Jackson Lee of Texas, and Louise Slaughter and Maloney of New York.
I know that my friend Deal Hudson is concerned that the fight over securing this protection for life in the womb is far from over as this Legislation moves to the Senate. I share that concern. I also know he has other concerns over other many aspects of the legislation. I share some of those as well. However, where we have some disagreement is over the long term solution to the bigger problems faced in our Nation and the best political approach to be taken by Catholic citizens. I believe it is time for a "New Catholic Action" which brings together Catholics who are Democrats, Republicans, Independents - and any and all other permutations of political labels - who will work together in accordance with a hierarchy of issues and values which are first informed by Catholic Social Doctrine, rightly understood.
I maintain that our Nation would be better served if both major political parties began with the clear foundational understanding of what constitutes authentic justice, which must of necessity begin with the recognition of the dignity of every human person, at every age and stage of the continuum of life up to and including natural death. In other words, if both major parties were Pro-Life, we could then have a debate over so many other issues concerning the best way to continue in extraordinary American experiment in self governance. I know many like my friend Deal Hudson may see that as a bit unrealistic. And, I must acknowledge, that the Platforms of the two major Parties are clearly divergent on this matter of the fundamental Right to Life. But, soon to be 55 yrs old, I have never lost my idealism and refuse to begin to do so now.
What occurred last night with the heroic Pro-Life courage of an authentically Catholic Democrat named Bart Stupak and his pro-life colleagues on both sides of the aisle only further confirms my conviction of the need for a new model of Catholic activism which moves away from the stale labels of "conservative", "liberal", neo-conservative" (which may be what used to be called neo-liberal?), "Republican", Democrat", "left", "right".... And moves into the heart of what our Church offers the entire world in the truths and principles offered in what is called her Social Teaching. A "New Catholic Action" would focus only on the issues which matter most and apply a hierarchy of principles leading to effective political participation and Catholic action. Once again I maintain, "Catholic" must always be the "Noun". It must be what defines us before any adjectival political description is added on.
It must also become the ground from which we move into the broader culture acting to to renew it from within through our participation as leaven in the loaf. The Social Teaching of the Catholic Church, properly understood must become the framework through which we inform all of our political and policy positions. It should also become the material with which we build a new model of political participation and a better society for all serving the true common good.

---
Copyright 2017 - Distributed by THE CALIFORNIA NETWORK
Pope Francis Prayer Intentions for OCTOBER 2017
Workers and the Unemployed.
That all workers may receive respect and protection of their rights, and that the unemployed may receive the opportunity to contribute to the common good.
---
---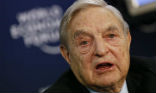 Billionaire George Soros has transferred $18 billion of his personal wealth to his Open Society Foundations, which grant money to liberal ... continue reading
---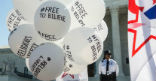 A network of wealthy donors is funding a series of well-organized lobbying campaigns to restrict legal protections for religious freedom, ... continue reading
---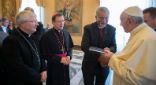 The Clintons took money from the Russians, and then sold twenty percent of the American uranium supply to Vladimir Putin, in 2010. The deal ... continue reading
---
Texas has joined the Convention of States, adding one more to the total of 34 states needed to change the Constitution without interference ... continue reading
---
The chair of the U.S. bishops' Committee on Religious Liberty says that expanded religious liberty protections in the federal contraception ... continue reading
---