The 'Two Step' of the New Censors. A Threat to Catholics?
---
Catholic Christians insist that there is a Natural Law which can be known by all men and women through the exercise of reason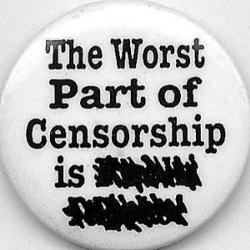 The first step of a new 'two step' would be to diminish our truth claims by insisting that our positions are 'religious' and must be confined within our Church Walls.
CHESAPEAKE, Va. (Catholic Online) - Catholic Christians insist that there is a Natural Law, "present in the heart of each man and established by reason." This law "is universal in its precepts and its authority extends to all men. It expresses the dignity of the person and determines the basis for his fundamental rights and duties." (CCC# 1956) It is here that we find the ground for the moral truths which should inform our life together if we hope to be a truly just and free society. It is here where we also find those fundamental and foundational human rights which we insist must be recognized by the civil or positive law as rightfully belonging to all men and women.
There is a real problem emerging in the United States and much of the West. One has only to examine the voting patterns and positions espoused by some Catholics to come to a conclusion that we are desperately in need of catechesis, instruction in what the Church teaches. We live in an age of relativism and sadly, some Catholics and other Christians do not understand the dangers which we face. The relativists of this age have managed to persuade many, including many Catholics, that there are no objective truths; there are only "my" truths and "your" truths. Further, they have relegated our position on the very existence of truths and rights to simply being "religious" positions in order to marginalize or dismiss them. In the midst of this confused age we must maintain that there are objective truths which can be known and that those truths are the only solid basis for building the foundation for a truly free, just and human society.
Dr. Deal Hudson's recent insightful piece entitled "Why Catholics Should Take a Position on the Hate-Crimes Bill" has drawn quite an array of comments from our readers. I offered a response when it first appeared on his publication, "Inside Catholic". My concerns are rooted in my experience as a human rights/ constitutional lawyer and my training in "Catholic Social Doctrine." I see a pattern on the rise in our Nation, indeed in the West. I call it the "Two Step" of the New Censors. It is at work in many of the serious debates over social and cultural issues. It is aimed at excluding our positions from being heard in the public square or influencing the positive/civil law. Let me give just one example, though there are many. The Catholic position on homosexual sexual practices as objectively disordered and our opposition to all efforts to undermine true marriage through what we should call the "Homosexual Equivalency Movement" - the movement which wants to call what can never be a marriage a marriage and then use the Police Power of the State to force all of us to do the same - is rooted in the Natural Law which binds all men and women. It is not simply a "religious" position.
This position that marriage - and the family founded upon it - is the first society, is a "truth claim". It grates against some in this age properly called a "dictatorship of Relativism" by Joseph Cardinal Ratzinger before he assumed the Chair of Peter. He has repeated the phrase several times since assuming Peter's Chair underscoring its importance. Yes, our position on what constitutes a true marriage is confirmed by Revelation, as is evident in the Sacred Scripture and the Tradition. However, Catholic Christians insist that the truth concerning marriage and the family founded upon it is rooted in the Natural Law which can be known by all men and women through the exercise of reason. Catholic Christians insist that these objective truths must be the basis of any truly just civil society. They inform a true humanism and help us live together in peace by promoting human flourishing.
The topic of Dr. Hudson's article was recent "Hate Crimes" legislation which includes those who engage in homosexual behavior as a "protected class" in the very same manner as it includes gender and race. Some are concerned over where this legislation could lead. Others take comfort in language found within the legislation which seeks to protect people with "religious positions". It is here where I raise the concern that a "two step" may be underway. If unchecked, the trends emerging could have the effect of censoring our right to contend in the Public Square. Here is how it happens. First, those who oppose our positions on matters such as the Right to Life for every human being from conception to natural death and the normative nature of the two parent, marriage bound family will relegate our truth claims to simply being "religious positions." Then they will require that these truth claims be confined to expression only within our Church Walls or we will face the Police power of the State.
There is a Cultural Revolution brewing in the West with two conflicting visions of the human person, human freedom, human flourishing and marriage and the family founded upon it as the first cell of a truly just society. The real possibility looms that today's Catholic positions on these matters of importance for all men and women, including those of other faiths or no faith at all, will be censored from the public debate or, worse yet, made the subject of a new form of censorship. We need to remember history. The early Christians were not persecuted for "religion" but as "enemies of the State" and for "hatred of the human race". In 1999, Evangelical Protestant theologian, Harold O.J. Brown of the Howard Center for the Family, Religion and Society noted a "similarity between the way the Roman authorities charged Christians of that era with "odium humani generis" [hatred of the human race] and the way the political and media establishment charge contemporary Christians with creating a "climate of hate."
This charge, leveled against the early Christians, of "Hatred of the Human Race" was directed by those within an ancient Rome which had lost its respect for the dignity of all human life while claiming to be enlightened. They practiced primitive forms of abortion as well as "exposure", the killing of unwanted newborns. The Emperor Nero in the first-century A.D. was overt in his homosexual relationships. He even sought to make such relationships normative in the empire by giving an equal status between homosexual relationships and true marriage. First and Second century Rome was one of the first mission fields of the early Christian Church. It proclaimed itself the shining example to the world of its age while it embraced debauchery. In an eerie parallel, the history of ancient Rome reveals that the hostility toward the Christians grew as the citizens of this once great empire continued in their own spiraling moral decline. They simply did not want to hear these Christians and their opposition to abortion and the practice of "exposure" (the killing of newborns). Their infatuation with hedonism was threatened by those Christians' insistence on monogamy and the family as the first society and foundation of civilization.
One of the ancient Christian manuscripts from that age, written to a pagan inquirer, spoke of the distinctly different practices of the Christians: "They reside in their respective countries, but only as aliens. They take part in everything as citizens and put up with everything as foreigners. Every foreign land is their home, and every home a foreign land. They marry like all others and beget children but they do not expose (kill or abandon) their offspring. Their board they spread for all, but not their bed." The commitment of these Christians to the dignity of every human person as well as the witness of their faithful monogamous marriages transformed ancient Rome. But it was not without hostility.
We are called to build a culture of life and a civilization of love in our own day. We cannot support the efforts to give promiscuous heterosexual or homosexual relationships the same status as monogamous marriage, period. When such practices become enforced by the civil law of the State, we must be ready to experience hostility in opposing such laws and proposing a better way. In so doing, we may also become more and more annoying to some as the West proceeds on a march toward a new paganism. The irony is that some call such a march "progressive" when, in fact, it is regressive. The first step of a new "two step" would be to diminish our truth claims by insisting that our positions are "religious" and must be confined within our Church Walls. So far the American regime has not charged those who insist that such positions are rooted in the Natural Law with "hatred of the human race' but censoring our speech may be an ominous step in that direction.

---
Copyright 2017 - Distributed by THE CALIFORNIA NETWORK
Pope Francis Prayer Intentions for OCTOBER 2017
Workers and the Unemployed.
That all workers may receive respect and protection of their rights, and that the unemployed may receive the opportunity to contribute to the common good.
---
---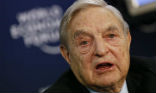 Billionaire George Soros has transferred $18 billion of his personal wealth to his Open Society Foundations, which grant money to liberal ... continue reading
---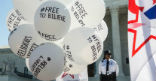 A network of wealthy donors is funding a series of well-organized lobbying campaigns to restrict legal protections for religious freedom, ... continue reading
---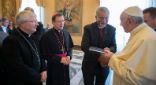 The Clintons took money from the Russians, and then sold twenty percent of the American uranium supply to Vladimir Putin, in 2010. The deal ... continue reading
---
Texas has joined the Convention of States, adding one more to the total of 34 states needed to change the Constitution without interference ... continue reading
---
The chair of the U.S. bishops' Committee on Religious Liberty says that expanded religious liberty protections in the federal contraception ... continue reading
---