---
John Paul II could not have been clearer in Evangelium Vitae: Abortion is murder, and civil disobedience through tax protest may be an option.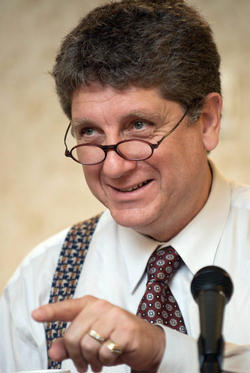 Pictured: Randall Terry, Long Time Leader in the Human Rights Movement to defend our first neighbors in the first home of the whole human race, children in the womb.
WASHINGTON, D.C. (Catholic Online) - Hello Pro-life friend. As we pour our hearts and souls into the battle to keep the slaughter of the innocent by abortion out of any health care bill, the discussion has emerged as to whether it is an ethically viable option to refuse to pay part of all of our federal taxes.

Some well meaning souls have already - perhaps without much thought - repeated our Lord's oft quoted statement: "Render unto Caesar that which is Caesar's, and unto God that which is God's."

The simple question is this: does this statement of our Lord apply in a situation like the present? If we know that Caesar is going to use the money to kill our neighbor - one of God's children - are we required, by God Himself, to give the money to our political leaders?

I think the answer is self-evidently, "No!"

The words of our beloved late Pope, John Paul II, make clear that absolute obediance belongs to God alone, and that we have the right and perhaps duty to resist the government - "Caesar" - when the government wants us to participate in the killing of the innocent.

I believe the words of Evangelium Vitae open a wide door of ways and means to peacefully oppose the current effort of some to force us to participate - with our tax money - in the slaughter of the innocent. One option might include the refusal to pay taxes.

I pray the words of Evangelium Vitae give us clarity, guidance and wisdom equal to this troubling hour.

John Paul II - from the Chair of St. Peter - declared that abortion is murder:

"The moral gravity of procured abortion is apparent in all its truth if we recognize that we are dealing with murder... Evangelium Vitae"(58)

He also made clear that the democratic process in no way can legitimize a crime against humanity, such as abortion:

"When a parliamentary or social majority decrees that it is legal, at least under certain conditions, to kill unborn human life, is it not really making a "tyrannical" decision with regard to the weakest and most defenceless of human beings? Everyone's conscience rightly rejects those crimes against humanity of which our century has had such sad experience. But would these crimes cease to be crimes if, instead of being committed by unscrupulous tyrants, they were legitimated by popular consensus? Democracy cannot be idolized to the point of making it a substitute for morality or a panacea for immorality." (70)

He then made several direct comments about civil disobedience in reference to child-killing by abortion, some of which I now quote:

"Laws which authorize and promote abortion and euthanasia are therefore radically opposed not only to the good of the individual but also to the common good; as such they are completely lacking in authentic juridical validity. Disregard for the right to life, precisely because it leads to the killing of the person whom society exists to serve, is what most directly conflicts with the possibility of achieving the common good. Consequently, a civil law authorizing abortion or euthanasia ceases by that very fact to be a true, morally binding civil law."(72)

"Abortion and euthanasia are thus crimes which no human law can claim to legitimize. There is no obligation in conscience to obey such laws; instead there is a grave and clear obligation to oppose them by conscientious objection. From the very beginnings of the Church, the apostolic preaching reminded Christians of their duty to obey legitimately constituted public authorities (cf. Rom 13:1-7; 1 Pet 2:13-14), but at the same time it firmly warned that "we must obey God rather than men"(Acts 5:29)..."(73)

"...It is precisely from obedience to God-to whom alone is due that fear which is acknowledgment of his absolute sovereignty-that the strength and the courage to resist unjust human laws are born. It is the strength and the courage of those prepared even to be imprisoned or put to the sword, in the certainty that this is what makes for "the endurance and faith of the saints" (Rev 13:10)." (73)

"In the case of an intrinsically unjust law, such as a law permitting abortion or euthanasia, it is therefore never licit to obey it, or to "take part in a propaganda campaign in favour of such a law, or vote for it".(98,73)

"The passing of unjust laws often raises difficult problems of conscience for morally upright people with regard to the issue of cooperation, since they have a right to demand not to be forced to take part in morally evil actions."(74)

John Paul II's words could hardly be more forceful. Perhaps the most compelling declaration of our late Holy Father concerning our duty to refuse to cooperate with the murder of the innocent is this:

"Christians, like all people of good will, are called upon under grave obligation of conscience not to cooperate formally in practices which, even if permitted by civil legislation, are contrary to God's law. Indeed, from the moral standpoint, it is never licit to cooperate formally in evil. Such cooperation occurs when an action, either by its very nature or by the form it takes in a concrete situation, can be defined as a direct participation in an act against innocent human life or a sharing in the immoral intention of the person committing it. This cooperation can never be justified either by invoking respect for the freedom of others or by appealing to the fact that civil law permits it or requires it. Evangelium Vitae," (74)

I submit that these words - spoken by the Vicar of Christ - make it crystal clear that the "render unto Caesar" principle cannot be invoked here. We have a duty - at many levels and in many ways - to refuse to cooperate in paying for our neighbors murder.

Friend, I know that these are troubling times, that require much prayer...but they also require courageous action. May God give us the wisdom and strength equal to this crisis to do everything we can to stop this juggernaut from the culture of death. May we find our solace and valor in the words of The Gospel of Life, and then herald and live those words with all our might.

(To learn more what you can do, go to www.OverturnRoe.com)


---
Copyright 2016 - Distributed by THE CALIFORNIA NETWORK
Pope Francis Prayer Intentions for May 2016
Universal:
Respect for Women: That in every country of the world, women may be honored and respected and that their essential contribution to society may be highly esteemed.
Evangelization:
Holy Rosary: That families, communities, and groups may pray the Holy Rosary for evangelization and peace.
---
---
---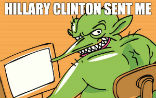 By Marshall Connolly (CALIFORNIA NETWORK)
The next time you encounter an internet troll, be warned, he could be getting paid to fan the flames, or to douse your conversation. A new study our of Harvard reveals that China is using an army of 448 million fake troll accounts to influence public opinion. And China ... continue reading
---

By David Drudge (CALIFORNIA NETWORK)
The State Department Inspector General has ruled that Hillary Clinton broke department rules for using a private email server and for deleting emails she sent and received during her tenure. The report was released on Capitol Hill today. LOS ANGELES, CA (California ... continue reading
---

By Kenya Sinclair (CALIFORNIA NETWORK)
The United States provides 33 percent of the world's arms such as fighter jet aircraft, tanks and more - so which countries are buying? LOS ANGELES, CA (Catholic Online) - According to the Defense Security Cooperation Agency, the number one country purchasing ... continue reading
---

By Kenya Sinclair (CALIFORNIA NETWORK)
With many Senate Democrats calling for a faster processing, the Obama Administration and U.S. Citizenship and Immigration Services (CIS) have drastically increased the number of Syrian refugees admitted into the United States. LOS ANGELES, CA (Catholic Online) - ... continue reading
---

By David Drudge (CALIFORNIA NETWORK)
The FBI is investigating Virginia Gov. Terry McAuliffe on the grounds that he accepted illegal campaign contributions. There is overlap between his donors and donors to the Clinton campaign. Investigators have discovered that a Chinese politician made a particularly ... continue reading
---

By Kenya Sinclair (CALIFORNIA NETWORK)
As American steel production falters, China has begun efforts to dump its excess steel at slashed prices. LOS ANGELES, CA (Catholic Online) - According to Thomas J. Gibson, president and CEO of the American Iron and Steel Institute, and Chuck Schmitt, president of SSAB ... continue reading
---

By Catholic Online (NEWS CONSORTIUM)
Chaos erupted as the US House of Representatives refused to pass an amendment meant to strip away religious freedom and protections for religious contractors and those who work with the federal government. LOS ANGELES, CA (Catholic Online) - When House Democrats ... continue reading
---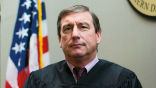 By David Drudge (CALIFORNIA NETWORK)
An angry federal judge has ordered Justice Department attorneys to take annual ethics classes for lying. The lies told by Justice Department attorneys tricked 26 states into filing a lawsuit against the administration. LOS ANGELES, CA (California Network) - U.S. ... continue reading
---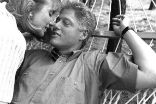 By David Drudge (CALIFORNIA NETWORK)
As Hillary Clinton declares herself the presumptive nominee of the Democratic party amid the cheers of millions of millennial supporters, few people seem to remember that her husband, Bill Clinton, is an accused serial rapist. And far from being a supporter of women' ... continue reading
---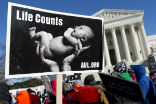 By Marshall Connolly (CALIFORNIA NETWORK)
Oklahoma has outlawed abortion! The state legislature has passed a bill that would criminalize the procedure, except to save the life of the mother. The bill will now go to the governor for signing. LOS ANGELES, CA (Catholic Online) - The final decision will be up to ... continue reading
---
All Politics & Policy News