By Catholic Online (NEWS CONSORTIUM)
7/2/2014 (1 year ago)
Catholic Online (www.catholic.org)
Agency spying on all but five foreign nations.
The National Security Agency has been authorized to intercept information which concerns all but four countries, top-secret documents revealed.
Highlights
By Catholic Online (NEWS CONSORTIUM)
Catholic Online (www.catholic.org)
7/2/2014 (1 year ago)
Published in U.S.
---
LOS ANGELES, CA (Catholic Online) - According to 2010 legal certification and other documents, the NSA has been given far more elastic authority than previously assumed, one that allows it to intercept any communication about an overseas target, not just information from that target.

End world hunger through "prayer and action."

Except for targets in Britain, Canada, Australia and New Zealand these documents explain. Those countries, with the United States are part of a group known to the U.S. as the Five Eyes.

The NSA's sweeping certification-approved by the Foreign Intelligence Surveillance Court -was leaked by former NSA contractor Edward Snowden, allow it to gather intelligence on entities including the World Bank, International Monetary Fund, the European Union and the International Atomic Energy Agency.

This doesn't mean that the NSA is targeting the 193 other countries, or these organizations, but that it has been given the legal authority to do so by the U.S. legal system.

It is the implications of this which is so worrying, civil liberties advocates say. There is a wide spectrum of people who might be engaged in communication with or about foreign governments or entities and these communications might be monitored by the NSA.

"These documents show both the potential scope of the government's surveillance activities and the exceedingly modest role the court plays in overseeing them," said Jameel Jaffer, deputy legal director for the American Civil Liberties Union, when the documents were described to him.

The NSA fired back, claiming there were constraints placed on foreign intelligence-gathering. The collected information must relate to a foreign intelligence requirement set for the agency by the president, the director of national intelligence and various departments through the National Intelligence Priorities Framework.

A former government official said that it is prudent for the certification to list every country, even those whose affairs do not seem to be immediately of interest to U.S. security.

"It's not impossible to imagine a humanitarian crisis in a country that's friendly to the United States, where the military might be expected on a moment's notice to go in and evacuate all Americans," said a former senior defense official. "If that certification did not list the country," then the NSA couldn't gather intelligence.

These documents shed light on the little-understood process that is central to one of the NSA's most significant surveillance programs: the collections of e-mails and phone calls of foreign targets under Section 702 of the 2008 FISA Amendments Act.
---
Copywriter 2015 - Distributed by THE NEWS CONSORTIUM
Pope Francis Prayer Intentions for July 2015
Universal:
That political responsibility may be lived at all levels as a high form of charity.
Evangelization:
That, amid social inequalities, Latin American Christians may bear witness to love for the poor and contribute to a more fraternal society.
---
---
---

By Nikky Andres (NEWS CONSORTIUM)
Atheist activists lost a years-long battle this week over the "Big Mountain Jesus statue," which has been standing for over 60 years on public land near the Big Mountain ski resort in Montana. MUNTINLUPA, PHILIPPINES (Catholic Online) - The statue was made to ... continue reading
---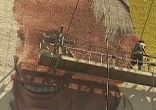 By Catholic Online (NEWS CONSORTIUM)
Excitement is building in New York City with the visit of Pope Francis this September 24. A massive, hand-painted mural, 225-feet tall has been placed in midtown Manhattan at the corner of Eighth Avenue and 34th Street, close to Madison Square Garden, where the ... continue reading
---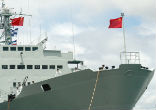 By Catholic Online (NEWS CONSORTIUM)
Unnamed defense officials have identified a Chinese amphibious ship, a replenishment vessel and three surface combatant ships - altogether five Chinese warships in the Bering Sea off Alaska. The ships were sighted during U.S. President Barack Obama's three-day ... continue reading
---

By Kenya Sinclair (NEWS CONSORTIUM)
The Center of Immigration Studies, a group that advocates for lower levels of immigration, released a report showing 51 percent of immigrant-led households receive some kind of welfare benefit. Benefits include Medicaid, food stamps, school lunches, housing assistance ... continue reading
---

By Kenya Sinclair (NEWS CONSORTIUM)
Cardinal Donald William Wuerl has announced Pope Francis' decision to give his Washington Mass on September 23 in Spanish. LOS ANGELES, CA (Catholic Online) - "It's a recognition of how large the Hispanic population in the United States is," Wuerl said. "And he's ... continue reading
---

By Kenya Sinclair (NEWS CONSORTIUM)
The nuclear deal between the United States, China, Britain, France, Russia, Germany and Iran has been under intense scrutiny from Republicans and some Democrats, however Democratic Senator Barbara Mikulski has agreed to pledge support. Mikulski's support means ... continue reading
---

By Kenya Sinclair (NEWS CONSORTIUM)
17-year-old Valerie Herrera, a senior at Cristo Bey Jesuit High School, was asked by Pope Francis to sing a song. LOS ANGELES, CA (Catholic Online) - Americans were invited to a virtual meeting with Pope Francis via satellite, which was moderated from inside the ... continue reading
---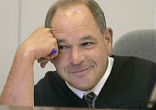 By Catholic Online (NEWS CONSORTIUM)
Making the punishment fit the crime seems to be the method behind Judge Michael Cicconetti's madness. The Ohio judge metes out unusual sentences in lieu of hefty fines and jail time. It must be working, as those sentenced to perform the unlikely, court-mandated ... continue reading
---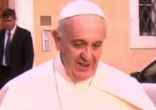 By Catholic Online (NEWS CONSORTIUM)
Speaking to Americans nationwide, Pope Francis participated in a virtual audience hosted by ABC News. Moderated inside the Vatican by ABC News' "World News Tonight," the segment will air this Friday, September 4, on ABC's "20/20" news program. LOS ANGELES, CA ... continue reading
---

By Kenya Sinclair (NEWS CONSORTIUM)
Planned Parenthood is exposed once again in another undercover video from the Center for Medical Progress. A conversation with Dr. Katharine Sheehan, long-time medical director of Planned Parenthood of the Pacific Southwest until 2013, Perrin Larton, the Procurement ... continue reading
---
All U.S. News