Fidelity and Infidelity: Bishop Paprocki and Governor Quinn. A Tale of Two Catholic Leaders
---
The Governor will commit an egregious act of public scandal, while all the while claiming to be a Catholic Christian
It is scandalous that so many Catholic politicians are responsible for enabling the passage of this legislation and even twisting the words of the pope to rationalize their actions despite the clear teaching of the church. All politicians now have the moral obligation to work for the repeal of this sinful and objectionable legislation. We must pray for deliverance from this evil which has penetrated our state and our church. (Bishop Thomas Paprocki)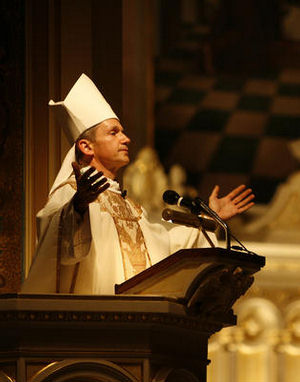 Bishop Paprocki said that since same-sex marriage is contrary to the plan of God (see Genesis 1:27 and 2:24, Matthew 19:4-6 and Mark 10:6-9), those who contract civil same-sex marriage are culpable of serious sin. He also noted that politicians who enacted civil same-sex marriage legislation are - morally complicit as co-operators in facilitating this grave sin.
Highlights
By Deacon Keith Fournier
Catholic Online (www.catholic.org)
11/24/2013 (3 years ago)

Published in U.S.
Keywords: gay marriage, homosexual marriage, Bishop Thomas Paprocki, Governor Pat Quinn, Illinois, Marriage, family, apostasy, infidelity, moral life, Catholics in politics, Cardinal Francis George, Deacon Keith Fournier
---
P>SPRINGFIELD,ILL (Catholic Online) - My wife of thirty eight years is from Peoria, Illinois. Her brother still lives there. For that reason, I paid particular attention to the devastating tornado activity this past weekend. I joined many others in praying for God's merciful protection for the people of Illinois.
I was already praying for the Catholic faithful of Illinois - and with them - for another reason. On Wednesday, November 20, 2013, two Catholic leaders acted in a way which will have deep and profound importance.
One acted for evil and the other for good. One acted in fidelity to his faith, in a manner consistent with the office entrusted to Him and in fidelity with the Natural Moral Law. The other acted in reprehensible infidelity, to his faith, his office, also entrusted to him, and in flagrant disregard for the truth as revealed by the Natural Moral Law and written on every human heart.
One is a holy and courageous Catholic Bishop named Thomas Paprocki. The other is an unfaithful Catholic Governor named Pat Quinn.
The Governor committed an egregious act of public scandal, while all the while claiming to be a Catholic Christian. He signed a piece of legislation which has as its ultimate effect the undermining of marriage and the family and society founded upon it. The Catechism of the Catholic Church defines scandal:

Scandal is an attitude or behavior which leads another to do evil. The person who gives scandal becomes his neighbor's tempter. He damages virtue and integrity; he may even draw his brother into spiritual death. Scandal is a grave offense if by deed or omission another is deliberately led into a grave offense.
Scandal takes on a particular gravity by reason of the authority of those who cause it or the weakness of those who are scandalized. It prompted our Lord to utter this curse: "Whoever causes one of these little ones who believe in me to sin, it would be better for him to have a great millstone fastened round his neck and to be drowned in the depth of the sea." Scandal is grave when given by those who by nature or office are obliged to teach and educate others. Jesus reproaches the scribes and Pharisees on this account: he likens them to wolves in sheep's clothing.
Scandal can be provoked by laws or institutions, by fashion or opinion. Therefore, they are guilty of scandal, who establish laws or social structures leading to the decline of morals and the corruption of religious practice, or to "social conditions that, intentionally or not, make Christian conduct and obedience to the Commandments difficult and practically impossible." This is also true of business leaders who make rules encouraging fraud, teachers who provoke their children to anger, or manipulators of public opinion who turn it away from moral values.
"Anyone who uses the power at his disposal in such a way that it leads others to do wrong becomes guilty of scandal and responsible for the evil that he has directly or indirectly encouraged."Temptations to sin are sure to come; but woe to him by whom they come!" (CCC #2284-2287)
I have spent much of my academic study in the field of Moral Theology. I have always been amazed by the way in which our choices not only affect the world around us but also make us become the persons we become in the process. I recently wrote an article entitled A Reflection on Moral Theology: What Are We Choosing and Who Are We becoming? 
It dealt with the power of human freedom and the implications of our choices. What we choose determines who we will become. Choosing what is good changes the chooser, empowering him or her to proceed along the pathways of virtue and develop the habits which help to form Christian character, as they cooperate with grace. The Catechism of the Catholic Church addresses human choice, action and freedom: The more one does what is good, the freer one becomes. There is no true freedom except in the service of what is good and just. The choice to disobey and do evil is an abuse of freedom and leads to 'the slavery of sin'. (Cf. Rom 6:17)" (CCC#1733)
Part Three of the Catechism is devoted specifically to a discussion of Moral theology.
In its explanation of the morality of human acts, it offers an important insight concerning a wrong exercise of freedom: Mortal sin is a radical possibility of human freedom, as is love itself." It properly insists that authentic Human Freedom cannot be realized in decisions made against God and against what is good because it is patterned on God's freedom.
Twenty years ago I read a stunning book written by a Carmelite priest, Fr. Ladislauz Kluz, entitled Kolbe and the Kommandant: Two Worlds in Collision. It is a dual biography. It tells the heroic story of one of the greatest saints of the twentieth century, the Franciscan priest, Fr Maximilian Kolbe. He laid his life down freely for another and was martyred at Auschwitz in 1941. It also tells the story of one of the most evil and corrupted military office holders of the twentieth century, a man named Rudolph Hoess. He was the commandant of the Auschwitz death camp. He was hung outside the same death camp seven years later, convicted as a Nazi War Criminal.
The book juxtaposes the life stories of these two men. They were both from Catholic families, both served as altar boys, and both wanted to be Catholic priests when they were very young. In a compelling literary style, by juxtaposing the two biographies, the book shows how their choices in life led them along to two very different paths. Their choices determined the impact of both their lives and their deaths.
In 2011, my wife and I watched a very good film entitled There Be Dragons. It is an account of a young journalist who, having been disaffected from his own father, investigates the story of St. Josemaria Escriva. He had been a a childhood friend of his father. It traces their stories from the Spanish Civil War and shows how their choices led them along two very different paths, only to be reconciled at the deathbed of the young man's father.
Both the book and the film came to my mind as I contemplated what will occur on Wednesday, November 20, 2013 in the State of Illinois.
Governor Pat Quinn, a professing Catholic, signed legislation at the University of Illinois at Chicago. He did it with fanfare, with an elaborate signing ceremony before an estimated three thousand people. With his signature he purported to make into marriages relationships which can never fulfill the ends of marriage, homosexual and lesbian partnerships. This Governor undermined marriage, the family, society and the common good. He also denied his Catholic faith and the truth which it professes about marriage.  
Bishop Thomas Paprocki, a courageous and faithful Catholic Bishop, led a very different ceremony at the Cathedral of the Immaculate Conception, Sixth and Lawrence Streets, in Springfield, Illinois. He presided over a service wherein he offered "Prayers of Supplication and Exorcism in Reparation for the Sin of Same-Sex Marriage." It was in the context of a Holy Hour where the faithful adored the Lord, truly present in the Holy Eucharist.
Along with Francis Cardinal George who asked that this letter be placed in all parish bulletins over weekend, Bishop Paprocki demonstrated extraordinary courage and remained faithful. An editorial in the Chicago Sun Times had the audacity to call Bishop Paprocki a "Rogue Bishop" because of his fidelity. The fact is - it is the Governor of Illinois who is the Rogue leader. History will write a very intriguing story of these two men in the years which lie ahead.  
 
The Catholic Church insists that the truth about marriage is revealed in the Natural Moral Law and serves the common good of every society. Marriage and family have been inscribed by the Divine Architect into the order of creation. Marriage is ontologically between one man and one woman, ordered toward the union of the spouses, open to children and formative of family.
Further, that marriage as existing solely between one man and one woman was not an idea manufactured by religion or civil government. It precedes both. The truth that marriage can exist only between one man and one woman is not based on religion or revelation alone, but on this Natural Moral Law, which is written on the human heart and discernible through the exercise of reason.
The Congregation for the Doctrine of the Faith of the Catholic Church wrote in 2003: The Church's teaching on marriage and on the complementarity of the sexes reiterates a truth that is evident to right reason and recognized as such by all the major cultures of the world. Marriage is not just any relationship between human beings. It was established by the Creator with its own nature, essential properties and purpose.
No ideology can erase from the human spirit the certainty that marriage exists solely between a man and a woman, who by mutual personal gift, proper and exclusive to themselves, tend toward the communion of their persons. In this way, they mutually perfect each other, in order to cooperate with God in the procreation and upbringing of new human lives.
I offer below the news release issued by the Diocese of Springfield in Illinois. I ask all of our readers to join with the Catholic faithful during the hour when this prayer service will be offered.
******
Bishop Thomas John Paprocki to Offer "Prayers of Supplication and Exorcism in Reparation for the Sin of Same-sex Marriage"
SPRINGFIELD - Scheduled for approximately the same time that Gov. Pat Quinn signs into Illinois law the redefinition of civil marriage, Bishop Thomas John Paprocki will offer "Prayers of Supplication and Exorcism in Reparation for the Sin of Same-Sex Marriage" at the Cathedral of the Immaculate Conception, Sixth and Lawrence streets in Springfield, on Wednesday, Nov. 20, from 4 to 5 p.m. Clergy, religious and laity are invited to attend.
"The context for this prayer service may be understood by recalling the words of Pope Francis when he faced a similar situation as Archbishop of Buenos Aires in 2010," Bishop Paprocki said.
Regarding the proposed redefinition of civil marriage in Argentina, then-Cardinal Jorge Mario Bergoglio wrote on June 22, 2010: "The Argentine people must face, in the next few weeks, a situation whose result may gravely harm the family. It is the bill on matrimony of persons of the same sex. The identity of the family, and its survival, are in jeopardy here: father, mother, and children. The life of so many children who will be discriminated beforehand due to the lack of human maturity that God willed them to have with a father and a mother is in jeopardy. At stake is the total rejection of God's law engraved in our hearts. ... Let us not be naive: it is not a simple political struggle; it is an intention [which is] destructive of the plan of God. It is not a mere legislative project (this is a mere instrument), but rather a 'move' of the father of lies who wishes to confuse and deceive the children of God."
Bishop Paprocki noted, "The pope's reference to the 'father of lies' comes from the Gospel of John (8:44), where Jesus refers to the devil as 'a liar and the father of lies.' So Pope Francis is saying that same-sex 'marriage' comes from the devil and should be condemned as such."
The prayers for "Supplication and Exorcism Which May Be Used in Particular Circumstances of the Church" are taken from the Appendices to the 2004 Latin edition of the Rite of Exorcism, the introduction to which explains, "The presence of the Devil and other demons appears and exists not only in the tempting or tormenting of persons, but also in the penetration of things and places in a certain manner by their activity, and in various forms of opposition to and persecution of the church. If the diocesan bishop, in particular situations, judges it appropriate to announce gatherings of the faithful for prayer, under the leadership and direction of a priest, elements for arranging a rite of supplication may be taken from [the texts provided in these appendices]."
Bishop Paprocki said that since same-sex marriage is contrary to the plan of God (see Genesis 1:27 and 2:24, Matthew 19:4-6 and Mark 10:6-9), those who contract civil same-sex marriage are culpable of serious sin. He also noted that politicians who enacted civil same-sex marriage legislation are "morally complicit as co-operators in facilitating this grave sin."
"It is scandalous that so many Catholic politicians are responsible for enabling the passage of this legislation and even twisting the words of the pope to rationalize their actions despite the clear teaching of the church," he said. "All politicians now have the moral obligation to work for the repeal of this sinful and objectionable legislation. We must pray for deliverance from this evil which has penetrated our state and our church."
Bishop Paprocki concluded, "Pope Francis has also urged us to be mindful of God's mercy, so it is good to recall the profound expression of divine mercy uttered by Jesus as he was dying on the cross to save us from our sins, 'Father, forgive them, for they know not what they do' (Luke 23:34)."
The Catholic Diocese of Springfield in Illinois is 130 parishes in 28 counties in central Illinois.
---
Copyright 2017 - Distributed by THE CALIFORNIA NETWORK
Pope Francis Prayer Intentions for SEPTEMBER 2017
Parishes.
That our parishes, animated by a missionary spirit, may be places where faith is communicated and charity is seen.
---
---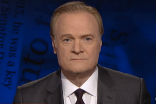 We have unmasked Lawrence O'Donnell for the lying, foul mouthed, hypocrite that he is. The fake-news reporting hypocrite has gone viral in ... continue reading
---
"Evacuate or die," is the warning to residents of Puerto Rico as category 5 hurricane Maria churns towards the island territory. Maria has ... continue reading
---

A rap artist has published a video that shows him lynching a child. The production is intended to support the Black Lives Matter movement, ... continue reading
---
A viral video of a nun going to work on a fallen tree with a chainsaw is raising brows online. But why should it? Nuns are among the ... continue reading
---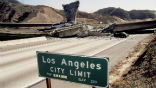 This year, California went from due to overdue for the Big One. That's the name residents have for a massive quake that scientists predict ... continue reading
---