The killings at Sandy Hook Elementary School were only a symptom
If we truly want to prevent further school shootings in this nation, we need to stop fooling ourselves with utopian "feel good" solutions like passing some more anti-gun legislation. We need to look inward and see that, as Pogo famously said, "We have met the enemy, and he is us."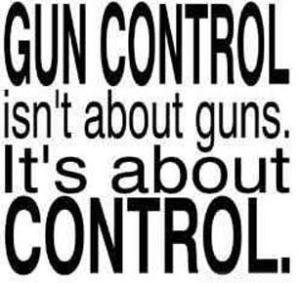 RICHMOND, VA (Catholic Online) - The scenario is all too familiar. The nation is aghast over a psychopathic 20-year old who entered a school and systematically killed some 28 people, including himself. The usual group of anti-gun advocates followed the admonition of one of their leaders, Rahm Emmanuel, not to "waste a crisis" and were calling for stricter gun control laws before the assailant's guns had cooled. A teary eyed President said he felt "overwhelming grief" at the tragedy and promised "meaningful action to prevent more tragedies like this". Could this have been a reference to his own anti-gun agenda to which the horror in Connecticut will add considerable fuel?
But let us look for a moment at the underlying logic of the anti-gun position, which is that guns equal killing; if you own a gun, you will go on a rampage and kill innocent people. Estimates vary on the number of guns and gun owners in the United States, but a rough average would be approximately 80 million people in the US own about 250 million guns. So, although one person went on a rampage Friday, another 80 million people did not. The odds, therefore, of a gun owner committing an atrocity like the one in Connecticut are actually rather small.
Gun sales are currently at an all-time high, and the message of the anti-gunners is that with more guns there will be more crime. The facts, however, do not support this basic assumption. In fact, US violent crime rates that soared for 30 years from the early 1960s have decreased markedly since 1993. Last December the FBI reported that murder and other violent crime rates fell again by 6.4% during the first half of 2011 compared with the same period in 2010. It would appear that increased gun ownership does not lead to increased crime, and in fact the reverse may be true.
Still, it is reasonable to try to prevent guns from falling into the wrong hands, which should be the purpose of gun regulation. Criminals and individuals with mental problems clearly should be denied access to guns. The problem, however, is that criminals, by definition, do not abide by laws. The Connecticut shooter is a clear case in point. He was 20 years old, so legally too young to buy a gun. No problem, he stole the guns from his mother and then murdered her as his first victim. There was no lack of "gun control" laws involved. Connecticut has very stringent gun control laws, but the shooter simply bypassed them by stealing the guns, as criminals do every day. His mother could not report this theft or his activities to the authorities because she was dead. So much for anything that legislation could possibly have accomplished.
The problem with gun control is that it does not address the real problem. As the well-known cliché says, "Guns don't kill people; people kill people". Interestingly, the same day the attack was carried out in Connecticut, a knife-wielding man attacked 22 students and a teacher at a school in central China in another of a series of similar assaults which killed 18 children in 2010. Clearly the problem is not restricted to the use of guns, nor is it restricted to the US.
So what is the problem? Gun control is, like most of the liberal ideology, a fantasy world solution to a real world problem. It is like raising the debt ceiling to solve our problem of deficit spending. If we could only get rid of guns we would have no killing, goes the anti-gun line. Ask the parents of the dead and wounded children in China if this is the case. Quixotic jousting at windmills has not proven to be an effective solution to many problems in the past, and depriving the good people of the US, the vast overwhelming majority of whom use their guns in a responsible way, of their only chance to defend themselves against a crazed attacker like the Connecticut shooter, is not likely to stop the carnage.
At this point, the anti-gun Left wants a "dialogue" about this problem. That dialogue must begin with the recognition of the real cause of the problem - evil, the evil that is associated with and caused by the culture of death that has taken over our nation. Pontificating by politicians who vote for pro-abortion legislation about the "terror" of the Connecticut killings is hypocritical at best. Why is a nation that legally kills over a million of its children annually concerned about another 28 people? How can a President who voted multiple times to continue even the most barbarous and unnecessary type of abortion, partial birth abortion, claim to experience "overwhelming grief" over the carnage in Connecticut and yet be unmoved by that which goes on daily in the Planned Parenthood facilities all over the nation that he funds with our tax dollars?
The killings at Sandy Hook Elementary School were only a symptom of the larger problem that afflicts us today, and afflicts most of the world - a loss of our moral compass due to our abandonment of God. Oh sure, people will point to the 2008 figures from the American Religious Identification Survey that, although showing a decline, still say that 76% of Americans define themselves as "Christians". A recent Gallup poll was interpreted to show a decrease in the number of Americans who are "pro-choice", but that conclusion was inaccurate. What the poll said was, "Since 2001, at least half of Americans have consistently chosen the middle position, saying abortion should be legal under certain circumstances, and the 52% saying this today is similar to the 50% in May 2011. The 25% currently wanting abortion to be legal in all cases and the 20% in favor of making it illegal in all cases are also similar to last year's findings."
The reality is that a large majority, 77 percent, of Americans support abortion being legal in all or "certain circumstances," and just 20 percent of Americans are actually "pro-life" in the sense that they do not support legalized abortion under any circumstances. In other words, most Americans are actually pro-choice even if they sometimes identify themselves as being pro-life. There are actually more Americans who think abortion should be legal in all circumstances (25 percent) than think it should be illegal in all circumstances (20 percent). How does this square with the 76% who define themselves as Christians?

The answer would appear to be that people no longer know what it means to be Christian any more than they know what it means to be pro life. We have systematically re-created God in our own image, applying the same relativism to His Commandments that modern day jurists apply to what they consider a "living" Constitution. In this juridical wonderland, laws have no historical, or in the case of the Commandments, eternal, validity; they mean only what their interpreters decide they mean.
This issue arose in Jesus' time as well. In Matthew 19:3 we read: "Some Pharisees approached him, and tested him, saying, "Is it lawful for a man to divorce his wife for any cause whatever?" He said in reply, "Have you not read that from the beginning the Creator 'made them male and female' and said, 'For this reason a man shall leave his father and mother and be joined to his wife, and the two shall become one flesh'? So they are no longer two, but one flesh. Therefore, what God has joined together, no human being must separate." They said to him, "Then why did Moses command that the man give the woman a bill of divorce and dismiss (her)?" He said to them, "Because of the hardness of your hearts Moses allowed you to divorce your wives, but from the beginning it was not so. I say to you, whoever divorces his wife (unless the marriage is unlawful) and marries commits adultery."
In other words, the people had overwhelmed poor Moses and simply would not abide by God's law, so he gave up and acquiesced to their demands. This is what has in fact happened in our "Christian" churches due to Modernism - one by one the precepts of the faith have been bludgeoned to death by an increasingly self-occupied "faithful" who insist that God's law is no longer "relevant" and must be "progressive" to be in touch with the changes in society. Jesus, however, threw a wet blanket on that sort of thinking. He in effect told them that regardless of what may "seem" reasonable to them, like eating the apple "seemed" reasonable to Eve, divorce was a sin. Period.
Abortion, whether it is promoted by people who quibble about when the embryo or fetus becomes a "person", or whether they talk about how "unfair" it would be to the mother to raise an "unwanted" child, particularly if that child was the result of incest or rape, or whether they bemoan how much work and expense would be wasted on raising a child with a disease or deformity that could easily be diagnosed in utero, is similarly always and everywhere wrong, because it is the murder of an innocent child. It is what it is.
In some primitive societies, such as the Aztecs in Mexico, human sacrifice by horrific means, such as cutting out the living heart of the victims, was carried out on a grand scale. The citizenry was forced to witness this, under penalty of death, in order to inure them to this sort of carnage. The same sort of habituation is being promoted by our pro-abortion government. It has now gone so far that businesses owned by pro-life Christians are being forced to pay for insurance that includes coverage for contraception and abortion for its employees. Tax dollars are being used to fund abortions, and abortion has been redefined from the killing of an innocent child to a "maternal health" service.
In this sort of moral vacuum, where even the most precious and basic freedom, that of life itself, is no longer respected, a society that is increasingly violent and barbaric is bound to arise. We see the effects of that culture daily, and that is the real problem we face. Even if all the guns in the world suddenly disappeared, the carnage would not cease. The Chinese assailants had no guns, the Aztecs had no guns, and Planned Parenthood uses no guns. Perhaps the boy in Connecticut who killed his mother thought that if the law permitted his mother to kill him in, or on the way out of, her womb, he should have the same right. Indeed, some radicals have already said that this no-fault killing period should extend into infancy.
If we truly want to prevent further school shootings in this nation, we need to stop fooling ourselves with utopian "feel good" solutions like passing some more anti-gun legislation. We need to look inward and see that, as Pogo famously said, "We have met the enemy, and he is us."
----------
Dr. Frederick Liewehr is an endodontist who teaches and works in private practice. He converted from Protestantism to Catholicism in 1983, having been drawn ineluctably to Christ's Church by the light of Truth. He is a member of St. Benedict parish in Richmond, a Fourth Degree Knight of Columbus and a Cooperator of Opus Dei.
---
Copyright 2016 - Distributed by THE CALIFORNIA NETWORK
Pope Francis Prayer Intentions for May 2016
Universal:
Respect for Women: That in every country of the world, women may be honored and respected and that their essential contribution to society may be highly esteemed.
Evangelization:
Holy Rosary: That families, communities, and groups may pray the Holy Rosary for evangelization and peace.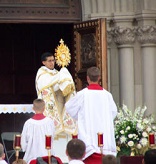 By Deacon Keith Fournier
We have received the Bread of Heaven. Let us choose to become what we consume. These Feasts are not just rituals on a Church calendar. They are invitations to encounter the Lord Jesus Christ, and then offer Him to a world waiting to be born anew. On this Feast of ... continue reading
---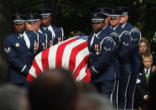 By Deacon Keith Fournier
I live in Chesapeake, a wonderful city in Southeastern Virginia where there are many members of the military. The parish I serve is an example of this. Every day, I witness the many sacrifices which military families make for our Nation. On this Memorial Day, I ... continue reading
---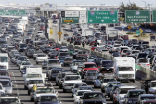 By Marshall Connolly (CALIFORNIA NETWORK)
We have money for perpetual war and can afford generous foreign aid, tax subsidies and cuts for the wealthy, but we cannot find the money to fix a pothole or repair a collapsing bridge. This is the sorry state of affairs U.S. infrastructure is in as we let the nation ... continue reading
---

By Kenya Sinclair (CALIFORNIA NETWORK)
Protesters at Republican presidential candidate Donald Trump's New Mexico rally erupted in violent acts including the attempted stoning of police, glass bottles thrown at mounted units and their horses, burning shirts and more. LOS ANGELES, CA (Catholic Online) - ... continue reading
---

By Kenya Sinclair (CALIFORNIA NETWORK)
Illegal aliens continue to surge into the United States from the Southwest U.S. border, leading the U.S. Customs and Border Protection (CBP) units to announce record-breaking apprehensions in April, 2016. LOS ANGELES, CA (Catholic Online) - According to the U.S. ... continue reading
---

By Marshall Connolly (CALIFORNIA NETWORK)
The arresting officer in the Freddie Gray case, Edward Nero, has been declared "not guilty" by the judge in his criminal trial. Now, the community waits to see if violence will erupt or if the streets will remain quiet. LOS ANGELES, CA (California Network) - Officer ... continue reading
---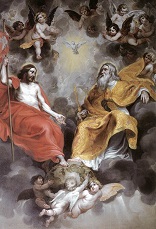 By Deacon Keith Fournier
'The mystery of the Most Holy Trinity is the central mystery of Christian faith and life. It is the mystery of God in himself. It is therefore the source of all the other mysteries of faith, the light that enlightens them. It is the most fundamental and essential ... continue reading
---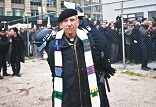 By Fr Frank Pavone
Father Berrigan was a radical figure who sent a total of almost seven years in prison. What many don't realize though is that his activism extended beyond the anti-war movement and into the anti-abortion movement. Believing in what he called a consistent ... continue reading
---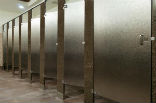 By David Drudge (CALIFORNIA NETWORK)
Under a new law, businesses in New York will be fined if they don't use a person's preferred pronoun when referring to them. This especially becomes a problem when it is understood there are at least 58 possible pronouns with at least five grammatical variations ... continue reading
---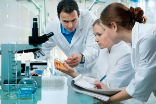 By Marshall Connolly (CALIFORNIA NETWORK)
The Federal Government has discovered the grocery list technology. This unlock apparently occurred recently as the Department of Agriculture sent encouraging, rapid-fire tweets to the public about how to use this remarkable new advancement. LOS ANGELES, CA (California ... continue reading
---
All U.S. News