Bishop Thomas J. Tobin is a faithful and courageous Catholic Bishop
'Can there be any doubt that Almighty God will, in His own time and way, pass judgment upon our state, its leaders and citizens, for abandoning His commands and embracing public immorality? I encourage Catholics to pray for God's patience, mercy and forgiveness in these distressing times' (Bishop Thomas J. Tobin)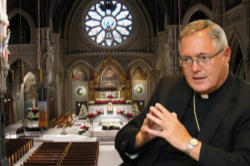 Bishop Thomas J. Tobin
Highlights
Catholic Online (www.catholic.org)
7/3/2011 (4 years ago)
Published in U.S.
Keywords: Gay marriage, homosexual marriage, civil unions, Rhode Island, Bishop Thomas Tobin, Religious persecution, catholic, Marriage, family, culture, Deacon Keith Fournier
---
PROVIDENCE, RI (Catholic Online) - Bishop Thomas J. Tobin is a faithful and courageous Catholic Bishop. He has stood strong in his defense of the dignity of every human person from conception to natural death as well as his defense of true marriage and the family and society founded upon it. He has also tried to help erring Catholics, including Catholic politicians in his own Diocese, to turn from error and turn toward the truth.
This good Bishop is now faced with the continuing moral erosion which has as one of its bad fruits, the movement to eliminate marriage and the family and society founded upon it by giving a moral and legal equivalency to homosexual relationships. Last week New York passed the "Marriage Equality Act" which uses the Police power of the State to force a legal equivalency between homosexual partnerships and authentic marriage between a man and a woman. On Wednesday of this week the Rhode Island state Senate passed HB 6103 which authorizes same-sex civil unions and  gives them the same rights and responsibilities as married couples. 
On June 3, 2003 the then Prefect of the Congregation for the Doctrine of the Faith, Joseph Cardinal Ratzinger issued a directive entitled "Considerations regarding Proposals to Give Legal recognition To Unions Between Homosexual persons." It clearly rejected any effort to give equivalent legal status to homosexual unions. It restated the unbroken tradition of the Catholic Christian Church for two thousand years. It sought to help Bishops to direct Catholics in Public Life:
"The present Considerations do not contain new doctrinal elements; they seek rather to reiterate the essential points on this question and provide arguments drawn from reason which could be used by Bishops in preparing more specific interventions, appropriate to the different situations throughout the world, aimed at protecting and promoting the dignity of marriage, the foundation of the family, and the stability of society, of which this institution is a constitutive element. The present Considerations are also intended to give direction to Catholic politicians by indicating the approaches to proposed legislation in this area which would be consistent with Christian conscience"
There is a cultural revolution underway led by those on the fringes of the homosexual activist community who  will stop at nothing less than legal "equivalency" between homosexual unions and true marriage. Having learned from the verbal engineering of the movement to make the taking of innocent life in the womb through abortion "a right", they are master manipulators of the language. They have reframed their  anti-marriage movement as a movement for "marriage equality" much like the proponents of abortion succeeded in calling killing the unborn a "choice."
Catholics must be honest about some in our own house. Purporting to speak for the Church or to promote some "new way", some Catholic Politicians undermine the Church, do violence to the truth, cause scandal, injure the common good and put their own souls in jeopardy. They hide behind a self erected "public/private" dichotomy in rejecting their duty to defend the right to life and protect marriage and the family and society founded upon it. They engage in sophistry to explain away their error. They are not only being unfaithful to the truths proclaimed by their own Church, they are undermining the common good. The directive spoke forcefully to these folks:
"If it is true that all Catholics are obliged to oppose the legal recognition of homosexual unions, Catholic politicians are obliged to do so in a particular way, in keeping with their responsibility as politicians. Faced with legislative proposals in favor of homosexual unions, Catholic politicians are to take account of the following ethical indications. When legislation in favor of the recognition of homosexual unions is proposed for the first time in a legislative assembly, the Catholic law-maker has a moral duty to express his opposition clearly and publicly and to vote against it. To vote in favor of a law so harmful to the common good is gravely immoral."
The directive also addressed  the whole of civil society: "Since this question relates to the natural moral law, the arguments that follow are addressed not only to those who believe in Christ, but to all persons committed to promoting and defending the common good of society." The document presents a lucid, solid, powerful defense of the truth about marriage and family. Yes, it presents this truth from within biblical revelation and the Christian Tradition. However, like all of the Church's Social Doctrine, it also does so from the order of right reason, the natural law, the biological and anthropological order, the social order and the legal order. That is because truth is truth.
The Prefect for the Congregation who issued the directive, Joseph Cardinal Ratzinger, is now Pope Benedict XVI. He continues to insist that Catholics in political life defend marriage and family. Just as Catholic politicians must support the right to life for unborn persons they must support marriage: "When legislation in favor of the recognition of homosexual unions is proposed for the first time in a legislative assembly, the Catholic law-maker has a moral duty to express his opposition clearly and publicly and to vote against it. To vote in favor of a law so harmful to the common good is gravely immoral".
 
Bishop Tobin issued the following statement on the Approval of Civil Unions in Rhode Island:

"I am deeply disappointed that Rhode Island will establish civil unions in our state. The concept of civil unions is a social experiment that promotes an immoral lifestyle, is a mockery of the institution of marriage as designed by God, undermines the well-being of our families, and poses a threat to religious liberty.
"In this context it is my obligation to remind Catholics of the teachings of the Church on this matter. First, the Church continues to have respect and love for persons with same-sex attraction; they are indeed children of God and our brothers and sisters in the human family. We pray for their well-being and offer them spiritual guidance and pastoral care. We also extend our love and support to families of homosexual persons who sometimes struggle with this difficult emotional issue.
"At the same time, the Church reminds its members that homosexual activity is contrary to the natural law and the will of God and, therefore, is objectively sinful. Persons with same-sex attraction are required to live the Christian virtues of chastity and modesty, as all persons are. The importance of these virtues is clearly established in the Holy Scriptures and in the constant tradition of the Church.
"Because civil unions promote an unacceptable lifestyle, undermine the faith of the Church on holy matrimony, and cause scandal and confusion, Catholics may not participate in civil unions. To do so is a very grave violation of the moral law and, thus, seriously sinful. A civil union can never be accepted as a legitimate alternative to matrimony.
"Can there be any doubt that Almighty God will, in His own time and way, pass judgment upon our state, its leaders and citizens, for abandoning His commands and embracing public immorality? I encourage Catholics to pray for God's patience, mercy and forgiveness in these distressing times."
****
The legislation contained "religious exemptions". However, a group of homosexual equivalency activists calling themselves "Marriage Equality Rhode Island", purporting to represent the "LGBTI"  (Lesbian, Gay, Bi-sexual, Transgender and Intersex) community  issued this statement opposing the legislation precisely because of those religious exemptions:
"We are extremely disappointed that the Senate brazenly ignored the commonsense objections raised by equality and civil rights leaders here and across the country. This civil union bill contains dangerous and discriminatory language that, without question, will cause significant harm to countless gay and lesbian couples in loving, committed relationships, and we will continue to fight it through whatever means are necessary.
"Furthermore, we renew our request that the governor veto this hurtful and ill conceived bill. To not do so would be a slap in the face to the gay and lesbian community, and every Rhode Islander who cares about equal rights and protections for all our state's citizens."
Notice how woefully intolerant these new cultural revolutionaries are of those who disagree with their brave new world.
---
Copyright 2016 - Distributed by THE CALIFORNIA NETWORK
Pope Francis Prayer Intentions for May 2016
Universal:
Respect for Women: That in every country of the world, women may be honored and respected and that their essential contribution to society may be highly esteemed.
Evangelization:
Holy Rosary: That families, communities, and groups may pray the Holy Rosary for evangelization and peace.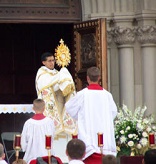 By Deacon Keith Fournier
We have received the Bread of Heaven. Let us choose to become what we consume. These Feasts are not just rituals on a Church calendar. They are invitations to encounter the Lord Jesus Christ, and then offer Him to a world waiting to be born anew. On this Feast of ... continue reading
---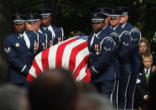 By Deacon Keith Fournier
I live in Chesapeake, a wonderful city in Southeastern Virginia where there are many members of the military. The parish I serve is an example of this. Every day, I witness the many sacrifices which military families make for our Nation. On this Memorial Day, I ... continue reading
---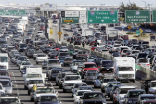 By Marshall Connolly (CALIFORNIA NETWORK)
We have money for perpetual war and can afford generous foreign aid, tax subsidies and cuts for the wealthy, but we cannot find the money to fix a pothole or repair a collapsing bridge. This is the sorry state of affairs U.S. infrastructure is in as we let the nation ... continue reading
---

By Kenya Sinclair (CALIFORNIA NETWORK)
Protesters at Republican presidential candidate Donald Trump's New Mexico rally erupted in violent acts including the attempted stoning of police, glass bottles thrown at mounted units and their horses, burning shirts and more. LOS ANGELES, CA (Catholic Online) - ... continue reading
---

By Kenya Sinclair (CALIFORNIA NETWORK)
Illegal aliens continue to surge into the United States from the Southwest U.S. border, leading the U.S. Customs and Border Protection (CBP) units to announce record-breaking apprehensions in April, 2016. LOS ANGELES, CA (Catholic Online) - According to the U.S. ... continue reading
---

By Marshall Connolly (CALIFORNIA NETWORK)
The arresting officer in the Freddie Gray case, Edward Nero, has been declared "not guilty" by the judge in his criminal trial. Now, the community waits to see if violence will erupt or if the streets will remain quiet. LOS ANGELES, CA (California Network) - Officer ... continue reading
---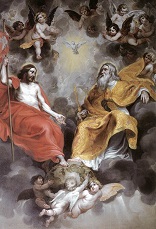 By Deacon Keith Fournier
'The mystery of the Most Holy Trinity is the central mystery of Christian faith and life. It is the mystery of God in himself. It is therefore the source of all the other mysteries of faith, the light that enlightens them. It is the most fundamental and essential ... continue reading
---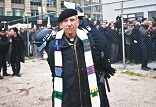 By Fr Frank Pavone
Father Berrigan was a radical figure who sent a total of almost seven years in prison. What many don't realize though is that his activism extended beyond the anti-war movement and into the anti-abortion movement. Believing in what he called a consistent ... continue reading
---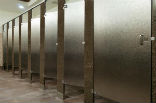 By David Drudge (CALIFORNIA NETWORK)
Under a new law, businesses in New York will be fined if they don't use a person's preferred pronoun when referring to them. This especially becomes a problem when it is understood there are at least 58 possible pronouns with at least five grammatical variations ... continue reading
---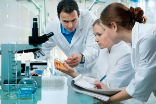 By Marshall Connolly (CALIFORNIA NETWORK)
The Federal Government has discovered the grocery list technology. This unlock apparently occurred recently as the Department of Agriculture sent encouraging, rapid-fire tweets to the public about how to use this remarkable new advancement. LOS ANGELES, CA (California ... continue reading
---
All U.S. News