It seems quite certain that God's "plan of salvation"--at least so long as we stay in the objective moral and religious order--requires that the Muslims disclaim the prophethood of Muhammad, reject those teachings of his that are doctrinally and morally unsound, and embrace Jesus Christ, the Incarnate Word, who died for them as much as for other men.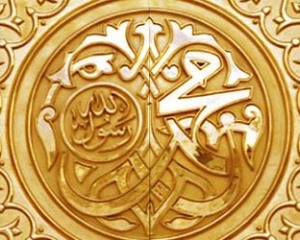 CORPUS CHRISTI, TX (Catholic Online) - Our thesis and task during our series of articles on Muhammad entitled "The Heart's Witness Against Muhammad," have not been very complex. 

Our thesis was this: An alleged prophet of God, especially one who is presented to us as a perfect exemplar of humanity, al-insan al-kamil, the best of all mankind, khair ul-bashar, the perfect model of conduct, uswa hasana, must at a minimum comply with the natural moral law.  This is a reasonable requirement.

Our task, given this thesis, was then this: to familiarize ourselves with the earliest Islamic sources on the life of Muhammad, accept them uncritically (that is, accepting them as historically-accurate portrayals of the historical Muhammad), and then, compare and contrast the behavior of Muhammad to some well-known, universally held notions of the natural moral law. 

This gives the benefit of the doubt to Islam and its sources.  It could very well be that Muhammad's actions were "whitewashed" by his followers.  For example, why on earth would the earliest of all biographies, the biography of Ibn Hisham, have been lost?  Why do we only have recensions or edited versions of it in the biographies of Ibn Ishaq and at-Tabari?  What parts of Ibn Hisham did not survive?  Was there possibly a "scrubbing" of the earlier biography and its ordered destruction by the Caliphs such as what seems to have happened to a limited extent with regard to the Qur'an?

Also, we must recall that we do not have biographical sources from contemporaries who witnessed Muhammad and rejected him and his message (other than that found in Muslim sources).  We know that many Jews, Christians, and Pagans found Muhammad and his message offensive, unbelievable, and violent.  These historical documents, if they existed, would, in all likelihood, provide us with an even more offensive picture of the alleged prophet of the Arabs that the historical documents the Arabs preserved.

In other words, the Muhammad of the Qur'an, of the ahadith considered by the Muslims as reliable, and the earliest approved biographies or Sira of Muhammad present Muhammad in the most biased, best light.  If these sources cannot justify Muhammad, then the other sources certainly would not justify Muhammad.

As a standard of the natural moral law, we turned to what is generally regarded as a good summary of the natural law and its basic and essential precepts, the Ten Commandments or Decalogue.  These are revealed, but the underlying laws are not revealed.  They existed in full force as a result of the natural moral law before they were handed to Moses.

We passed over the first three commandments--those that deal with man's relationship with God--because they presuppose, to some extent, truths of revelation. 

The question of what may be reliable revelation is a question that must be answered after we accept the carrier or messenger or prophet of that revelation. 

Reason, of course, can also be used as a critical faculty for showing where revelation cannot be authentic because it is unreasonable, since God is both the author of faith and the author of reason.  We have not in any way made an assessment of Muhammad's supposed revelations of Allah and whether they are reasonable.  That is a task for another day.

Revelation acknowledged by Christians as authentic (for example the teachings of Christ in the Gospels) and the teachings defined as de fide by the Church may also be used to criticize the message of an alleged messenger of God.  But to have recourse to this form of analysis we must have already accepted this revelation as authoritative.  Only a Christian can recognize the force of the arguments against the teachings of Muhammad on the basis that Muhammad denies the Trinity, denies the divinity of Christ, and denies Christ's substitutionary and atoning death on the Cross.

But we wanted an argument based upon reason alone, practical reason, moral reason.  We therefore focused on those Commandments that relate to relations among men.  We chose six: you shall not commit adultery, you shall not covet thy neighbor's wife, you shall not murder, you shall not bear false witness, you shall not steal, and you shall not covet thy neighbor's goods.
 
The only commandment we did not treat was the commandment that enjoins us to honor our mother and father.  (Since Muhammad's father predeceased his birth, and since Muhammad's mother died when Muhammad was young, there is no data to which we can turn to assess his behavior toward them.  There is interesting speculation as to whether he thought them--as polytheists and therefore guilty of the unpardonable sin of shirk--damned in hell.  For example, there is a story that Allah supposedly stopped Muhammad, to his great grief, from praying at his mother's grave because she was damned.  Did Muhammad's psyche contain a deep-seated hate for his mother?)

We also used as a standard the natural moral law as it relates to slavery.  Although not found among any of the Ten Commandments, it is generally regarded by all modern humanity--as a result of the development of human conscience aided and abetted by the light of the Gospel--that human chattel slavery is against the natural moral law.

Using the oldest Muslim biographical sources about Muhammad and other authoritative Islamic sources, and comparing his behavior with these commandments, we saw, without much effort, that Muhammad's life violated the natural law in numerous particulars. He committed polygamy, adultery, what today we would call pedophilia, incest, captured women and raped them, was involved in numerous murders of political and religious enemies and his lampooners, authorized genocide, theft, and slavery.

It is the inescapable conclusion of the natural law, our conscience, of our inner witness, that Muhammad cannot be what he claimed to be and what the Muslims claim him to be: a prophet, especially one who professed himself a perfect human, the ideal man, the universal model of all mankind. 

Muhammad's failure as a man and authentic prophet has catastrophic results for a Muslim.  The linchpin of Islam is Muhammad.  If Muhammad was not a prophet, then Muhammad was a liar or was horribly, perhaps even demonically, deceived, and Islam is in any event false. 

It is certainly demonstrable, by reason alone, that Muhammad was not a prophet, but that he lived, intentionally or in ignorance, a lie.  This conclusion is not probable: it is morally certain.  We can therefore be certain, in a way that is true for no other major religion, that Islam, on account of the moral corruption of its supposed perfect messenger, is most certainly and demonstrably false.

Muslim leadership, of course, is aware of Muhammad' behavior, and so they restrict as a matter of necessity any sort of criticism of Muhammad, even if it is historically established in their own sources. That is one reason there are such strict punishments against the critics of Muhammad.  That is why many Christians and missionaries--for example, the martyrs of Cordoba to whom I dedicated my book The Heart's Witness Against Muhammad--suffered death at the hands of Islam.

Importantly, this is an objective conclusion of Muhammad and Islam, based upon the external forum.  In writing this series, I do not mean to judge the subjective guilt or innocence of any Muslim in the internal forum of his conscience.  Nor do I claim to know what role God, in his Providence, intends for Islam: "But the plan of salvation also includes those who acknowledge the Creator," and this includes "in the first place among whom are the Muslims." Lumen Gentium, 16.
 
It seems quite certain, however, that God's "plan of salvation"--at least so long as we stay in the objective moral and religious order--requires that the Muslims disclaim the prophethood of Muhammad, reject those teachings of his that are doctrinally and morally unsound, and embrace Jesus Christ, the Incarnate Word, who died for them as much as for other men.

Let us therefore pray for our Muslim brothers, and ask that Mary intercede on their behalf.  Let us ask those saints in heaven that have died at the hands of Islam to intercede on behalf of the sons of their former slayers.  And let us do our share.  Let us be honest with the truth, but let us also do it in love.  Let us announce the Gospel to our Muslim brothers: "It is for freedom that Christ has set us free.  Stand firm, therefore, and do not let yourselves be burdened again by the yoke of slavery" of the shari'a, of the false law of Muhammad.  (Gal. 5:1)

(This article is adapted from the book written by the author entitled, The Heart's Witness Against Muhammad: Why the Natural Law Proves Muhammad False.)

-----

Andrew M. Greenwell is an attorney licensed to practice law in Texas, practicing in Corpus Christi, Texas.  He is married with three children.  He maintains a blog entirely devoted to the natural law called Lex Christianorum.  You can contact Andrew at agreenwell@harris-greenwell.com.
---
Copyright 2016 - Distributed by THE CALIFORNIA NETWORK
Pope Francis Prayer Intentions for May 2016
Universal:
Respect for Women: That in every country of the world, women may be honored and respected and that their essential contribution to society may be highly esteemed.
Evangelization:
Holy Rosary: That families, communities, and groups may pray the Holy Rosary for evangelization and peace.

By Kenya Sinclair (CALIFORNIA NETWORK)
Egyptian authorities have arrested six men suspected to have participated in the mob and are currently looking for 12 more. LOS ANGELES, CA (Catholic Online) - President Abdel-Fattach el-sissi demands the culprits be held accountable and issued his military one month ... continue reading
---

By Kenya Sinclair (CALIFORNIA NETWORK)
Pakistan's Ministry of Foreign Affairs confirmed the death of Afghan Taliban leader Mullah Akhtar Mohammed Mansour by U.S. drone strike - but another leader has risen. LOS ANGELES, CA (Catholic Online) - Days after burying Mansour in an undisclosed location in ... continue reading
---

By Kenya Sinclair (CALIFORNIA NETWORK)
After a Tuesday vote, Iran's Assembly of Experts elected 89-year-old Ahmed Jannati as its next supreme leader.Jannati is famous for his extremely conservative views of Islam and is now in a position to choose Iran's next Supreme Leader. LOS ANGELES, CA (Catholic ... continue reading
---

By Kenya Sinclair (CALIFORNIA NETWORK)
It's a bad time to be an ISIS commander. In response to the continual failures on the battlefield, ISIS commanders are now being executed by being fed to aggressive dogs. LOS ANGELES, CA (Catholic Online) - A Kurdish commander spoke to the Iranian media outlet ... continue reading
---

By Kenya Sinclair (CALIFORNIA NETWORK)
ISIS followers have been urged to strike at Europe and the United States by a 31-minute speech Abu Mohamed al-Adnani posted online. LOS ANGELES, CA (Catholic Online) - In his speech, al-Adnani told his followers: "The tiniest action you do in the heart of their land is ... continue reading
---

By David Drudge (CALIFORNIA NETWORK)
A senior Iranian military adviser has said that Israel can be destroyed within eight minutes, if the order is given. The estimate is based on the amount of time it will take for a missile to reach Israel. LOS ANGELES, CA (California Network) - Ahmad Karimpour, an ... continue reading
---

By Kenya Sinclair (CALIFORNIA NETWORK)
An ISIS militant confined to a wheelchair has made headlines once again for executing an innocent. LOS ANGELES, CA (Catholic Online) - According to <a ... continue reading
---

By Kenya Sinclair (CALIFORNIA NETWORK)
In a newly released video, an ISIS militant, supporting himself on crutches, stood beside the remains of a destroyed Christian headstone. LOS ANGELES, CA (Catholic Online) - The video, shown on <a ... continue reading
---

By Kenya Sinclair (CALIFORNIA NETWORK)
The latest issue of Al-Qaeda's propaganda magazine 'Inspire' claims the assassination of several American business leaders can be of use in the Prophet's holy war. LOS ANGELES, CA (Catholic Online) - According to Daily Mail, a hit list was released for lone wolf jihads ... continue reading
---

By Kenya Sinclair (CALIFORNIA NETWORK)
Barbed wire, 5,000 landmines and danger signs written in Arabic, English and Hebrew surround the site believed to be the area Jesus was baptized in the Jordan River. LOS ANGELES, CA (Catholic Online) - Though the Israeli and Jordanian armies concluded their war in ... continue reading
---
All Middle East News