We are called to pray for - and stand in solidarity with- our Coptic Christian brethren
Much of the Coptic Christian community in Dahshur, Egypt went up in smoke last week as Muslims went on a rampage. This horrific incident is being seen as a test for President Mursi and his Muslim Brotherhood. He said he would be the president of all Egyptians, or was that just a big lie, a ruse to gain power and Islamize Egypt?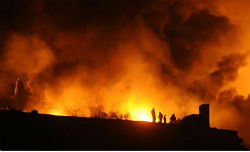 KNOXVILLE, TN (Catholic Online) - Much of the Coptic Christian community in the city of Dahshur went up in smoke last week. Dahshur is located about 40 kilometers south of Cairo, and it is known for its ancient pyramids. This incident is being reported as the worst since Muslim mobs clashed with the Copts in Imbaba, Giza over a year ago. It is also being seen as the first great test of the newly elected president of Egypt, Mohamed Mursi, and his Muslim Brotherhood.

The violence in Dahshur began on July 27 when a Coptic launderer, Sameh Samy accidentally burned the shirt of a Muslim client, Ahmad Ramadan. They agreed to settle the claim that evening, but Ramadan came back later that afternoon joined by 2000 to 3000 armed Muslims. Samy locked himself within his home. Both sides began fighting. They threw Molotov cocktails at each other. Samy threw one from the roof of his house, and it hit a passerby, 25-year-old Moaz Hasab-Allah, who incurred third-degree burns. This tragedy apparently quelled the fighting that day. Moaz was taken to a Cairo hospital where he died five days later on the morning of August 1.

According to reports his father said, "the whole village will avenge his death." He added, "destroying Coptic property is not enough and that Copt[s] have to 'pay for [his] son's death' with lives." Maariam Ragy, a Copt, said that a Muslim-Brotherhood cleric roamed the village after Moaz's death "vowing that the village church of St. George will be burned down, its pastor and all the entire Christian inhabitants killed and their homes torched after the burial of Moaz tonight." And so it went. Hundreds of Muslims began looting and burning Coptic businesses and homes after the burial.

Over 120 Coptic families were forced out of their homes, virtually the whole Coptic community in Dahshur. Father Takla, the priest of St. George's Church in Dahshur, believes about 100 homes were burned. He said, "Approximately 20 homes were spared due to their approximate location to the church which is heavily guarded by security forces." He also said, ". . . over 500 moderate village Muslims stopped the Salafist mob from storming the church, until security forces arrived and secured it.

The mob also attacked Samy, his father and his brother during the rampage. Both Samy and his father were injured in the attack. All three were later arrested and charged with murder and possession of explosives. Although five arrest warrants were issued for Muslims, none have been arrested.

People cannot live like this! Samy lives under constant fear that he is going to be attacked for the slightest mistake. There are no objective standards he can rely upon. He is subject to the impulses of his Muslim neighbors. He cannot reasonably count on his government to protect him or his property. He has no reasonable or effective recourse. He lives in a surreal world filled with lies, manipulation, betrayal, threats, and violence. Although violence must always be a last resort, we can understand his fear and his anger and his right to defend himself and his property.

This horrific incident is a test for the new president and the Muslim Brotherhood, of which President Mursi is a member. He said he would be the president of all Egyptians, including the Copts. Is Egypt's new government for the people and by the people, or is it all just a big lie, a ruse used by the Muslim Brotherhood to gain power and Islamize Egypt? Given their history, this seems to be a reasonable question.

The Muslim Brotherhood has been a radical organization since its inception. It was founded by Hasan al-Banna in1928 as an Islamist religious, political, and social movement. In his book, Faith, Reason, and the War against Jihadism, George Weigel writes that al-Banna believed "After cleansing the House of Islam, true Muslims would cleanse their territories of infidels and unbelievers. . . ." For al-Banna, "Islam was 'both a religion and a state,' such that the Qur'an and the sword were 'inseparable.'"

Al-Banna's vision did not change through the years. During the Second World War, the Muslim Brotherhood sided with the Nazis, and they supported terrorist activities in Palestine. They also assimilated the Nazi's views against the Jews and Western societies into their reform movement. The Muslim Brotherhood were also implicated in a failed plot to assassinate Gamal Abdel Nasser, Egypt's leader in 1965, and in the successful assassination of Nasser's successor, Anwar Sadat, in 1980.

Despite their rhetoric to the contrary, it does not seem that they have changed in recent years either. The Muslim Brotherhood's first choice as their presidential candidate, Ayman al-Zawahri, pledged to implement sharia law if elected; but sharia law discriminates against all non-Muslims. Furthermore, when there was no public response from President Mursi concerning the violence in Dahshur, the bishop of Giza, Theodosious, sent a delegation of priests to meet with the President, but he did not meet with the delegation.

Instead, he sent his official spokesman, Dr. Yasir Ali, who told the delegation that ". . . the [P]resident is closely following recent events in Dahshur. He has deployed the appropriate resources to execute justice and to apply the law regardless of religion. He reaffirmed his commitment to guard the rights of Egyptian citizens and to maintain a civil relationship between Muslims and Christians in Egypt."

However, Dr. Naguib Gabriel, the head of the Egyptian Union of Human Rights Organization, said that the Copts have been systematically persecuted since Mursi became president. He also said "that in the last ten days of the Muslim Ramadan fast, twelve incidents took place against the Copts, including the arrest of the six Copts in Dahshur, while no Muslim was arrested."

It would appear that the Copts are being lied to by their leaders, but only time will tell for sure. In the meantime, let us pray that President Mursi and the Muslim Brotherhood rise above their intolerant, radical past and become true democratic leaders and that justice and peace will flourish in Egypt. Let us also pray for all those who were victimized in Dahshur, especially young Moaz and Samy, and for those brave and good Muslims who helped their Coptic neighbors.  
 
 
-----

Michael Terheyden was born into a Catholic family, but that is not why he is a Catholic. He is a Catholic because he believes that truth is real, that it is beautiful and good, and that the fullness of truth is in the Catholic Church. However, he knows that God's grace operating throughout his life is the main reason he is a Catholic. He is greatly blessed to share his faith and his life with his beautiful wife, Dorothy. They have four grown children and three grandchildren.

-----
---
Copyright 2016 - Distributed by THE CALIFORNIA NETWORK
Pope Francis Prayer Intentions for May 2016
Universal:
Respect for Women: That in every country of the world, women may be honored and respected and that their essential contribution to society may be highly esteemed.
Evangelization:
Holy Rosary: That families, communities, and groups may pray the Holy Rosary for evangelization and peace.

By Kenya Sinclair (CALIFORNIA NETWORK)
A mob of roughly 300 Muslim men attacked a 70-year-old Christian woman in the Egyptian village of Al-Karm and broke out into religiously motivated acts of violence, including the burning of seven Christian family homes. LOS ANGELES, CA (Catholic Online) - Rumors spread ... continue reading
---

By Kenya Sinclair (CALIFORNIA NETWORK)
Pakistan's Ministry of Foreign Affairs confirmed the death of Afghan Taliban leader Mullah Akhtar Mohammed Mansour by U.S. drone strike - but another leader has risen. LOS ANGELES, CA (Catholic Online) - Days after burying Mansour in an undisclosed location in ... continue reading
---

By Kenya Sinclair (CALIFORNIA NETWORK)
After a Tuesday vote, Iran's Assembly of Experts elected 89-year-old Ahmed Jannati as its next supreme leader.Jannati is famous for his extremely conservative views of Islam and is now in a position to choose Iran's next Supreme Leader. LOS ANGELES, CA (Catholic ... continue reading
---

By Kenya Sinclair (CALIFORNIA NETWORK)
It's a bad time to be an ISIS commander. In response to the continual failures on the battlefield, ISIS commanders are now being executed by being fed to aggressive dogs. LOS ANGELES, CA (Catholic Online) - A Kurdish commander spoke to the Iranian media outlet ... continue reading
---

By Kenya Sinclair (CALIFORNIA NETWORK)
ISIS followers have been urged to strike at Europe and the United States by a 31-minute speech Abu Mohamed al-Adnani posted online. LOS ANGELES, CA (Catholic Online) - In his speech, al-Adnani told his followers: "The tiniest action you do in the heart of their land is ... continue reading
---

By David Drudge (CALIFORNIA NETWORK)
A senior Iranian military adviser has said that Israel can be destroyed within eight minutes, if the order is given. The estimate is based on the amount of time it will take for a missile to reach Israel. LOS ANGELES, CA (California Network) - Ahmad Karimpour, an ... continue reading
---

By Kenya Sinclair (CALIFORNIA NETWORK)
An ISIS militant confined to a wheelchair has made headlines once again for executing an innocent. LOS ANGELES, CA (Catholic Online) - According to <a ... continue reading
---

By Kenya Sinclair (CALIFORNIA NETWORK)
In a newly released video, an ISIS militant, supporting himself on crutches, stood beside the remains of a destroyed Christian headstone. LOS ANGELES, CA (Catholic Online) - The video, shown on <a ... continue reading
---

By Kenya Sinclair (CALIFORNIA NETWORK)
The latest issue of Al-Qaeda's propaganda magazine 'Inspire' claims the assassination of several American business leaders can be of use in the Prophet's holy war. LOS ANGELES, CA (Catholic Online) - According to Daily Mail, a hit list was released for lone wolf jihads ... continue reading
---

By Kenya Sinclair (CALIFORNIA NETWORK)
Barbed wire, 5,000 landmines and danger signs written in Arabic, English and Hebrew surround the site believed to be the area Jesus was baptized in the Jordan River. LOS ANGELES, CA (Catholic Online) - Though the Israeli and Jordanian armies concluded their war in ... continue reading
---
All Middle East News