For weeks I have experienced Christians walking around like forlorn warriors
This 85 year old Pope just showed us how to effectively engage our culture. On Wednesday December 20, 2012, he wrote an editorial for the Financial Times. That's right, the Financial Times! Not a "religious publication", and not the kind of venue many would think of utilizing. Why? That, in and of itself, teaches us a vital lesson. The article was entitled "A Time for Christians to Engage with the World". It is a masterful example of apologetics, rightly understood. I offer it below for study, imitation and example: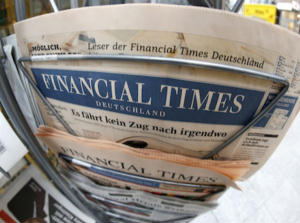 LONDON, UK (Catholic Online) - For weeks I have experienced Christians walking around looking, acting and speaking like forlorn warriors. No doubt, we are alive in a time of historic challenge for the Church. However, it is not without precedent. In fact, it is very much like other great missionary ages. The results will also be similar - the triumph of the truth which we proclaim - and the liberation which it brings to people, to families, to Nations and to all cultures.
For some, there is residual depression over the implications of elections past. It is time to acknowledge that the collapse of Western civilization will not be remedied by political movements alone. They are inadequate for the task. However, we cannot retreat from the culture. Part of our mission is to walk into the culture, filled with the love of God, equipped with the splendor of truth, and continue the work entrusted to us as Catholic Christians. We have been given a gift meant for the whole world.
We also need to take the risks that this new missionary age requires. It means being misunderstood, wrongly accused, disparaged and persecuted. For example, in offering the principles found in the Social Doctrine of the Church we need to be willing to be accused of being any number of the contemporary political labels being bandied about these days. What is most important is that what we proclaim really is the Social Doctrine of the Catholic Church. That means we have to study that body of teaching, pray through it, and then learn to articulate it properly in the public square and not simply in our own circles.
The principles and truths of the Social Doctrine of the Catholic Church are not liberal or conservative, Democratic or Republican. They are Christian. For example, the child in the home of the first human race, the womb, is our neighbor. The dignity of every human life from conception, throughout the entirety of life, and to a natural death, is not simply a religious position. It is the truth. It is revealed by the Natural Law which can be known by all men and women through reason. The humanity of our first neighbor in the womb is also confirmed by medical science. The human dignity of every human person is the basis for any insistence upon the existence of other rights. Rights are goods of human persons. 
It was the Catholic Church which gave the West the understanding that this dignity of every human person is rooted in the truth that we are all created in the Image of God. From that foundation evolved the bold claim that we possess fundamental human rights endowed upon us by the God who created us and not given to us by any Civil Government. They must be recognized by Civil Government or it is an unjust government. We need to simply acknowledge that we live in a declining western culture which is increasingly hostile to the Church. Our struggle involves a clash of worldviews, personal and corporate, and competing definitions of human freedom, human dignity, and human flourishing.
Crippled by the culture of death and indoctrinated by what Pope Benedict XVI called a "Dictatorship of Relativism", the West has been seduced by the siren song of evil. It is deluded by the lies mouthed by a movement which purports to be progressive when it is regressive. In addition, evil runs rampant in our midst. The reality of the existence of evil became clear recently in Newtown, Connecticut when six and seven year old children were gunned down by a young man trapped in its hungry grip. We are made painfully aware of the need for the kind of hope which only comes from the God who is its source.
The Catholic Catechism warns of "sins against hope" (# 2091 and 2092).
In 2008, Pope Benedict XVI gave an address to the leadership of the Diocese of Rome. He spoke of the need for an "Education to Hope". He expressed remorse over the fact that "our civilization and our culture [...] too often tend to place God in parentheses, to organize personal and social life without him, to maintain that nothing can be known of God, even to deny his existence. But, when God is laid aside, all our hopes, great and small, rest on nothing. In order, then, to 'educate for hope' it is necessary, in the first place, to open our hearts, our intellects and all our lives to God, in order to be his credible witnesses among our fellow man."
This 85 year old Pope just showed us how to effectively engage our culture. On Wednesday December 20, 2012, he wrote an editorial for the British newspaper, the Financial Times. That's right, the Financial Times! Not a "religious publication", and not the kind of venue many would think of utilizing. Why? That, in and of itself, teaches us a vital lesson. The article was entitled "A Time for Christians to Engage with the World". It is a masterful example of apologetics, rightly understood. I offer it below for study, imitation and example:
*****
A time for Christians to engage with the world
Pope Benedict XVI
"'Render unto Caesar what belongs to Caesar and to God what belongs to God,' was the response of Jesus when asked about paying taxes. His questioners, of course, were laying a trap for him. They wanted to force Him to take sides in the highly-charged political debate about Roman rule in the land of Israel. Yet there was more at stake here: if Jesus really was the long-awaited Messiah, then surely He would oppose the Roman overlords. So the question was calculated to expose Him either as a threat to the regime, or a fraud.
"Jesus' answer deftly moves the argument to a higher plane, gently cautioning against both the politicization of religion and the deification of temporal power, along with the relentless pursuit of wealth. His audience needed to be reminded that the Messiah was not Caesar, and Caesar was not God. The kingdom that Jesus came to establish was of an altogether higher order. As He told Pontius Pilate, 'My kingship is not of this world.'
"The Christmas stories in the New Testament are intended to convey a similar message. Jesus was born during a "census of the whole world" taken by Caesar Augustus, the Emperor renowned for bringing the Pax Romana to all the lands under Roman rule. Yet this infant, born in an obscure and far-flung corner of the Empire, was to offer the world a far greater peace, truly universal in scope and transcending all limitations of space and time.
"Jesus is presented to us as King David's heir, but the liberation He brought to His people was not about holding hostile armies at bay; it was about conquering sin and death forever.
"The birth of Christ challenges us to reassess our priorities, our values, our very way of life. While Christmas is undoubtedly a time of great joy, it is also an occasion for deep reflection, even an examination of conscience. At the end of a year that has meant economic hardship for many, what can we learn from the humility, the poverty, the simplicity of the crib scene?
"Christmas can be the time in which we learn to read the Gospel, to get to know Jesus not only as the Child in the manger, but as the one in Whom we recognize God made Man.
"It is in the Gospel that Christians find inspiration for their daily lives and their involvement in worldly affairs - be it in the Houses of Parliament or the Stock Exchange. Christians shouldn't shun the world; they should engage with it. But their involvement in politics and economics should transcend every form of ideology.
"Christians fight poverty out of a recognition of the supreme dignity of every human being created in God's image and destined for eternal life. Christians work for more equitable sharing of the earth's resources out of a belief that, as stewards of God's creation, we have a duty to care for the weakest and most vulnerable. Christians oppose greed and exploitation out of a conviction that generosity and selfless love, as taught and lived by Jesus of Nazareth, are the way that leads to fullness of life. Christian belief in the transcendent destiny of every human being gives urgency to the task of promoting peace and justice for all.
"Because these goals are shared by so many, much fruitful cooperation is possible between Christians and others. Yet Christians render to Caesar only what belongs to Caesar, not what belongs to God. Christians have at times throughout history been unable to comply with demands made by Caesar. From the Emperor cult of ancient Rome to the totalitarian regimes of the last century, Caesar has tried to take the place of God. When Christians refuse to bow down before the false gods proposed today, it is not because of an antiquated world-view. Rather, it is because they are free from the constraints of ideology and inspired by such a noble vision of human destiny that they cannot collude with anything that undermines it.
"In Italy, many crib scenes feature the ruins of ancient Roman buildings in the background. This shows that the birth of the child Jesus marks the end of the old order, the pagan world, in which Caesar's claims went virtually unchallenged. Now there is a new king, who relies not on the force of arms, but on the power of love. He brings hope to all those who, like himself, live on the margins of society. He brings hope to all who are vulnerable to the changing fortunes of a precarious world. From the manger, Christ calls us to live as citizens of his heavenly kingdom, a kingdom that all people of good will can help to build here on earth".
---
Copyright 2015 - Distributed by THE CALIFORNIA NETWORK
Pope Francis Prayer Intentions for April 2016
Universal:
Small Farmers: That small farmers may receive a just reward for their precious labor.
Evangelization:
African Christians: That Christians in Africa may give witness to love and faith in Jesus Christ amid political-religious conflicts.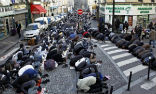 By David Drudge (CALIFORNIA NETWORK)
A Belgian minister has a telling warning for his country as hearings begin into the Brussels attack that killed 32 people at an airport in March. The reason for the warning is quite compelling. LOS ANGELES, CA (California Network) - A Belgian minister is warning ... continue reading
---

By Marshall Connolly (CALIFORNIA NETWORK)
A woman in Northern Ireland has been convicted of aborting her child, and sentenced to a three-month, suspended jail sentence. The woman left her baby in a trash bag for eight days until police were contacted. The case has sparked renewed debate over abortion in ... continue reading
---

By Kenya Sinclair (CALIFORNIA NETWORK)
Thirty years after the greatest nuclear disaster the world has ever seen, Ukrainians solemnly commemorate the 1986 Chernobyl nuclear power plant accident. LOS ANGELES, CA (Catholic Online) - The meltdown at the Russian plant began when an uncontrolled reaction ... continue reading
---

By Kenya Sinclair (CALIFORNIA NETWORK)
A Cambridge researcher and world-class medieval music performer combined their talents to perform an ancient song for the first time in over 1,000 years. LOS ANGELES, CA (Catholic Online) - The music, titled "Songs of Consolation," was performed for the first time on ... continue reading
---

By Kenya Sinclair (CALIFORNIA NETWORK)
Students from the French university Sciences Po Paris held a Hijab Day to raise awareness of the discrimination and verbal abuse Muslim women face every day - and it went exactly how you might expect. LOS ANGELES, CA (Catholic Online) - With the influx of Muslim ... continue reading
---

By Kenya Sinclair (CALIFORNIA NETWORK)
German and Italian intelligence agencies discovered ISIS' plan to pose as refugees to detonate bombs and suicide vests buried beneath lounge chairs across Spanish, French and Italian beaches this summer. LOS ANGELES, CA (Catholic Online) - According to the Mirror, ... continue reading
---

By David Drudge (CALIFORNIA NETWORK)
The conditions that Norwegian mass murderer Anders Behring Breivik have been subjected to are inhumane, according to a Norwegian court. Breivik was convicted of killing 77, and injured 319. Many of his victims were children. LOS ANGELES, CA (California Network) - Life ... continue reading
---

By CNA/EWTN News
On April 29, the Trevi Fountain, one of the most popular and emblematic tourist spots in Rome, will be dyed red in recognition of all Christians who even today give their life for the faith. Rome, Italy (CNA/EWTN News) - The event is being organized by Aid to the ... continue reading
---

By Kenya Sinclair (CALIFORNIA NETWORK)
Pope Francis traveled to Lesbos, Greece, to speak on behalf of the thousands of migrants streaming into the small island. When the pontiff departed back to Rome, he did so with twelve migrants in tow and has offered them a safe haven at the Vatican. LOS ANGELES, CA ... continue reading
---

By CNA/EWTN News
Forced migration affects millions of people and is "a crisis of humanity." That is what Pope Francis and two leading Greek Orthodox churchmen have said in a joint declaration signed on the Greek island of Lesbos. Lesbos, Greece (CNA/EWTN News) - "Europe today faces one ... continue reading
---
All Europe News