November has not been a good month for Scientologists with a new book and a new opponent in the Australian Parliament exposing their claims.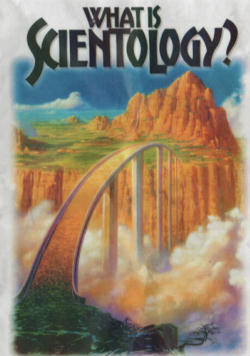 'Ultimately, this is not about religious freedom. In Australia there are no limits on what you can believe. But there are limits on how you can behave'.
WASHINGTON, D.C. (Catholic Online) - The last few weeks have not been kind to Scientology. On November 5, 2009, Marc Headley's tell-all book about Scientology, "Blown for Good," was released.

Then on Tuesday, November 17, Independent Senator Nick Xenophon addressed the Australian Parliament, stating that "Scientology is not a religious organization; it is a criminal organization that hides behind its so-called religious belief."

After referring to Scientology during an interview on the Seven Network's "Today Tonight" and questioning their tax-exempt status, the senator from South Australia reported that he had been contacted by a number of ex-Scientologists. The network had prepared more than two dozen stories about the group.

"There are allegations," Xenophon told Parliament, "of false imprisonment, coerced abortions, embezzlement of church funds, physical violence, intimidation, blackmail and the widespread and deliberate abuse of information obtained by the organization.

"It is alleged that information about suspicious deaths and child abuse has been destroyed, and one follower has admitted he was coerced by the organization into perjuring himself during investigations into the deaths of his two daughters."

What we are seeing is a worldwide pattern of abuse and criminality. On the body of evidence this is not happening by accident; it is happening by design..."

He cited specific cases, one of which involved Aaron Saxton who was born into Scientology and raised to high levels of leadership in Australia and the U.S. Over the years he was instructed to keep silent about his being raped by another man in the organization as well as other observed criminal activity. He indicated that he had participated in illegal confinement and torture, diversion of funds, along with child-abuse and murder cover-ups.

Other stories included by Xenophon in his address documented physical abuse, mental abuse, blackmail, and mind control tactics. He called upon Parliament to establish a formal inquiry into Scientology and its tax-exempt status.

"Religious freedom," he concluded, "did not mean the Catholic or Anglican Churches were not held accountable for crimes and abuses committed by their priests, nuns and officials-- albeit belatedly.

"Ultimately, this is not about religious freedom. In Australia there are no limits on what you can believe. But there are limits on how you can behave. It is called the law, and no-one is above it."

Protesters gathered outside of Scientology's Sydney headquarters, stirred by Xenophon's speech. At the same time, Australian Prime Minister Rudd stated, after the Senator's address, that he is concerned about Scientology and wants to proceed, albeit carefully, in seeking further action.

Marc Headley has also taken Scientology head-on in a bold insider memoir entitled "Blown for Good." Headley provides vivid accountings of activities within Scientology that confirm the Australian Senator's concerns.

Detailing his life inside Scientology, Headley describes many of his experiences, particularly during 15 years at their International Headquarters, a Hemet, California desert compound called Gold Base. He worked long hours at the 500 acre guarded facility, which is also called Int Base, or International Base and was a member of the Church's paramilitary group called Sea Organzation, or Sea Org.

"Blown" is the Scientology term for someone who leaves the group without authorization. A number of comments left on the Amazon.com website were from those who indicated they were ex-Scientologists and confirmed the author's accounts.

Headley left Scientology in 2005 in a manner that sounds like a Hollywood action movie. Fleeing Gold Base on a motorcycle, he was chased by base security guards and eventually crashed. Riverside County police helped him escape from the guards when they came upon a shouting match between Headley and his pursuers.

His wife's subsequent escape, while being watched day and night back at Gold Base also contains the same level of suspense and intrigue.

The forward for the book was written by another former Scientologist Mark "Marty" Rathbun, who is, ironically, still very enthusiastic about L. Ron Hubbard's teachings.

In describing his relationship with the author, Rathbun writes, "While Marc Headley and I were stationed at the same international headquarters property of the Church of Scientology's elite Sea Organization for nearly fifteen years, his views of some of Scientology founder Hubbard's writings and my views differed greatly. I never had time to write or send the note because I could not put the manuscript down. I was gripped by Marc's personal story."

Despite the alarming number of allegations, Scientology continues to grow. According to spokesman Tommy Davis, the "church" has grown more in the last five years than it has in the last five decades combined, numbering more than 7,700 churches, missions, and groups.

Commenting on this growth, The Sydney Times, in a November 20 article, stated, "This is despite an avalanche of information that points to some strange activities within the church. There is even an anonymous internet group called, originally enough 'Anonymous,' which is dedicated to tracking down the stuff the church does not want you to see."

The Times also noted a YouTube video, featuring an interview with Tom Cruise, which has captured a lot of attention. Cruise, the Times reports, "basically rants and laughs while using apparent Scientology codes like KSW (keep Scientology working) and SP (suppressive persons) as the music to Mission Impossible plays in the background, is the most infamous example and went viral across the internet.

"The church in fact was so cut about this internal leak going public that they tried to sue YouTube for keeping the videos up, claiming copyright infringement."

As a new spokesman for Scientology, Tommy Davis has also become a YouTube celebrity. First, there is an ABC interview with Nightline's Martin Bashir he walks off the set when being questioned about their doctrine regarding Xenu, the Galactic Emperor, and then a CNN piece where he shares some erratic responses concerning the group 'Anonymous.'

Scientology's doctrines do sound like something from the mind of a science fiction writer, the profession of their founder, L. Ron Hubbard.

Everything is based on Hubbard's self-help system, Dianetics, where a person is audited to determine their "engrams," or psychic scars from earlier in life.

According to Australian reporter Robyn Wuth, of the Gold Coast Bulletin, "At each stage of the bridge, you are 'audited' by a senior church member, who hooks you up to a handy little device called the electropsychometer AKA the E-meter -- 'a religious artefact used to measure the state of electrical characteristics of the static field surrounding the body'.

"The meter is believed to reflect or indicate whether or not a person has been 'relieved from spiritual impediment of past experiences'.

"Back in 1960s the church was forced to admit that the E-Meter actually did nothing. Despite that, followers remain brainwashed -- sorry, 'convinced' -- that it is vital to becoming a Operating Thetan...

"According to Scientology teaching an Operating Thetan (OT) is said to be able to communicate with animals, leave their bodies at will and control physical reality through pure thought."

OT's then advance to higher levels of mystical teachings.

Among these advanced teachings is the story of Xenu, considered a part of their body of truth which is supposed to remain secret. According the L. Ron Hubbard, Xenu was an alien dictator of the "Galactic Confederacy" who, 75 million years ago, brought billions of people to Earth, stacked them around volcanoes and then killed them by hydrogen bombs. The essences, however, of many of these beings have remained and "form" around people today causing harm.

This story eventually did end up as a screenplay by Hubbard in 1977.

Obviously, the doctrine has met with a lot of skepticism and some jokes. Many celebrity members of Scientology, as well as the group's own public statements, have vigorously denied this belief. Tommy Davis, however, confirmed this as authentic but confidential during an interview with a Los Angeles television station.

Another contribution to Scientology's body of doctrine came through Hubbard's enthusiasm for the work of Aleister Crowley for whom he had great admiration.

Just after World War II, Hubbard got involved in "magick." Crowley preferred the spelling magick, defining it as "the science and art of causing change to occur in conformity with the will."

While acknowledging that nothing can occur outside of the physical laws of the universe, people can initiate changes that conform to them.

Hubbard referred to Crowley a great deal in his early days of teaching and his work in Dianetics seems quite similar to the older occultist's work in "magical memory."

While publically sending a message of self-help along with a unique form of psychotherapy, Scientology is coming unmasked both in behavior and belief.

-----

Randy Sly is the Associate Editor of Catholic Online. He is a former Archbishop of the Charismatic Episcopal Church who laid aside that ministry to enter into the full communion of the Catholic Church. He has written numerous articles concerning Scientology.


---
Copyright 2016 - Distributed by THE CALIFORNIA NETWORK
Pope Francis Prayer Intentions for May 2016
Universal:
Respect for Women: That in every country of the world, women may be honored and respected and that their essential contribution to society may be highly esteemed.
Evangelization:
Holy Rosary: That families, communities, and groups may pray the Holy Rosary for evangelization and peace.

By Ann Schneible (CNA/EWTN News)
Pope Francis on Monday embraced the grand imam Sheik Ahmed Muhammad Al-Tayyib during a meeting at the Vatican, a move which is being seen as a step toward reopening dialogue between Christians and Sunni Muslims. Vatican City (CNA/EWTN News) - "Our meeting is the ... continue reading
---

By Kenya Sinclair (CALIFORNIA NETWORK)
Pope Francis has decided to meet with Sunni Islam's Sheikh Ahmed al-Tayeb on Monday. LOS ANGELES, CA (Catholic Online) - Vatican spokesman Federico Lombardi told AFP, "This audience is being prepared and has been scheduled for Monday. It will be a first."The pontiff's ... continue reading
---

By Kenya Sinclair (CALIFORNIA NETWORK)
In what most claim is a non-sexual "dog play," human pups have become the latest rage to spread across the UK - so much so that a new documentary will reveal the inner workings of the human pups' lives. LOS ANGELES, CA (Catholic Online) - According to Channel 4, the ... continue reading
---

By (CNA/EWTN News)
Leonardo da Vinci's masterpiece, Adoration of the Magi, will soon be undergoing testing that could help digitally reconstruct the artist's face and offer clues about his life and health. Florence, Italy (CNA/EWTN News) - According to the U.K. outlet Sky News, ... continue reading
---

By Kenya Sinclair (CALIFORNIA NETWORK)
Islamophobia spreads as ISIS continues its terror attacks - but one city has taken a step toward accepting the fact that not all Muslims are terrorists. LOS ANGELES, CA (Catholic Online) - London has elected its first Muslim Mayor. Sadiq Khan won with 56.8 percent of ... continue reading
---

By Kenya Sinclair (CALIFORNIA NETWORK)
Anyone who has ever been in college knows there is a list of required classes to take before you are eligible for graduation. Some classes seem unnecessary, such as a Chemistry major forced to take art classes, but what if universities and colleges required exorcism ... continue reading
---

By Kenya Sinclair (CALIFORNIA NETWORK)
Humanitarian group reported airstrikes targeting a refugee camp full of innocent men, women and children during a cease-fire. LOS ANGELES, CA (Catholic Online) - According to the Syrian Observatory for Human Rights (SOHR), a Syrian refugee camp erected near the Turkish ... continue reading
---

By Kenya Sinclair (CALIFORNIA NETWORK)
Vatican auditors closed nearly 5,000 suspected Vatican bank accounts on suspicion of tax evasion. LOS ANGELES, CA (Catholic Online) - The scandal includes a three-year investigation of 544 suspected transactions mainly involving tax evasion.To meet international ... continue reading
---

By David Drudge (CALIFORNIA NETWORK)
Hackers have just released thousands of documents in a new document dump to the media, this time, they contain the secrets of the Masons. The data dump is known as "Masonleaks" and journalists say it will take several months to complete their review of the documents. ... continue reading
---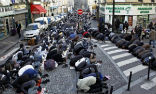 By David Drudge (CALIFORNIA NETWORK)
A Belgian minister has a telling warning for his country as hearings begin into the Brussels attack that killed 32 people at an airport in March. The reason for the warning is quite compelling. LOS ANGELES, CA (California Network) - A Belgian minister is warning ... continue reading
---
All Europe News