Chen is physically blind, but sees the truth of what is happening in China better than many of our own government leaders who have the full use of their faculty of sight
The saga of a courageous man named Chen Guangcheng fills the news. Chen is a 40 year old Chinese citizen who taught himself the law and, as a human rights lawyer, courageously stands up against the evil, inhumane and barbaric forced abortion and sterilization policies of the nation he loves, the Peoples Republic of China.  He and his entire family must be set free.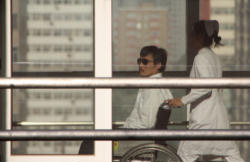 Chen being wheeled by a window in a hospital where he is being held against his will
CHESAPEAKE, VA. (Catholic Online) - Over the last several days the sad, confusing and now disheartening saga of a courageous man named Chen Guangcheng has filled the news. Much of the focus seems to be on who botched this entire affair diplomatically, rather than the even more important underlying issues.
Chen is a 40 year old Chinese citizen who taught himself the law and, as a human rights lawyer, courageously stands up against the evil, inhumane and barbaric forced abortion and sterilization policies of the nation he loves, the Peoples Republic of China.
Chen was released from jail in 2010 and placed under house arrest. He and his wife have been regularly  beaten by plain clothes government goons. Chen is physically blind, but sees the truth of what is happening in China better than many of our own government leaders who have the full use of their faculty of sight.
Chen has been praised by all who are concerned for the ongoing violations against fundamental human rights in mainland China, from all over the political spectrum.  Chen's plight broke into our news recently when he heroically escaped a brutal house arrest and sought asylum in the United States Embassy last month.
From there, the story gets murky. It is filled with what seem to be efforts to shift the blame for the failure to protect this heroic man, his family, and his plea for help from the government of the United States. It is further muddied by what appears to be an outright cover up by the current regime ruling China.
As for which news account to believe, I would recommend to the readers of Catholic Online the most recent account from Asia News, a very reliable Catholic News Source. Their article entitled "Chen Guangcheng seeks exile in the United States, fears revenge on his family" contains an accurate and current account of this entire botched affair.  Here is an excerpt:
"Chen's wife, Yuan Weijing, said she had been tied to a chair for two days, while members of the government of Shandong threatened to beat her to death. Already many of the assurances given by the U.S. Embassy have been betrayed. In leaving his refuge, Chen was told that his stay in hospital would be guaranteed by the presence of U.S. diplomatic officials. But today there is not one of them and the ward where he was admitted is controlled by Chinese police."
Match this account against the "official" statements from our own government and, worse yet, the obfuscation from the Chinese Communist regime. Chen's friend made it clear to Asia News, "Chen wants to leave China with his entire family." The fact is he should be able to do so, as a matter of fundamental human rights. Period!
As for who to believe from the varying accounts on Capitol Hill, I recommend Congressman Chris Smith. He is a courageous Catholic who has stood strongly on behalf of fundamental human rights for years and never backed down in his condemnation of the Chinese Communist regime. It was no surprise to me that, as this rapidly developing story unfolded on Thursday, Chen actually called the US Congress and got through, actually speaking to Congressman Chris Smith, in a live hearing through an interpreter! 
Congressman Chris Smith has faithfully served in the US House of Representatives for over 30 years. He is one Catholic politician who has remained faithful to the truth and not succumbed to the malady which seems to be communicated through the water on Capitol Hill, the loss of core values. He refuses to compromise on the fundamental human rights cause of our age, the Right to Life of our first neighbors in the first home of the whole human race. He is a defender of all who suffer as a result of the deprivation of fundamental human rights. He is a champion of human freedom for all men and women.
On his Congressional web site we read this succinct and straightforward declaration of his consistency: "As a Member of the United States House of Representatives from New Jersey, Chris Smith has championed the rights and interests of many - from children forced to toil in sweatshops to women kidnapped and sold into lives of prostitution to unborn children whose opportunity for life is threatened.  Smith has dedicated his life to protecting human rights and helping the world's most vulnerable."
Chris Smith has an account of this story and a recommendation to the Obama Administration  of what must be done, entitled "Chen, and the Duty to Protect" which can also be found on his site. Smith has consistently stood up to tyrant regimes, including the one currently ruling mainland China, when they fail to protect human rights. Here is an excerpt:
"The Obama Administration must do everything it can to ensure that Chen Guangcheng, his family members and all those who have helped him are removed from harm's way and do not suffer any further abuse or retaliation for Chen's bold and courageous efforts to save his family and improve human rights for all in China." 
The "one child policy" in China is overlooked by some other members of Congress who are Pro-Life - but not by Chris Smith. He is a faithful Catholic who is morally coherent. He knows that the Pro-Life position is not simply a "religious" position - it is a human rights position. He is a human rights hero. He does not compromise on fundamental human rights in order to promote economic agendas.
Rep. Ileana Ros-Lehtinen (R-Fla.) is the chairman of the House Committee on Foreign Affairs. She  released a statement on Thursday: "It should have been obvious to U.S. officials all along that there is no way to guarantee Mr. Chen's safety so long as he is within reach of the Chinese police state. The U.S. should not have given in to Chinese pressure for Chen to be taken out of the safety of the U.S. embassy."
"This case is a high-profile reminder of the terrible human rights situation in China that too often has gone unchallenged by the United States. Time and again, U.S. officials have chosen not to raise the Chinese regime's abuse of dissidents, brutal forced abortion policy, suppression of free speech, and denial of basic human rights."
"The Administration must support Mr. Chen's freedom to choose where he and his family can live in safety. Failing to ensure Mr. Chen's safety would send a negative message to all those around the world struggling against oppression, and make them question whether the United States will stand with them or their oppressors."
In addition to the Communist regime's crimes against humanity such as forced abortion and sterilization, they persecute Christians and other religious believers - with a special hatred directed against the Catholic Church. I regularly write about the horrid persecution of faithful Catholics by the Communist Regime currently ruling mainland China. Their plight also needs to be known. We are bound to them in the solidarity of our Baptism and we need to pray and act on their behalf.
Sadly, because the Maoist Atheists ruling China now wear business suits, smile a lot, and hold commercial paper which represents a substantial amount of American I.O.U.'s, few politicians in either major political party have the courage to call them out for their egregious human rights abuses.
With our growing economic reliance and dependence upon the Regime in China: Are we sacrificing our fundamental obligation to defend human freedom and fundamental human rights because we depend on the economic assistance of a repressive regime?
In August of 2011, Vice President Joe Biden visited China. This Vice president who claims to be a practicing Catholic failed to oppose the brutality of forced abortions and sterilization. He remained silent before a brutal regime which subjects parents who have more than one child to fines, human rights abuses, beatings and imprisonment.
He said he would not "second guess" this murderous policy. The Vice President addressed these communist materialists with an argument rooted in another version of materialism, an American form of materialism which does not value the dignity of the human person but also views them as commodities, just in a different way.
The treatment of children as commodities in China, products to be accumulated only with the permission of the Central Government, seems horribly unjust to most observers, and rightly so. However, at its root, is it that different than the current abortion culture of the West?
In the West, it is not the Government which issues a permit, allowing a couple to conceive. Instead the so called abortion "right", created out of whole cloth by unelected Judges, is now enforced by the Police Power of the State.
This positive "law", which violates the Natural Law, 'allows' the parents of a child to secure the services of a medical professional to take her life in the womb for any reason, up to and including the ninth month of pregnancy, if she is not wanted.
This can be done through any number of means from dismemberment, to suction or chemical weapons which are administered in utero. The brutality of these procedures is hidden behind the wall of the womb, once the safest place on earth.
Whenever children become commodities, all of humanity suffers. The most egregious example is the forced abortion policy of the Regime in mainland China. This is the human rights issue which Chen Guangcheng has spoken out against with such courage. As a result, he is being denied his fundamental human rights and his family is in imminent danger.
We call upon the Obama administration to act on behalf of Chen Guangcheng, his wife, their children and his mother. Stand up for their fundamental human rights by demanding that the Chinese authorities allow this family to leave China.
Free Chen, Free His Wife and Family, Free China and Free the Children in the Womb from Forced Abortion.
---
Copyright 2016 - Distributed by THE CALIFORNIA NETWORK
Pope Francis Prayer Intentions for May 2016
Universal:
Respect for Women: That in every country of the world, women may be honored and respected and that their essential contribution to society may be highly esteemed.
Evangelization:
Holy Rosary: That families, communities, and groups may pray the Holy Rosary for evangelization and peace.
By Marshall Connolly (CALIFORNIA NETWORK)
The next time you encounter an internet troll, be warned, he could be getting paid to fan the flames, or to douse your conversation. A new study our of Harvard reveals that China is using an army of 448 million fake troll accounts to influence public opinion. And China ... continue reading
---

By Kenya Sinclair (CALIFORNIA NETWORK)
A "mass demonic possession" has erupted at Peruvian school Elsa Perea Flores, leaving over 80 students convulsing, frothing at the mouth, fainting, and displaying erratic behavior. LOS ANGELES, CA (Catholic Online) - The children, most of whom are between 11 and ... continue reading
---

By Kenya Sinclair (CALIFORNIA NETWORK)
U.S. President Barack Obama is set to become the first sitting president to visit Hiroshima following the atomic attack August 6, 1945. LOS ANGELES, CA (Catholic Online) - Critics worried Obama's trip was to apologize for the devastation, but according to The New York ... continue reading
---

By Kenya Sinclair (CALIFORNIA NETWORK)
India is famous for it's diverse culture, vibrant clothing, incredible festivals, elephant gods, elaborate gold jewelry, the Taj Mahal and spicy food. It is an amazing place for tourists to visit - but what about the natives? LOS ANGELES, CA (Catholic Online) - India ... continue reading
---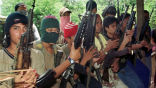 By California Network
Abu Sayyaf, an affiliate of ISIS in the Philippines, has released the full video of the beheading of Canadian hostage, John Ridsdel. LOS ANGELES, CA (California Network) - The graphic video shows the brutal beheading of Canadian hostage, John Ridsdel. He was beheaded ... continue reading
---

By Kenya Sinclair (CALIFORNIA NETWORK)
China continues to test the limits of its DF-41 long-range intercontinental ballistic missile as tensions rise between the country and the U.S. over the South China Sea. LOS ANGELES, CA (Catholic Online) - According to The Free Beacon, Pentagon officials reported the ... continue reading
---

By Kenya Sinclair (CALIFORNIA NETWORK)
Following a 6.5 magnitude earthquake, nine have been reported dead and over 800 people suffered injuries - but God ensured the safety of one blessed little girl. LOS ANGELES, CA (Catholic Online) - According to NBC News, an 8-month-old girl was sleeping peacefully when ... continue reading
---

By Kenya Sinclair (CALIFORNIA NETWORK)
Nepal first recognized Christmas as a national holiday eight years ago, but the 2015 Christmas celebration will be its last. Nepali government officials announced Christmas is no longer recognized as a national holiday, prompting the Christian minority to rise together ... continue reading
---

By Kenya Sinclair (CALIFORNIA NETWORK)
China's government has destroyed over 1,500 crucifixes in Zhejiang province, China as part of a plan to eradicate the Christian communities. LOS ANGELES, CA (Catholic Online) - Christianity is spreading across China, leading the communist government to grow upset over ... continue reading
---

By Marshall Connolly (CALIFORNIA NETWORK)
A well-known ancient trade network may have stretched much father than previously believed according to new evidence discovered in Nepal. Chinese-made objects in a 1,600 year-old tomb suggests the Silk Road may have extended south into Nepal. LOS ANGELES, CA ... continue reading
---
All Asia Pacific News