So what's the difference between acting 'practically' and acting 'morally'? Really nothing
Does a mother really equip her daughters with the power of knowledge if she teaches them it's practical to succumb to lowly instincts? Does teaching them about birth control rather than intimacy and marriage spare them of any internal conflict of conscience?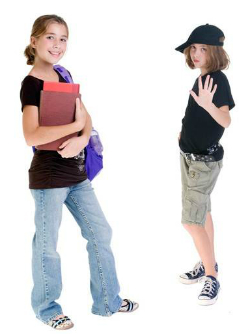 WORCESTER, MA (Catholic Online) - The woman formerly known as beautiful and author at Huffington Post, Shannon Bradley-Colleary, had an article recently with the declarative title "Abstinence Got Me Pregnant." It's a "family planning" story meant to demonstrate that people should not be expected to follow a moral code when it comes to sexual intercourse, and probably many women can relate.

The author describes how she was raised by religious parents and a father that scared off boys while cleaning his gun, how she fell in love in college and "relinquished" her virginity unexpectedly on Cheez-It crumbs behind a couch in an off-campus apartment while "roommates farted and belched like cannon-fire in adjacent rooms," how she began taking birth control pills and used them for the next five years as a "serial monogamist," how after she had her heart broken and broke a few herself she decided to take a "leave of absence" and become abstinent, how a broken-hearted young man still pursued her with roses, poetry, and silly declarations of love, how she got pregnant and to her relief miscarried so she was "spared, making a choice" that might "haunt" her for the rest of her life, and finally how some ten years later she gave birth to two daughters with her husband "at just the right time, with exactly the right partner."

What does she credit for things working out well? Birth control, because abstinence got her pregnant.

Her point is this: "...sex should NOT BE a MORAL ISSUE, it should be a PRACTICAL ISSUE." [Emphasis hers.]

She plans to take her daughters to Planned Parenthood when they are in high school because although she hopes "they will only give themselves to men who cherish them" she believes it is better to be "practical" and dispense with any "moral imperatives" so they won't ever experience shame or blame. She concludes, "Knowledge is power."

Take a deep breath, relax your face muscles, and let's examine the logic of this statement because this is a serious issue that needs to be clarified. I once thought this way too, until I realized 1) everyone needs a moral code, and 2) words mean things.

We need definitions. We have to know what we are talking about. The word "practical" is derived from the Latin practicalis and it relates to practice or action. The word "moral" stems from môrâlis and is concerned with ethics. Animals merely act without any rational consideration; but humans can act thoughtfully, can reason about morality, and don't have to be slaves to base appetites. I know - it's countercultural, but let it sink in. It's the truth.

There's a word that has become rather distorted, and it relates to choosing actions based on knowledge. That word is "conscience" from cum alio scientia, with other knowledge, science from experiment, and it begins with the individual. A rational being (i.e. a person) has the ability to use
reason and act in a conscionable way. By an active power of the soul, we use our intellect to gain knowledge, and it, admittedly, can be difficult. A properly formed conscience is not the work of a lazy intellect.

So what's the difference between acting "practically" and acting "morally"? Really nothing, except the former is repetitious, and the latter implies a need for deeper thought and introspection. Someone may say, "Well, acting practically means to make good choices without appealing to harsh judgment." That, however, is a travesty to logic. To know what is good, one must judge, so the issue is still a moral issue, just without using that Big Scary Word. And without guidance you end up saying something silly like, "Birth control is the responsible thing to do when you aren't going to be responsible in the first place." Logical fail.

This confusion stems, in part, from the use of the word "sex." Let's examine that word. It comes from the Latin word secus which refers to the state of being male or female, sexual organs. The union of two bodies is sometimes called intercourse, but if we're talking about people instead of animals, we need a word that represents the union of both body and soul. "Intimacy" from the Latin intimus refers to the inmost, deep-seated, inner nature, that thing between a man and woman that is the deepest union, not isolated to a physical act. It encompasses - is the very wellspring - of the entire union and relationship.

Intimacy is uniquely human. Animals have intercourse to procreate; humans, however, can experience intimacy and pleasure in the marital bond to bring forth new life in love. See the difference? You take your pet to the vet to get fixed, not your daughters.

This is why we call that special union the consummate [consummâtus lacking nothing, complete, perfect] marital [marîtâlis belonging privately to husband and wife] act [âctus physical movement], something intimate and specific to humanity. It's not sex, it's intimacy.

So we need to ask: Does a mother really equip her daughters with the power of knowledge if she teaches them it's practical to succumb to lowly appetites? Does teaching them about birth control rather than intimacy and marriage spare them of any internal conflict of conscience?

No. But what if you teach them about birth control and abortion along with teaching them about intimacy, love, and marriage? Again, logical fail. You can't say, "Be prudent, but when you fail to be prudent, then be less prudent." That's not prudence, that's lowering the standard.

See, what unites us as people, what defines us as human regardless of any physical characteristic, is our mental endowment. Humans must think. We have a conscience, and for every action we use the judgment of reason to determine whether it is moral or not. Prudence is the knowledge of what we ought to seek and what we ought to avoid for our own good. Prudence gives us power to know the right thing to do, the right way to act. Mothers need to guide their daughters morally, and daughters desperately desire this guidance from their mothers.

What about shame and blame? Well, part of that guidance is the development of a conscience and the instruction in the virtues. Prudence empowers a child to face fear, to avoid selfishness and pride because the child learns confidence in her ability to reason. It prevents her from harboring resentment from guilt because the child learns that she can make a mistake and still trust herself to do better, even if it's hard. Prudence prevents complacency because it helps the child navigate life with her eyes wide open. Thus, knowledge in matters of conscience teaches a child true freedom and peace. It's a challenge, but the alternative is to give up and stop trying. And again, that's just lazy.

What if a person makes an error in judgment against her core conscience because she hasn't really thought it through? Well she'll feel a tug, and that tug is proof that she knows and recognizes what is true and good deep down. Mrs. Shannon Bradley-Colleary reveals this tug in her Huffington Post article. The "19-year-old girl behind the couch" knew something wasn't right. The 25-year-old woman knew that "serial monogamy" was wrong.

It wasn't "abstinence" that got her pregnant, it was the genuine but imprudent desire for intimacy without marriage. The "sense of loss" felt for an "unwanted pregnancy" was real. Abortion does "haunt" for the rest of your life. The "hope" for daughters to find men to "cherish" them is as true as true gets. It's all called womanhood, and it's wonderful.

And Planned Parenthood will never teach our daughters any of that. They'll just fix them up with pills, devices, and latex as if the only thing they are capable of knowing is (irrationally) how to use them correctly.

-----

Stacy Trasancos, Ph.D. is a chemist turned homemaker raising seven children with her husband in the Northeast. She is pursuing a MA in Theology at Holy Apostles College and Seminary and is Chief Editor at Ignitum Today. She writes about all that she is learning at Accepting Abundance.

---
Copyright 2016 - Distributed by THE CALIFORNIA NETWORK
Pope Francis Prayer Intentions for May 2016
Universal:
Respect for Women: That in every country of the world, women may be honored and respected and that their essential contribution to society may be highly esteemed.
Evangelization:
Holy Rosary: That families, communities, and groups may pray the Holy Rosary for evangelization and peace.

By Kenya Sinclair (CALIFORNIA NETWORK)
Pastor Israel Avelar and his family were the victims of a horrific car crash that left four dead and three in critical condition. LOS ANGELES, CA (Catholic Online) - Following Pastor Avelar's commencement exercises in Insituto Biblico Bautista Libertad, the Freedom ... continue reading
---

By Kenya Sinclair (CALIFORNIA NETWORK)
At 20-weeks-old, unborn babies have the ability to suck their thumbs, yawn, stretch, make faces and react to physical pain, yet hundreds are murdered each year as they are not LOS ANGELES, CA (Catholic Online) - By claiming a mother's personal choice is more important ... continue reading
---

By Kenya Sinclair (CALIFORNIA NETWORK)
Ben and Alyssa Reidhead were overjoyed to hear they were pregnant - until the doctors told them to prepare a funeral for the little life that wouldn't make it out of the womb. LOS ANGELES, CA (Catholic Online) - During the couple's 20-week ultrasound, their son was ... continue reading
---

By Kenya Sinclair (CALIFORNIA NETWORK)
South Carolina legislature passed a bill on Tuesday that puts an end to abortions after 19 weeks. Dare we hope the bill is the beginning of the end of abortion? LOS ANGELES, CA (Catholic Online) - With South Carolina on board, there are seventeen U.S. states banning ... continue reading
---

By Kenya Sinclair (CALIFORNIA NETWORK)
A 70-year-old woman overcame an infertility with the help of several dead babies and one test tube baby. LOS ANGELES, CA (Catholic Online) - Daljinder Kaur and her husband Mohinder Singh Gill spent nearly fifty years of marriage unable to conceive.Finally, at roughly ... continue reading
---
By Kenya Sinclair (CALIFORNIA NETWORK)
Abortion rates have hit a historic low in wealthy countries - but at what cost? LOS ANGELES, CA (Catholic Online) - To put it bluntly, abortion rates have dropped due to a rise in the use of contraceptives, not because more women have decided that murdering their ... continue reading
---

By Kenya Sinclair (CALIFORNIA NETWORK)
A 7-year-old girl who was born without hands beat fifty other first-graders in a national handwriting competition, proving anyone can do anything they put their mind to. LOS ANGELES, CA (Catholic Online) - Rather than accepting prosthetic hands, little Anaya Ellick ... continue reading
---

By Abigail James (CALIFORNIA NETWORK)
In a strange request, an Israeli man has petitioned for a restraining order against God. LOS ANGELES, CA (Catholic Online) - Representing himself in court, the unnamed man entered the Haifa Magistrate's Court in Israel and claimed God had been ... continue reading
---

By Kenya Sinclair (CALIFORNIA NETWORK)
A beautiful set of newborn triplets were delivered via C-section at the Tanjungpinang Regional Genearal Hospital in Indonesia. The girls were strong and healthy with ten little toes and ten little fingers each - but there was one little problem: Two of the girls were ... continue reading
---

By Marshall Connolly (CALIFORNIA NETWORK)
Scientists have been conducting horrifying experiments on unborn babies, fertilizing eggs and seeing how long before they die in a test tube, outside of the womb. LOS ANGELES, CA (Catholic Online) - It's sounds like a horrifying lab experiment out of a prequel to ... continue reading
---
All Marriage & Family News