---
ORLANDO, Fl (The Florida Catholic) - "Wedding is a day, but a marriage is a lifetime." Is that phrase captured by the church's Engaged Encounter marriage preparation program a cliché or an overlooked notion? According to an author and freelance speaker with more than three decades of experience with marriage preparation, the Catholic Church works to ensure that phrase is canon among engaged couples.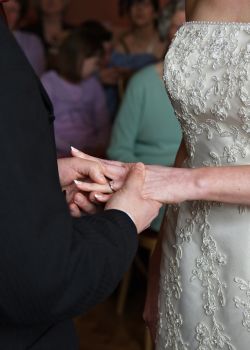 PRIORITIES - Don't make the mistake of putting all your attention into the details of the wedding. Preparation for a lifelong marriage, both spiritually and in practical terms, should be your main focus during your engagement. (Freedigitalimages.net)
"I think marriage as a sacrament gives a much deeper meaning to the wedding, that it is not just a beautiful ceremony," said Susan Vogt, of the National Association of Catholic Family Life Ministers, headquartered in Dayton, Ohio. "When couples enter into the sacrament of marriage, they are making a commitment that is permanent, an exclusive commitment of love and doing that in a public way. The publicness draws on the support of the community of faith."

The Catholic Church requires all couples married in the church to do marriage preparation. Vogt said couples -- whether they are Catholic or not -- can become victims of the secularized "disposable culture." Marriages -- like razors, pens, diapers and lighters -- can be thrown at the wayside when they no longer work.

Commitment for life

According to the National Marriage Project of Rutgers University in New Jersey, the overall divorce rate in America remains close to 50 percent of all marriages, but the rate has been dropping gradually over the past two decades. The risk of divorce is far below 50 percent for educated people going into their first marriage, and lower still for people who wait to marry at least until their mid-20s, haven't lived with many different partners prior to marriage, or are strongly religious and marry someone of the same faith," according to the National Marriage Project's "Ten Things to Know" series.

"It is important for couples to understand marriage as a lifelong commitment, that it is a vocation and it is a lifelong vocation," Vogt said.

Vogt and her husband have been married 35 years and led marriage preparation programs for 30 years. She estimates they have prepared more than 5,000 couples for marriage. Times have changed, and so have couples. One thing that has held true: Couples who don't understand the need for marriage preparation say couples have been marrying for years ... isn't it just natural?

"What we like to say to that is you don't have to make all your own mistakes. There are things you can learn that not everyone has to learn through trial and error," Vogt said. "Millions of couples have gone before you and figured out some things that make marriage more loving, more lasting, more meaningful. They have human wisdom to share. ... There comes a time when all couples face disillusionment and stress in their lives. Things might be nice and all wonderful now, but when you start facing disagreements it's difficult to resolve the complexities of life if you begin to question if this was really the right person. They have to realize the commitment of love in the marriage."

Upholding Catholic values

When asked a difference between couples throughout the last 30 years, the first item Vogt reflected on was dual careers -- both members of the couple working. The situation requires negotiation about many things, such as child rearing. Should the wife quit work and stay home or should it be the husband? Will they both work and settle on day care? Should it be in-home day care or at a facility?

"There are many different permutations of how will it work out," Vogt said. "And these are issues that those in marriage preparation must recognize. We can't tell couples the one best way to do it, but open their eyes to the many possibilities and support them to hold up the Church's values so they can make wise decisions."

Dual careers also pose marital challenges, Vogt said. While couples at home deal with the day-in and day-out necessities of a relationship -- from chores to bills to children -- the work environment offers the individuals a fulfillment and energy outside the home.

"Very often they are rubbing shoulders with coworkers of the opposite sex in their professional lives. It is very tempting to find fulfillment and pizzazz in a new relationship without dull parts of marriage," Vogt said. "There is bound to be more temptation, unless the marriage is very strong and sound."

Thirty years ago cohabitation and divorce were not common scenarios faced in marriage preparation. Today those are two prevalent realities. There are more couples of different faith backgrounds getting married, and couples are older, with the average age of the groom at 27 and the bride at 26.

Vogt said marriage preparation is not just about "imparting knowledge." The sharing of stories has a significant role. Married couples sharing experiences of their own trials and errors to impart what worked well and caution what they did wrong so newly married couples don't make the same mistakes.

"Our purpose is not to empty into them all the right answers or important information but to help them know the Church is there to support them, not just throughout preparation time but throughout the whole marriage."

Resources

The Web site foryourmarriage.org, which is offered by the U.S. Conference of Catholic Bishops, offers daily marriage tips written by Susan Vogt. Below are a few examples:

•Before insisting on having your way, try to get  in your spouse's skin. Look at the problem through his/her eyes.

•Don't be too proud to ask for help. The wise  couple seeks help as soon as they notice something is amiss.

•Dates don't always have to be in the evening.  Consider a lunch date. It's cheaper than dinner and if your kids are in school you don't need a babysitter.

To get tips e-mailed to you daily, sign up at susanvogt.net.

For more information on the National Marriage Project, visit www.marriage.rutgers.edu.


---
This story was made available to Catholic Online by permission of The Florida Catholic (www.thefloridacatholic.org), official newspaper of the dioceses of Orlando, Venice, St. Petersburg, Palm Beach and Pensacola-Tallahassee, and the Archdiocese of Miami.
---
---
---

By Kenya Sinclair (CALIFORNIA NETWORK)
Pastor Israel Avelar and his family were the victims of a horrific car crash that left four dead and three in critical condition. LOS ANGELES, CA (Catholic Online) - Following Pastor Avelar's commencement exercises in Insituto Biblico Bautista Libertad, the Freedom ... continue reading
---

By Kenya Sinclair (CALIFORNIA NETWORK)
At 20-weeks-old, unborn babies have the ability to suck their thumbs, yawn, stretch, make faces and react to physical pain, yet hundreds are murdered each year as they are not LOS ANGELES, CA (Catholic Online) - By claiming a mother's personal choice is more important ... continue reading
---

By Kenya Sinclair (CALIFORNIA NETWORK)
Ben and Alyssa Reidhead were overjoyed to hear they were pregnant - until the doctors told them to prepare a funeral for the little life that wouldn't make it out of the womb. LOS ANGELES, CA (Catholic Online) - During the couple's 20-week ultrasound, their son was ... continue reading
---

By Kenya Sinclair (CALIFORNIA NETWORK)
South Carolina legislature passed a bill on Tuesday that puts an end to abortions after 19 weeks. Dare we hope the bill is the beginning of the end of abortion? LOS ANGELES, CA (Catholic Online) - With South Carolina on board, there are seventeen U.S. states banning ... continue reading
---

By Kenya Sinclair (CALIFORNIA NETWORK)
A 70-year-old woman overcame an infertility with the help of several dead babies and one test tube baby. LOS ANGELES, CA (Catholic Online) - Daljinder Kaur and her husband Mohinder Singh Gill spent nearly fifty years of marriage unable to conceive.Finally, at roughly ... continue reading
---
By Kenya Sinclair (CALIFORNIA NETWORK)
Abortion rates have hit a historic low in wealthy countries - but at what cost? LOS ANGELES, CA (Catholic Online) - To put it bluntly, abortion rates have dropped due to a rise in the use of contraceptives, not because more women have decided that murdering their ... continue reading
---

By Kenya Sinclair (CALIFORNIA NETWORK)
A 7-year-old girl who was born without hands beat fifty other first-graders in a national handwriting competition, proving anyone can do anything they put their mind to. LOS ANGELES, CA (Catholic Online) - Rather than accepting prosthetic hands, little Anaya Ellick ... continue reading
---

By Abigail James (CALIFORNIA NETWORK)
In a strange request, an Israeli man has petitioned for a restraining order against God. LOS ANGELES, CA (Catholic Online) - Representing himself in court, the unnamed man entered the Haifa Magistrate's Court in Israel and claimed God had been ... continue reading
---

By Kenya Sinclair (CALIFORNIA NETWORK)
A beautiful set of newborn triplets were delivered via C-section at the Tanjungpinang Regional Genearal Hospital in Indonesia. The girls were strong and healthy with ten little toes and ten little fingers each - but there was one little problem: Two of the girls were ... continue reading
---

By Marshall Connolly (CALIFORNIA NETWORK)
Scientists have been conducting horrifying experiments on unborn babies, fertilizing eggs and seeing how long before they die in a test tube, outside of the womb. LOS ANGELES, CA (Catholic Online) - It's sounds like a horrifying lab experiment out of a prequel to ... continue reading
---
All Marriage & Family News