Jugend 2000 (Youth 2000), a Catholic youth group, has sponsored an innovative web page in which you are assigned a particular cardinal (randomly) to pray for before the Conclave, during the Conclave, and for three days after the election. If you are interested in adopting a cardinal visit the website at www.adoptacardinal.org.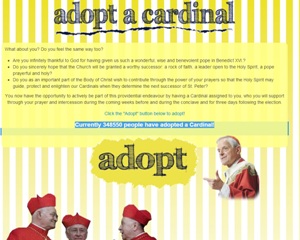 CORPUS CHRISTI, TX (Catholic Online) - As most informed Catholics know, the Cardinals from all over the world have gathered in Rome soon to choose in a Conclave a new Pope to replace Pope Benedict XVI who resigned on February 28, 2013, leaving the Holy See sede vacante, or without a Pope.

The choice of a Pope is always a monumental decision in the life of the Universal Church, and it is important that the Cardinals exercise their prudent judgment and be open to the promptings of the Holy Spirit on their choice as to who will be the Bishop of Rome, Successor of Peter, and Vicar of Christ.

Jugend 2000 (Youth 2000), an international Catholic youth movement that was founded in 1990 after John Paul II visited Santiago de Compostela in 1989, has crafted an innovative way to involve Catholics in praying for the Cardinals involved in the process of electing the new Pope.

They have sponsored a web page-http://www.adoptacardinal.org-in which you are assigned a particular cardinal (randomly) to pray for before the Conclave, during the Conclave, and for three days after the election.

The website has become popular, and as of the time of this writing almost 500,000 persons have signed up to be assigned a Cardinal.

The website asks:

"Are you infinitely thankful to God for having given us such a wonderful, wise and benevolent pope in Benedict XVI?"

"Do you sincerely hope that the Church will be granted a worthy successor: a rock of faith, a leader open to the Holy Spirit, a pope prayerful and holy?"

"Do you as an important part of the Body of Christ wish to contribute through the power of your prayers so that the Holy Spirit may guide, protect and enlighten our Cardinals when they determine the next successor of St. Peter?"

If you answer the questions "yes," then adopt a Cardinal! The website will require your name and an email address, and it will send you information about your Cardinal.

I ran through the process and received as my adoptee, Cardinal Laurent Monsengwo Pasinya, the Archbishop of Kinshasa, Democratic Republic of the Congo.

To adopt a Cardinal, click here: http://www.adoptacardinal.org

To get more information on your Cardinal, Google his name or visit the Vatican's website.

-----

Andrew M. Greenwell is an attorney licensed to practice law in Texas, practicing in Corpus Christi, Texas. He is married with three children. He maintains a blog entirely devoted to the natural law called Lex Christianorum. You can contact Andrew at agreenwell@harris-greenwell.com.
---
Copywriter 2015 - Distributed by THE NEWS CONSORTIUM
Pope Francis Prayer Intentions for May 2015
Universal:
That, rejecting the culture of indifference, we may care for our neighbours who suffer, especially the sick and the poor.
Evangelization:
That Mary's intercession may help Christians in secularized cultures be ready to proclaim Jesus.
---
---
---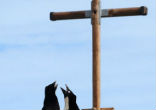 By Catholic Online (NEWS CONSORTIUM)
Pope Francis will release his anticipated teaching document on the environment and climate change in the coming weeks. Over the past several years, more faith traditions have rallied behind environmental protection. Churches have begun to press ecological ... continue reading
---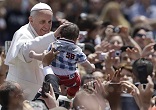 By Deacon Keith Fournier
We need to pray for a New Pentecost for the Church in this hour! We need more of the Holy Spirit for the New Evangelization of the Church - so that a renewed Church can engage in the missionary task of the Third Christian Millennium. We need to be baptized afresh ... continue reading
---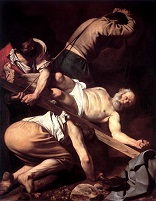 By Deacon Keith Fournier
Peter's wrong choices were not the end of the story of Gods plan for his life. Peter's denial crippled Peter emotionally and spiritually. He lost his way. That was until he encountered the Risen Christ. There, in that encounter, he allowed the belt of ... continue reading
---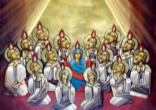 By Deacon Keith Fournier
The Church was empowered by the Holy Spirit to live differently in the midst of a world awaiting the fullness of redemption, to live as a new people to lead the world back to the Father, in and through the Son. Through their experience of the Holy Spirit the early ... continue reading
---

By Atarah Haely (NEWS CONSORTIUM)
What constitutes being the best university is oftentimes subjective and usually in adherence to one's beliefs and practices. Choosing a college is one of the biggest decisions many people are making. Some opt for those that offer the best training in the fields of ... continue reading
---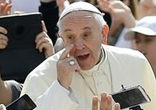 By Catholic Online (NEWS CONSORTIUM)
In discussing the role of parents educating their children, Pope Francis in his General Audience, advised separated couples to "never, never, never take the children hostage!" LOS ANGELES, CA (Catholic Online) - The Pope spoke on the role of parents in the ... continue reading
---

By Tony Magliano
"The God of peace is never glorified by human violence," wrote the famous Trappist monk Thomas Merton. Whether it's on an individual, city, national, or international level, violence always dishonors God, and makes bad situations worse. The recent Baltimore City riots ... continue reading
---

By Abigail James (NEWS CONSORTIUM)
Sometimes getting up in the morning can be the hardest thing you'll do all day. When life's worries press down on you and take your soul hostage, the most important thing you can do for yourself is turn to God. He will always be there for you, through the good times ... continue reading
---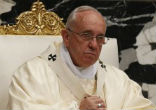 By Catholic Online (NEWS CONSORTIUM)
Addressing bishops in Italy, Pope Francis told them to act more like pastors than "pilots" telling the faithful what to do. The pontiff said that bishops need "Ecclesial sensitivity." They should remain bold in denouncing cultural trends that offend human ... continue reading
---

By Talia Ramos (NEWS CONSORTIUM)
During his meal at a Waffle House restaurant, 5-year-old Josiah Duncan's attention wandered to the man outside the establishment. The man, dirty and holding a plastic bag, became the center of the young boy's curiosity and concern. After learning from her mother that ... continue reading
---
All Living Faith News