St. Catherine views the spiritual life as a series of battles - a series of battles wherein we seek to conquer self for the love of God.
The seven spiritual arms identified by St. Catherine of Bolgna should be taken up by every Christian.  They ought to be standard issue for everyone in the Church militant.  One really cannot live the Christian life without them.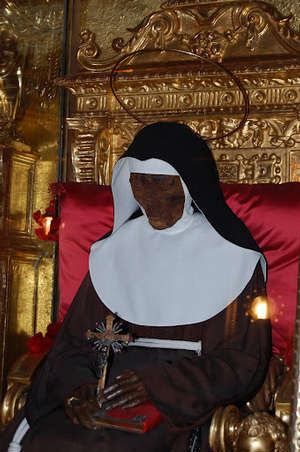 CORPUS CHRISTI, TX (Catholic Online) - In her small treatise The Seven Spiritual Weapons, St. Catherine of Bologna (1413-1463) describes herself as a yelping puppy, a cagnola latrante.  If St. Catherine is a barking puppy in the world of the spirit, I'm not sure what that makes me: perhaps a bungling tortoise or a slithering worm.  But it is for those less perfect that St. Catherine wrote her helpful, simple, and short treatise.

In truth, the treatise is written for women religious--those who entered into the Poor Clare convent in Ferrara of which she was the superioress--but, contrary to most such writings, this one is very easily applied to the spiritual life of the laity. 

The seven spiritual arms identified by St. Catherine of Bolgna should be taken up by every Christian.  They ought to be standard issue for everyone in the Church militant.  One really cannot live the Christian life without them.

St. Catherine views the spiritual life as a series of battles - a series of battles wherein we seek to conquer self for the love of God.  Our standard in these battles is the cross upon which hung "Jesus Christ our savior, who died on the field of battle in order to give us life."

St. Catherine advocates seven spiritual arms be used in this battle: zealous diligence, distrust of self, confidence in God, recollection of Christ's passion and death, awareness that one must die, habitual keeping in mind the glory of our future life in God, and, lastly, a firm and constant dedication to Holy Scripture. 

These seven arms are to be applied while living a life of grace.  They are to be taken up only after an examination of conscience, confession, a firm resolve not ever to sin again mortally, and the resolve "instead to die a thousand times if that were possible" rather than sin mortally.  Someone living in mortal sin "is not a member of Christ, but of the devil," and so the recourse to arms would be quite in vain.

We have to be in Christ's army--which is to say his incorporated into his body, the Church--and in a state of grace for the seven arms to be any good to us.

The first arm is diligence which St. Catherine defines as "solicitude in doing good."  Doing good must be the central aim of our life.  Diligence in doing good is the opposite of negligence, of lukewarmness.  Obviously, doing good means avoiding evil, but it means much more than that.  We have to be like Jesus, in that, with respect to God, we must not be "yes" and "no," but all "yes."  (Cf. 2 Cor. 1:19)  There must be no ambivalence in our life.  It is good, and good alone which must drive us.

And yet even diligence in doing good works is subject to the law of prudence and requires a certain discretion; otherwise, the soul might get ambushed by the Devil who cleverly lies in wait for the soul who has zeal in doing good.  St. Catherine warns us not to kill our souls "under the appearance of good."  These are wise words from a spiritual caretaker: "There is as much danger in too much as in too little."  It is as if she is invoking the wisdom of the saying at the temple at Delphi: meden agan, "nothing too much."

The second weapon is mistrust of self.  This requires a firm belief, one held without the slightest doubt, "that one could never do anything good by oneself."  When Jesus said, "Without me you can do nothing," Jesus meant nothing.  (Cf. John 15:15)  No wisdom, no virtue, nothing is available to us without Christ.

This leads us to the third spiritual arm: to put one's trust in God, and God alone.  Trust is only engendered by love, and so we must love God.  It also leads to hope, hope that God, in all our circumstances "will give us his grace abundantly."  We must be confident in God and that he will help us overcome the wiles of the devil and the weakness of the flesh.  Christ on the Cross overcame all doubt on whether God could ever abandon man, so that a soul can pray with absolute assurance that the prayer will be answered: "God do not abandon me."  God will not abandon any man who seeks his help in doing good and avoiding evil.

The fourth spiritual weapon is "memory of the glorious pilgrimage" of Christ's life, especially, his passion and his death.  Jesus is humanity perfected: the perfect human.  Christ's sacred humanity, particularly as displayed during his passion, is the "cure for all our wounds," a "mother most faithful" that leads to God, a "true and gentle refuge in all adversities," a "supporting nurse" which heals us, a "refulgent mirror" that helps us see our faults, an "impenetrable shield" behind which we might hide from evil, our spiritual "manna suffused with fulsome sweetness," a "ladder most high" which raises us to infinity, a "restorative hospice for pilgrim souls," and "ever-flowing font" for thirsty souls, an "abundant sea" upon which we float our rickety humanity, a "sweet olive tree" with strong branches, a "spouse, gentle to the soul" and always faithfully in love with us.

The fifth spiritual arm is to remind ourselves that we must die: the memento mori.  Recollection of our mortality is a "time of mercy," as it reminds us of time's flux and time's uncertainty and the continual and urgent need to amend our lives "from good to better."  We have to render an account for our time, and nothing recalls this than remembering that we must die, and after death comes judgment. (Cf. Heb 9:27)

The sixth weapon identified by St. Catherine of Bologna is to remember the good of paradise, of heaven, of the afterlife, which is really to remember that we have been promised union with God.  Recalling our eternal good and our promised life of glory gives us strength be "strong and constant in persevering in doing good solely for the pure love of our Lord God."

The last weapon St. Catherine adds to her accoutrement of arms is "the memory of Holy Scripture."  Scripture must impress our minds, form our hearts, and it must be the mother of our counsel and the source of our consolation.  Scripture should be viewed as letters sent to us from our Lover on high.  With Scripture, Jesus defeated the temptations of the devil in the desert.  "Ignorance of Scripture is ignorance of Christ," ignoratio scripturarum, ignoratio Christi est, St. Jerome famously said in one of his epistles.  St. Catherine would not have agreed with him more.

After a particularly intense conversion to God, Pascal wrote a "memorial" of that event and sewed it to his coat so as always to remember the fire that he experience in his soul.  It would do us good to take the seven spiritual arms of St. Catherine Genoa as our "memorial," and review our lives as Catholics within the light that the seven spiritual arms offer.  We should take up these arms, as St. Catherine says, "to the praise of Christ.  Amen."

-----

Andrew M. Greenwell is an attorney licensed to practice law in Texas, practicing in Corpus Christi, Texas.  He is married with three children.  He maintains a blog entirely devoted to the natural law called Lex Christianorum.  You can contact Andrew at agreenwell@harris-greenwell.com.
---
Copyright 2016 - Distributed by THE CALIFORNIA NETWORK
Pope Francis Prayer Intentions for May 2016
Universal:
Respect for Women: That in every country of the world, women may be honored and respected and that their essential contribution to society may be highly esteemed.
Evangelization:
Holy Rosary: That families, communities, and groups may pray the Holy Rosary for evangelization and peace.

By Kenya Sinclair (CALIFORNIA NETWORK)
Notorious atheist group Freedom From Religion Foundation (FFRF) has struck again, this time at an East Liverpool high school in Ohio. LOS ANGELES, CA (Catholic Online) - The Ohio school district was forced to ban The Lord's Prayer after the FFRF complained the prayer ... continue reading
---

By Elise Harris (CNA/EWTN News)
On Sunday Pope Francis celebrated a special jubilee for deacons, telling them that a good servant is one who forgets themselves, letting go of their own plans and humbly placing their lives at the disposal of those to whom they are called to minister. Vatican City, ... continue reading
---

By (CNA/EWTN News)
A group of 61 cloistered nuns from six monasteries in Santiago, Chile made an historic visit to the local Women's Prison Center to spend time with the inmates and attend Mass with them. Santiago, Chile (CNA/EWTN News) - "I don't know if in the 400 years of the history ... continue reading
---

By Ann Schneible (CNA/EWTN News)
The story of a young migrant girl who drowned at sea was at the heart of Pope Francis' address to some 400 children who on Saturday had traveled to the Vatican from the southern Italian region of Calabria. Vatican City, Italy (CNA/EWTN News) - Speaking off the cuff to ... continue reading
---

By (CNA/EWTN News)
There's a demon that specializes in attacking the family, said exorcist César Truqui, a priest who participated in a course on exorcism held in Rome last year. Rome, Italy (CNA/EWTN News) - Fr. Truqui warned that everything that is harming the family, including ... continue reading
---

By Kenya Sinclair (CALIFORNIA NETWORK)
During an interview, Cardinal Robert Sarah explained the importance of priests facing east during Mass. LOS ANGELES, CA (Catholic Online) - In an interview with French Catholic magazine Famille Chrétienne, Cardinal Sarah, who is the prefect of the Congregation for ... continue reading
---

By Kenya Sinclair (CALIFORNIA NETWORK)
Rev. V. A. Anthony, of Brethren Assembly Church in Satna, his wife Prabha and one unnamed woman have been arrested in Aber, India after being accused of "forced conversions" and blaspheming against Hinduism. LOS ANGELES, CA (Catholic Online) - According to Christian ... continue reading
---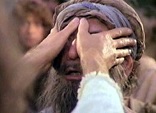 By Deacon Keith Fournier
The same Jesus who passed by Bartimaeus is alive today. The Good News is that no matter what has happened in our past, Jesus walks into the dusty streets of our lives this day. We simply need the eyes of living faith to see Him and the renewed heart to follow Him ... continue reading
---

By Kenya Sinclair (CALIFORNIA NETWORK)
In an attempt to make the Bible more interactive and entertaining to millennials, the King James Version (KJV) of the Bible has been translated with help from popular emoticons. LOS ANGELES, CA (Catholic Online) - According to The Memo, the new Bible, marked as ... continue reading
---

By Kenya Sinclair (CALIFORNIA NETWORK)
A new study revealed Welsh and English Catholics hold the highest retention rate of any denomination but maintain the lowest conversion rates. LOS ANGELES, CA (Catholic Online) - The report, titled the "Contemporary Catholicism in England and Wales," was issued by the ... continue reading
---
All Living Faith News