The Church honors human work, and sees it as a fundamental good of man
The Church honors human work, and sees it as a fundamental good of man.  She recognizes it as both a duty and a right. The reason work is both a duty and a right stems from two facts.  First, the fact that work is necessary. Second, the fact that work affirms the dignity of the human person.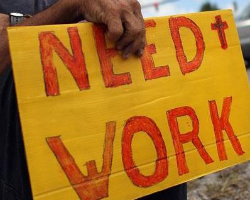 CORPUS CHRISTI, TX (Catholic Online) - The Church honors human work, and sees it as a fundamental good of man.  She recognizes it as both a duty and a right.  The reason work is both a duty and a right stems from two facts.  First, the fact that work is necessary.  Second, the fact that work affirms the dignity of the human person.

Work is necessary for a variety of reasons.  It is needed to form and support a family.  Work is also a necessity to support one's right to property, a right to which the right to work is closely allied.  It is needful because it contributes to the common good and to civil peace.  Indeed, the relationship between work and the common good is so intrinsic that the Church views unemployment as a "real social disaster." (Compendium, No. 287) (quoting John Paul II, Laborem exercens)  It is a social evil against which society should direct itself.

The Church therefore urges governments to aim, as part of a mandatory objective required by both justice and the common good, to the "full employment" of their citizens.  What "full employment" means in the context of macroeconomics is debated by economists, and, depending upon various prudential factors, may include some level of unemployment.  To achieve zero unemployment is a virtual impossibility, and there are both diminishing returns and economic costs associated with "full employment" defined as 100% employment. 

Regardless of the details, it is a fundamental principle that governments ought to avoid economic policies which frustrate this goal of the employment of its citizens however defined, and which result in the denial of, or thwarting of, employment. (Compendium, No. 288)

Governments should also aim to assuring that there be adequate access to education and training for their citizens.  The role of education becomes even more important as the society becomes technologically mature.  Also, with the "fluid economic context that is often unpredictable in the way that it evolves," retraining or on-going education is an essential requirement. (Compendium, No. 289, 290)

Finally, there ought to be special solicitude to those who have difficulty in obtaining employment and yet who have both the duty and the right to work: the young, women, less-specialized workers, those with disabilities, immigrants, ex-convicts, the illiterate. (Compendium, No. 289)  Special concern should be women, whose "feminine genius is needed in all expressions in the life of society." (Compendium, No. 295).  Also, there is frequent exploitation of foreign or immigrant workers to which the State ought to be vigilant to prevent. (Compendium, No. 298)  Finally, the exploitation of children and child-labor is a blight that needs to be overcome. (Compendium, 296)

The Church therefore puts a large responsibility upon the shoulders of the State in the area of the employment of its citizens.  But her social doctrine ought in no way to be interpreted in a manner suggestive of socialism or Soviet-style central planning.  The Church is not advocating by any means politburo-employment.  "The duty of the State does not consist so much in directly guaranteeing the right to work of every citizen, making the whole of economic life very rigid and restricting individual free initiative." (Compendium, No. 291)  That sort of economic planning is to be discouraged, as it is fraught with the loss of economic liberty, not to mention that it reeks of inefficiency.

Rather, the duty upon the State is one of sustaining "business activities by creating conditions which will ensure job opportunities, by stimulating those activities where they are lacking or by supporting them in times of crisis."  The principle of subsidiarity is here of critical importance. (Compendium, No. 291)  Employment is to be the result of "an open process" and not government diktats, a process essentially free yet responsible, which does not forget the solidarity among men.  There is ample room here for private, for-profit initiative, but also for non-profit, volunteer-type arrangements, the so-called "third sector" between private enterprise and public authority. 

In short, ordinarily it is private enterprise and private initiative that ought to be the engine that results in the employment of the people.  Government's duty is to provide a legal and economic framework where this private enterprise and private initiate can occur.  

With the increased globalization of the world's economy, there is a need also to promote international cooperation among the several nation States "by means of treaties, agreements, and common plans of action that safeguard the right to work."  International organizations and labor unions also "must strive first of all to create an ever more tightly knit fabric of juridical norms that protect the work of men, women, and youth, ensuring its proper remuneration." (Compendium, No. 292) Whether chronic unemployment is in Yuma, Arizona, or in Harare, Zimbabwe, or in Madrid, Spain, all of us are in some manner hurt.

Again, the principle of subsidiarity and the preference for private initiative is as applicable to international organizations and labor unions as it is upon national governments.

The Church recognizes that there is an intrinsic connection between work and family life.  Indeed, the Church sees that work is "a foundation for the formation of family life." (Compendium, No. 294) (quoting JP II, Laborem exercens)  This is one reason why the Church is so concerned in assuring employment.  Work allows marriage and family to flourish.  It is needed to sustain the family and to allow for its principle end: the raising and education of children.

It is this intrinsic connection between work and family life  that ought to cause a re-appraisal of the relationship between employer and employee.  The employment relationship cannot only be thought of only in economic terms or in terms of a private contract, though it has those dimensions.  Every employment decision has a familial dimension that ought not to be neglected.

So the Church asks everyone involved in the employment process, "businesses, professional organizations, labor unions, and the State," to "promote policies that, from an employment point of view, do not penalize but rather support the family nucleus." (Compendium, No. 294)

The Compendium also addresses the issue of agricultural labor, which requires a specialized or individualized treatment.  In many countries, agricultural labor is particularly important to the national economy.  In some countries, particularly in Latin America, land ownership is excessively centralized in what are known as latifundia or huge landed estates. The latifundia system is an inefficient, unproductive, unjust system, repeatedly condemned by the Church as immoral.  It is closed to the free market, to wide-spread ownership of private property, and to the ready alienation of property.  It might even be likened to a form of private socialism or communism.  It requires attention and, in some countries, "a redistribution of land as part of sound policies of agrarian reform" is a moral imperative. (Compendium, No. 300)  Of course, there must be respect of private property, but this respect does not reduce the urgency of such reform.

-----

Andrew M. Greenwell is an attorney licensed to practice law in Texas, practicing in Corpus Christi, Texas.  He is married with three children.  He maintains a blog entirely devoted to the natural law called Lex Christianorum.  You can contact Andrew at agreenwell@harris-greenwell.com.

---
Copyright 2016 - Distributed by THE CALIFORNIA NETWORK
Pope Francis Prayer Intentions for May 2016
Universal:
Respect for Women: That in every country of the world, women may be honored and respected and that their essential contribution to society may be highly esteemed.
Evangelization:
Holy Rosary: That families, communities, and groups may pray the Holy Rosary for evangelization and peace.

By Kenya Sinclair (CALIFORNIA NETWORK)
Rev. V. A. Anthony, of Brethren Assembly Church in Satna, his wife Prabha and one unnamed woman have been arrested in Aber, India after being accused of "forced conversions" and blaspheming against Hinduism. LOS ANGELES, CA (Catholic Online) - According to Christian ... continue reading
---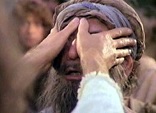 By Deacon Keith Fournier
The same Jesus who passed by Bartimaeus is alive today. The Good News is that no matter what has happened in our past, Jesus walks into the dusty streets of our lives this day. We simply need the eyes of living faith to see Him and the renewed heart to follow Him ... continue reading
---

By Kenya Sinclair (CALIFORNIA NETWORK)
In an attempt to make the Bible more interactive and entertaining to millennials, the King James Version (KJV) of the Bible has been translated with help from popular emoticons. LOS ANGELES, CA (Catholic Online) - According to The Memo, the new Bible, marked as ... continue reading
---

By Kenya Sinclair (CALIFORNIA NETWORK)
A new study revealed Welsh and English Catholics hold the highest retention rate of any denomination but maintain the lowest conversion rates. LOS ANGELES, CA (Catholic Online) - The report, titled the "Contemporary Catholicism in England and Wales," was issued by the ... continue reading
---

By Elise Harris (CNA/EWTN News)
For Pope Francis, prayer is neither a "magic wand" used to get what we want nor something casual we do only when we feel like it, but is rather the strength that sustains our faith in difficult moments. Vatican City, Rome (CNA/EWTN News) - "Jesus says that we need 'to ... continue reading
---

By Andrea Gagliarducci (CNA/EWTN News)
Former Pope Benedict XVI could appear in public once again on June 29, the 65th anniversary of his priestly ordination. Vatican City, Rome (CNA/EWTN News) - Speaking after the May 20 presentation of a book dedicated to Benedict XVI's pontificate, Archbishop Georg ... continue reading
---

By Tony Magliano
The best way to remember those who have been killed in battle is to work for the day when others will no longer be sent to take their place. Prayerfully reflecting on how to move away from war and war preparation should be central to every Memorial Day.Why do ... continue reading
---

By Ann Scneible (CNA/EWTN News)
The feast of the Holy Trinity is an invitation for us to commit to enriching our everyday relationships by promoting communion, consolation, and mercy, Pope Francis said during his weekly Sunday Angelus address. Vatican City, Rome (CNA/EWTN News) - "Our being created ... continue reading
---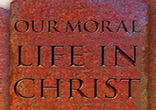 By Deacon Keith Fournier
What we choose determines who we become. Choosing what is good changes the chooser, empowering him or her to proceed along the pathways of virtue and develop the habitus - or habits- which promote Christian character. The Catechism of the Catholic Church ... continue reading
---

By Marshall Connolly (CALIFORNIA NETWORK)
Ever since the reveal of the Third Secret of Fatima in 2000, several people have insisted there's more to the secret than what the public was told. These rumors have taken a life of their own, prompting the Holy See to speak out against them. LOS ANGELES, CA (Catholic ... continue reading
---
All Living Faith News