New York City-bound drivers greeted by positive message
The New Jersey side of the Lincoln Tunnel may show an anti-Christmas billboard sponsored by the American Atheists, but on the New York City side of the tunnel, drivers are greeted by a Christmas message from the Catholic League.
WASHINGTON, DC (Catholic Online) - Catholic League president Bill Donohue was contacted by a donor soon after the anti-Christmas billboard from American Atheists showed up on the New Jersey side of the Lincoln Tunnel, offering to underwrite a challenge.

Now, on the New York side of the tunnel, drivers are met by a full color image of the Holy Family with the words, "You Know It's Real: This Season Celebrate Jesus. Merry Christmas from the Catholic League."

The battle of the billboards began when an outdoor sign was installed on New Jersey's I-495 near the Lincoln Tunnel. The sign, a traditional nativity scene and the three wise men on their journey in silhouette against a blue starry sky, featured the message, "You KNOW it's a Myth - This Season, Celebrate REASON!"

When asked why they decided to put up a billboard in response, League president Bill Donohue stated, "We decided to counterpunch after a donor came forward seeking to challenge the anti-Christmas statement by American Atheists. Our approach is positive, and services the common good. Theirs is negative, and is designed to sow division. It's what they do.

"So after Christian motorists have had their sensibilities assaulted as they exit New Jersey, they will experience a sense of joy, and satisfaction, as they enter New York City. It's what we do. "

Atheists believe "'tis the season" to advertise. This billboard is only a part of what we may be seeing this year.  The American Humanist Association and the Stiefel Freethought Foundation are intending to challenge the credibility of Christianity through a $200,000 media blitz using national television, newspaper and magazine advertising.

Jim Goodness, spokesman for the Archdiocese of Newark, put things in perspective when contacted by NewJersey.com for a comment. He had seen the billboard as he returned from a Thanksgiving meal last Thursday and said he wasn't impressed.

Goodness told NewJersey.com that the Archdiocese was not planning a billboard of their own and that the message of Christmas was too resilient to be threatened by a sign.

"We're looking at well over 2,000 years of this message being part of humanity," Goodness stated. "One message on a billboard that's going to be there for a month isn't going to change that."

The big push this year by these groups is toward urging closet atheists to "come out" to their friends and constituents. They see this as a way to remove a perceived support system that people of faith may think they have. Once out of the closet, the assumption is that their opposition to Christianity - or actually any religion - will cause those who embrace it to falter.

Such a move on the part of atheists and agnostics may, in fact, cause the issues of faith to be more public and discussed in the marketplace, a perfect forum for sharing the good news. This could actually be a blessing to the Church.

Should atheists really want to challenge their constituency to have the courage to step out and be counted as really possessing a superior reason, I would suggest their next billboard take on the Koran.

-----

Randy Sly is the Associate Editor of Catholic Online and the CEO/Associate Publisher for the Northern Virginia Local Edition of Catholic Online (http://virginia.catholic.org). He is a former Archbishop of the Charismatic Episcopal Church who laid aside that ministry to enter into the full communion of the Catholic Church.
---
Copywriter 2015 - Distributed by THE NEWS CONSORTIUM
Pope Francis Prayer Intentions for October 2015
Universal:
That human trafficking, the modern form of slavery, may be eradicated.
Evangelization:
That with a missionary spirit the Christian communities of Asia may announce the Gospel to those who are still awaiting it.
---
---
---

By Kenya Sinclair (CALIFORNIA NETWORK)
Each year, millions of people across the United States rush to grocery stores and prepare to visit their families in celebration of Thanksgiving. Visiting loved ones and enjoying a specially prepared meal are both wonderful parts of celebrating, but don't forget to ... continue reading
---

By Catholic Online (NEWS CONSORTIUM)
Pope Francis has made it clear, Jesus is weeping over a world at war. It has become obvious that this is a time of extreme danger for all people around the globe. No population is safe from terror. The threats aren't just from terrorist organizations like ISIS and Al ... continue reading
---

By Catholic Online (CALIFORNIA NETWORK)
The veneration of relics in the Catholic Church has been one of the most debated practices in the faith. While such veneration is actually common in the human experience -even Communists did it with the body of Lenin, the veneration of relics in the Church is the ... continue reading
---

By Tony Magliano
During the recent U.S. Catholic bishops' fall assembly in Baltimore, several bishops and one abbot, decided to skip dinner at the downtown Marriott Waterfront hotel, and walked several blocks to an inner city parish to share a simple meal with about 30 peace ... continue reading
---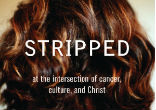 By Mary Rezac, CNA/EWTN News
Heather King never cared much for doctors. Los Angeles, CA (CNA) - It's an attitude she partly inherited from her mother, "who classified ginger ale as a medicine, considered Novocain a snobbish extravagance" and somehow managed to avoid a visit to the doctor's office ... continue reading
---
By Kenya Sinclair (CALIFORNIA NETWORK)
It is easy to fall prey to depression and sadness with everything that has been going on in the world these days. The trick to maintaining a positive attitude and living in the joy God has for us is as easy as following five simple steps. LOS ANGELES, CA (Catholic ... continue reading
---

By Marshall Connolly, Catholic Online (THE CALIFORNIA NETWORK)
Want to lose the War on Christmas? Surrender Advent. We Christians have gone out of our minds, arguing about Starbucks cups and greeters who (correctly) say "Happy Holidays" in place of "Merry Christmas." In all the bustle of the season, we have forgotten that Advent ... continue reading
---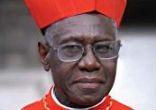 By Elise Harris, CNA/EWTN News
At the presentation of his new book, Cardinal Robert Sarah said that Western society is rapidly forgetting God, and expressed his desire to help people rediscover him through both prayer and witness. Vatican City (CNA/EWTN News) - "I would like to help people ... continue reading
---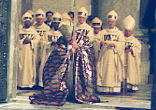 By Elise Harris, CNA/EWTN News
Hidden since the Jubilee of 2000, the Holy Door in St. Peter's Basilica was revealed Tuesday as the brick wall covering it was removed in anticipation of the Holy Year of Mercy launching next month. Vatican City (CNA/EWTN News) - Cardinal Angelo Comastri, the ... continue reading
---

By Abigail James (CALIFORNIA NETWORK)
Fear is a powerful thing. Fear can completely cripple the body and soul. Since the terrifying Paris terrorist attacks last week the news has been full of death, terrorists, murder and fear. LOS ANGELES, CA (Catholic Online) - Those not in power are left wondering ... continue reading
---
All Living Faith News