Las Posadas, a Spanish celebration of the difficult journey of the Virgin Mary and St. Joseph to Bethlehem, begins December 16. First established as a novena four hundred years ago, it grew to a huge nine-day celebration in cities and towns across Mexico.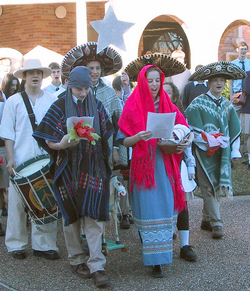 WASHINGTON (Catholic Online) - A wonderful celebration started in Mexico begins on December 16 called Las Posadas, which means "the inns" or "the lodgings." Each year, this nine-day celebration features a nightly reenactment of the search for a place to stay by St. Joseph and the Blessed Virgin Mary.

In anticipation of Las Posadas, each home puts up a nativity scene and the families act as innkeepers.

The procession, walking with lit candles, is normally headed by children with a little girl playing the part of Virgen Maria (Virgin Mary) and a boy as San Jose (St. Joseph). The two are "Los Peregrinos," or pilgrims, in search of a place to stay. They are followed by other children dressed as angels and shepherds and then the adults. In some areas, statues of Los Peregrinos are carried instead. A small doll, representing the Christ child is also carried.

They walk through a neighborhood, stopping at homes where they knock on doors and ask for lodging by singing a traditional litany. The pilgrims sing, "In the name of heaven, I ask you for shelter because my beloved wife can continue no longer."

Then the innkeepers sing, "This is no inn, continue on your way. I am not about to open. You may be a scoundrel."

Normally three houses are chosen and the pilgrims are turned away from the first two.

They finally stop at a home that has been pre-selected for that evening's celebration, where they are welcomed in as the innkeepers sing, "Let us sing with joy, all bearing in mind that Jesus, Joseph and Mary honor us by having come.'

Upon entering, the celebration begins with the recitation of the Rosary around the home's nativity scene followed by the singing of Christmas Carols. After that, a huge party is held with music, fireworks, lots of food, and a pińata for the children filled with peanuts in the shell, oranges, tangerines, candy canes, and wrapped hard candy.

The children may be enjoying their pińata, the adults also have a treat in store - "Ponche con Piquete," or party punch, made from seasonal fruits and cinnamon sticks with a shot of alcoholic spririts.

The Christ-child doll is left at the house overnight and then recovered the next day when the pilgrims again take up their procession for the next of eight successive nights, ending on Christmas Eve.

Las Posadas has its roots in a sixteenth century practice by St. Igantius of Loyola who had used an Aztec festival to teach the people about Christ. He replaced a nine-day celebration to an Aztec Sun God with a Novena, which later grew into the Las Posadas celebration, which anticipates La Navidad, the Nativity, on Christmas Day.

---
Copywriter 2015 - Distributed by THE NEWS CONSORTIUM
Pope Francis Prayer Intentions for October 2015
Universal:
That human trafficking, the modern form of slavery, may be eradicated.
Evangelization:
That with a missionary spirit the Christian communities of Asia may announce the Gospel to those who are still awaiting it.
---
---
---

By Kenya Sinclair (CALIFORNIA NETWORK)
Each year, millions of people across the United States rush to grocery stores and prepare to visit their families in celebration of Thanksgiving. Visiting loved ones and enjoying a specially prepared meal are both wonderful parts of celebrating, but don't forget to ... continue reading
---

By Catholic Online (NEWS CONSORTIUM)
Pope Francis has made it clear, Jesus is weeping over a world at war. It has become obvious that this is a time of extreme danger for all people around the globe. No population is safe from terror. The threats aren't just from terrorist organizations like ISIS and Al ... continue reading
---

By Catholic Online (CALIFORNIA NETWORK)
The veneration of relics in the Catholic Church has been one of the most debated practices in the faith. While such veneration is actually common in the human experience -even Communists did it with the body of Lenin, the veneration of relics in the Church is the ... continue reading
---

By Tony Magliano
During the recent U.S. Catholic bishops' fall assembly in Baltimore, several bishops and one abbot, decided to skip dinner at the downtown Marriott Waterfront hotel, and walked several blocks to an inner city parish to share a simple meal with about 30 peace ... continue reading
---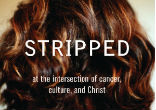 By Mary Rezac, CNA/EWTN News
Heather King never cared much for doctors. Los Angeles, CA (CNA) - It's an attitude she partly inherited from her mother, "who classified ginger ale as a medicine, considered Novocain a snobbish extravagance" and somehow managed to avoid a visit to the doctor's office ... continue reading
---
By Kenya Sinclair (CALIFORNIA NETWORK)
It is easy to fall prey to depression and sadness with everything that has been going on in the world these days. The trick to maintaining a positive attitude and living in the joy God has for us is as easy as following five simple steps. LOS ANGELES, CA (Catholic ... continue reading
---

By Marshall Connolly, Catholic Online (THE CALIFORNIA NETWORK)
Want to lose the War on Christmas? Surrender Advent. We Christians have gone out of our minds, arguing about Starbucks cups and greeters who (correctly) say "Happy Holidays" in place of "Merry Christmas." In all the bustle of the season, we have forgotten that Advent ... continue reading
---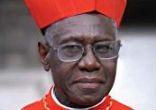 By Elise Harris, CNA/EWTN News
At the presentation of his new book, Cardinal Robert Sarah said that Western society is rapidly forgetting God, and expressed his desire to help people rediscover him through both prayer and witness. Vatican City (CNA/EWTN News) - "I would like to help people ... continue reading
---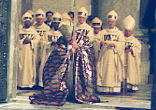 By Elise Harris, CNA/EWTN News
Hidden since the Jubilee of 2000, the Holy Door in St. Peter's Basilica was revealed Tuesday as the brick wall covering it was removed in anticipation of the Holy Year of Mercy launching next month. Vatican City (CNA/EWTN News) - Cardinal Angelo Comastri, the ... continue reading
---

By Abigail James (CALIFORNIA NETWORK)
Fear is a powerful thing. Fear can completely cripple the body and soul. Since the terrifying Paris terrorist attacks last week the news has been full of death, terrorists, murder and fear. LOS ANGELES, CA (Catholic Online) - Those not in power are left wondering ... continue reading
---
All Living Faith News