---
God is inviting us to repentance even as He chastises us in our Lenten wilderness.We too, like Israel, complained of lack of "care." Now we have it.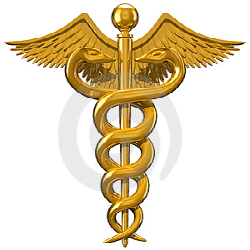 It is not coincidence that the symbol of today's Old Testament reading, the serpent on the pole, is also the symbol of health care.
NASHVILLE, TN (Catholic Online) - On this historic day of last formalities for our horrendous new legislation, it is profoundly providential that the Old Testament reading is Numbers 21:4-10, the story of the fiery serpents, because the ancient symbol of the story, the serpent on the pole, is the symbol of the medical profession.

As they wandered in the desert, the people complained about the difficulties and deprivations of the journey. Against the leaders, they leveled accusations of lack of care, accusations which God considered against Himself and His own provision for them.

Specifically, the people complained that the manna God miraculously rained down on the desert floor to feed the Israelites as they wandered in the wilderness was insubstantial and therefore "worthless." Sometimes their complaint against the manna is translated "this most vile bread." They had no appetite for the spiritual sustenance in the heavenly bread.

It had become commonplace and empty. They began looking for something else to "care" for them.

When God removed His protection from the people to prove their complaints false, they were attacked by an infestation of poisonous snakes, probably called "fiery serpents" because of the inflammation caused by their bites. Once the people acknowledged and confessed their rebellion as sin, God commanded Moses to make a bronze serpent and raise it up on a pole so that anyone bitten could look at it and be healed.

God commanded that the death-dealing instrument would be the same used to heal. Because only God could heal an epidemic of deadly snake bites through such pitifully inadequate methods, the people were chastised for their false accusations when their healing was accomplished.

We too complained of lack of "care." Now we have it.

As we languish from the hardships of the journey toward the Promised Land, do we refuse the spiritual sustenance of the Eucharist by allowing it to become commonplace and therefore spiritually unsatisfying and "worthless"?

I find this reading from today´s liturgy eerily sermonic, as though God is still inviting a griping America to repentance on this day that will surely live in democratic infamy, even as He chastises us in our Lenten wilderness through it. Have we somehow traded the Eucharist, our true sustenance and care, for health care legislation that has fatally bitten us?

We have made our proverbial bed and will certainly lie in it. As the consequences of our sin inflame us, Jesus' blood cries out from the angry cross-pole that there is still mercy. Even now. Even after the bill is signed, and the tsunami of fatal consequences begins.

It could be that the health care serpent that has bitten us might also be used by the Great Physician to heal our land, if only we would acknowledge and confess our sin this Lent.
-----

Sonja Corbitt is a Catholic speaker, Scripture teacher and study author, and a contributing writer for Catholic Online. She is available to speak on the New Feminism, current events and your preferred theme. Visit her at www.pursuingthesummit.com for information and sample videos, or www.pursuingthesummit.blogspot.com.
---
Copyright 2015 - Distributed by THE CALIFORNIA NETWORK
Pope Francis Prayer Intentions for April 2016
Universal:
Small Farmers: That small farmers may receive a just reward for their precious labor.
Evangelization:
African Christians: That Christians in Africa may give witness to love and faith in Jesus Christ amid political-religious conflicts.
---
---
---

By Kenya Sinclair (CALIFORNIA NETWORK)
We all love to celebrate Easter with brightly colored hard boiled eggs, candy, cute pictures of bunnies and chicks and we all love to gather together to party! Regardless of how you celebrate Easter, don't forget the real reason for the holiday. LOS ANGELES, CA ... continue reading
---

By Marshall Connolly, Catholic Online (CALIFORNIA NETWORK)
The Easter Bunny is a symbol of Easter that is popular in western culture, especially with children. According to folklore, the Easter Bunny hides Easter eggs for children to find on Easter morning. However, the association between a rabbit and the resurrection of ... continue reading
---

By Kenya Sinclair (CALIFORNIA NETWORK)
On Easter Sunday, March 27, 2016, Pope Francis stood before pilgrims gathered at St. Peter's Square for the traditional Urbi et Orbi blessing. LOS ANGELES, CA (Catholic Online) - According to Vatican Radio, the pontiff stood before the packed square to speak of Jesus ... continue reading
---
By Alex Basile
Author Alex Basile reflects of the true meaning of the Resurrection of Christ and how many Christians overlook the real joy of Easter. In the haziness of the first Easter morning, Mary Magdalene made her way to tomb of her friend and teacher. Fighting back tears and ... continue reading
---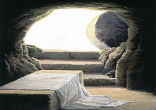 By Fr. James Farfaglia
With the resurrection of Jesus, the physical is exalted. When we truly believe in Jesus, we are resurrected in this life because we are freed from the fear and worry that are characteristic of a godless life; we are freed from the unhappiness of a life filled ... continue reading
---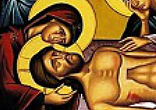 By Deacon Keith Fournier
Something strange is happening - there is a great silence on earth today, a great silence and stillness. The whole earth keeps silence because the King is asleep. The earth trembled and is still because God has fallen asleep in the flesh and he has raised up all ... continue reading
---
By Fr. Randy Sly
Just as the Chief Priests and Pharisees gathered with Pilate to plan on keeping the tomb sealed and guarded with Christ inside, many today want to place a stone in the entrance of the Church, to keep him inside again. On Holy Saturday we remember that no matter how ... continue reading
---

By Michael Terheyden
Pope Francis said something during his first general audience that inspired me to reflect on the suffering Jesus endured during his Passion for the sake of our redemption. He said, "Living Holy Week means increasingly entering into God's logic, the logic of the Cross. ... continue reading
---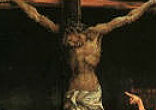 By Deacon Keith Fournier
Christ has flooded the universe with divine and sanctifying waves. For the thirsty, he sends a spring of living water from the wound, which the spear opened in His Side. From the wound in Christ's side has come forth the Church, and He has made her His Bride. ... continue reading
---

By Deacon Keith Fournier
"Beginning with the Easter Triduum as its source of light, the new age of the Resurrection fills the whole liturgical year with its brilliance. Gradually, on either side of this source, the year is transfigured by the liturgy" (Catechism of the Catholic Church) . ... continue reading
---
All Lent / Easter News