A Wake-Up Call - Angel Stories
By: Kathryn Adriano
Location: Sonora CA USA
In just a few days school would start, ending a summer of leisurely mornings and sleeping in. I asked my Guardian Angel to please help me get up earlier in order to "ween" myself into the new school year of 6:00 am risings.

The next morning I became vaguely aware of my female shepherd pounding my side of the bed with her chin, something she used to do when she had an urgent need to go out, but hadn't done for at least four or five years. In my still sleepy condition, I didn't respond and began to sink back into a deep sleep.

Suddenly, I heard my name called out loud. "Kathy," the voice called. I immediately opened my eyes, and, wide awake, looked at the clock. It was 9:00--two hours earlier than I had been used to getting up. My dog was still at my bedside, and as soon as I was up, she went out into the living room. I opened the door for her, thinking she needed to go out because of the way she had pounded my bed, but she just lay there calmly, on the rug.

I knew then that my Guardian Angel had awakened me with the help of my dog. The voice I had heard was clear but neither distinctly male nor female, and I can still hear my name, "Kathy...," being called out to me. My Angel was answering my prayer to begin getting up earlier in order to be ready for school. This was the best wake-up call I have ever received!




---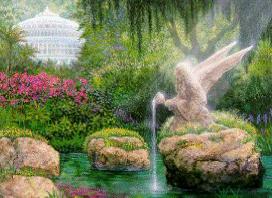 Some may never see with earthly eyes these heavenly beings or know that they exist. Many are unaware of the numerous ways they have protected and guided us. We would like to share with you the stories of people who take pleasure in expressing how real angels are.
---
More Saints
---
---
---
---
---
---
---
---
---
---
---
---
---
---
---
---