Needed Help - Angel Stories
By: Ralph M
Location: Surrey BC
My story starts off like any other day, my mother was having a ruff day, everything was going wrong. From the morning my mother was sick, went to work, picked me up from home, started to make dinner, and go to the library.


As I went into the car with my mother, it was very tense in it. I tried asking my mom what was wrong, but all she did was yell out all of her problems. I felt really bad for her because everyday she was like this. I prayed to God to help my mother in some way.


When we got to the library she was still in a angry mood. It was going to get worse... As we went back to the car in the parking lot, my mother drove over a concrete bumper in parking lots. She was furious, yelling, swearing, crying. I tried to calm her down but nothing worked.(she was always hitting the car into things) We tried to back up and go over the concrete bumper but we kept scratching the car's bottom. I was standing there as my mom was on her cell phone with my Dad crying and talking to him. And out of no where I hear a voice "oh wow" I turn around a man was standing behind me, I never saw one person at all in the parking lot before, and i didnt hear him walking. But I wasnt scared at all.


He told us to drive forward because the car's back is higher than the front, so we tried it. It worked. We thanked him alot for his help.


When my mother and I got into the car we looked around the parking lot to see the man who helped us, but he disappeared. In my mind I thanked God for that man, then I thought that could of been my prayer in action, God sent us a Angel to help us!


---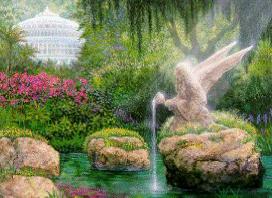 Some may never see with earthly eyes these heavenly beings or know that they exist. Many are unaware of the numerous ways they have protected and guided us. We would like to share with you the stories of people who take pleasure in expressing how real angels are.
---
More Saints
---
---
---
---
---
---
---
---
---
---
---
---
---
---
---
---
---
---