no title - Angel Stories
By: Christina Song
Location: Denver CO USA
When my mother was an infant, her father was taken from their home in South Korea during an invasion from the North. I have never seen my maternal grandfather or known anything about him but this. My grandmother was always a very strong and independent woman, having been a single mother and sole provider during a time and in a society where such a thing was unheard of.


Growing up, my grandmother lived with us but my brother was much closer to her, and sad to say, nicer to her than I. However, in times of need, I could always count on her to make me feel safe or peaceful. Her devout faith and warm spirit was my security.


Later in her life, she suffered several strokes, but still managed to be strong. Later still, as age and illness began to catch up to this remarkable woman, she finally had to stay (temporarily we hoped) at a nursing home. I wanted to visit her so she would know I loved her but it was too difficult to see her suffer and come to grips with the fact that she may leave us so I kept putting it off. One night, I dreamed I was in a forest and a distinguished-looking man dressed in old-style Korean clothing, riding a horse, stopped in my path and I knew it was my grandfather. He spoke in Korean, and I in English, but we understood eachother perfectly. He told me he was proud of me and I cried, trying to explain that he didn't know all the mistakes I've made in my life. He told me that he knew and it was okay and that everything would be all right.

The next morning, I told my mother about my dream. My grandmother's health was not improving and we all headed to see her. As I held my grandmother's hand, looking at her, I told her how sorry I was for not being closer to her and that I loved her. I hoped I would see a response but did not. The rest of my family made their visits as well but she hung on. Finally, just as the priest was finishing her final rites, she passed away.


I know it was my grandfather in my dream and that he came to me to help me cope with her passing. I had never lost a loved one before that day. I like to think he came for her too, to help her on her way to God. That night, I woke up in the middle of the night, feeling strangely rested. As I walked down the hall, I smelled the most beautiful, sweetest smelling flowers I have ever smelled. I think it was my grandma, letting me know she will always be my guardian angel.


---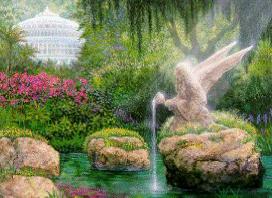 Some may never see with earthly eyes these heavenly beings or know that they exist. Many are unaware of the numerous ways they have protected and guided us. We would like to share with you the stories of people who take pleasure in expressing how real angels are.
---
More Saints
---
---
---
---
---
---
---
---
---
---
---
---
---
---
---
---
---
---