My Grandmother's Grave - Angel Stories
By: Michelle Brylowska
Location: Epsom Surrey United Kingdom
The past year has been a tough one - my father passed away very suddenly from lung cancer on the 11th June 2005 and then my grandmother (my dads mum) passed away six months later on the 19th December 2005 and then my great uncle Tom passed way on 4th February 2006.
A week before Tom passed away myself,my young daughter and my husband witnessed our bedroom being filled with a bright white light that shone in from the left hand and then the right hand side of our bedroom window.We immediately ran to look out of the window to see where the light was coming from but there was nothing there.I can only describe it as 2balls of light that seemed to burst light into our bedroom.On Saturday 5th August 2006 Myself, husband David, my daughter Mia and my mum Ellen were in Ireland staying with my aunt and uncle (my uncle being my dad's brother) we went to visit my granny's grave and I took a picture of her headstone on my mobile phone.When I looked st the picture on my phone I couldn't believe what I was seeing: there was a bright red light over granny's grave and in the top right hand corner a bright white light with a definite figure of an angel - you can see an outline of the wings and then it fades a bit but in my mind there is no doubt that I have an angel in my photograph and this has filled me with comfort,love,peace and I have strong beliefs anyway but this confirms everything to me!




---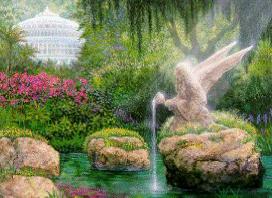 Some may never see with earthly eyes these heavenly beings or know that they exist. Many are unaware of the numerous ways they have protected and guided us. We would like to share with you the stories of people who take pleasure in expressing how real angels are.
---
More Saints
---
---
---
---
---
---
---
---
---
---
---
---
---
---
---
---
---
---