I believe - Angel Stories
By: Samantha Wynkoop
Location: lancaster Ohio USA
My parents and I never had what you would call a loving relationship. The older I got the more my mom singled me out from my brother and sisters; yelling, constantly berating me, and eventually it moved on to the point where she would hit me. I could never understand why she hated me, and she made no secret of it...in fact she told me often she never wanted me. Two weeks after I graduated from high school it got to the point where my mother beat me up so badly and got so out of control that I left home. I had no money, car, job, clothes. And she told me if I ever told anyone how i got battered she'd make me sorry. It's so hard for anyone to imagine what it's like to have nothing...no self-esteem, and no hope. I got a job that paid minimum wage and moved in with my boyfriends family. They're great people, but still became leery around me, like they no longer knew how to act when i was around. I became really depressed, and started thinking....nobody wants me....I'!
m taking up space and this is so hard to get up everyday and try to keep going.
I went to work one day, the store I worked in was small, only one person was scheduled per shift. So I was alone and thinking some very scary thoughts about ending my life...This little old lady walked in and looked around, but I could see she was staring at me, it was a bit un-nerving. I was standing there staring off into space and thinking depressing thoughts, not really paying too much attention to her when she walked right up and took my hand. I was too surprised to jerk my hand away...i'd reached the point where i didn't want anyone to touch me. She looked me right in the eye with the most direct gaze anyone has ever leveled at me and said 'your a good girl and you are loved, it's going to be okay'. I broke down and cried.
When I got myself under control again the old lady was gone...the thing is there was a little bell above the door so whenever anyone went in or out it rang really loudly. I never saw, or heard her leave....all I know is that this woman saved my life. I am completly convinced that she was my guardian angel.

---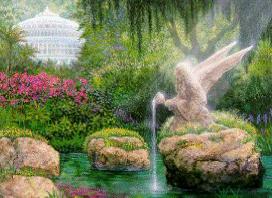 Some may never see with earthly eyes these heavenly beings or know that they exist. Many are unaware of the numerous ways they have protected and guided us. We would like to share with you the stories of people who take pleasure in expressing how real angels are.
---
More Saints
---
---
---
---
---
---
---
---
---
---
---
---
---
---
---
---