Long lost uncle - Angel Stories
By: Nicolette Karczewski
Location: valencia Ca USA
Two years and half years ago, my grandma died and one of her sisters was speaking to my mother about how sad she was losing a sister and reflected on her long lost son whom she had not seen in 37 years. My mother told her that - she will find her long lost son for her.


We moved to southern California from Nothern California and my parents bought an auto repair shop. Two and a half years later from my mom's conversation to her aunt ....a man wanted to get his oil changed. he gave my mother his address, telephone and work number. His work was 30 minutes north of my parents shop and his work was 35 minutes north west from the shop. My mother was surprised why he would travel so far to get an oil change when there are closer auto repair shops from his home and work. She asked him, Why was he here? He replied, Something told me to get an oil change and I ended up here" Then my mother asked him if he was from the Philippines and he said yes, from the city of Batangas. A lightbulb came upon my mother, she remembered that her long lost cousin's father was from that same city. She asked this customer, if there were any way to look up her cousin's name in a directory. He said that his sister still lives there. The next morning, he called my mother and asked her if she new if the father's name was Teddy Quintana. My mother answered YES! Apparently, his sister's husband was best friends with my uncle's father but he died 4 years ago. She asked this customer if they knew where her cousin Eric was. The following morning she received a text cellular message from her cousin. To confirm that he was truly her cousin she asked him his birthdate since it's on the same date as hers. She then called her aunt and said that she kind of found her long lost son. That she had to move from Northern California to southern California, buy the Auto Repair Shop, had a customer walk in from miles away who had a direct connection to her long lost son. God heard my mom and great aunt's prayers and my long lost uncle will finally be together with his mom. My family and I thank God each day for giving us a miracle.


---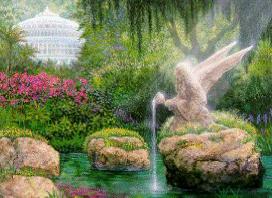 Some may never see with earthly eyes these heavenly beings or know that they exist. Many are unaware of the numerous ways they have protected and guided us. We would like to share with you the stories of people who take pleasure in expressing how real angels are.
---
More Saints
---
---
---
---
---
---
---
---
---
---
---
---
---
---
---
---
---
---