Protection from an Assailant - Angel Stories
By: Jill Winther
Location: hopkins mn USA
I was shopping in a local convient store. I just stopped in to get a few items. My girlfriend waited in the car. As i stood at the counter paying for my things, a man,obviously under the influence of drugs, came charging at me. I pushed the man away and he fell on the floor. He began to get up. There was a huge and tall man at another cash register. The man had a cast on his left leg from his ankle to his thigh. (i still don't know why). He came over and picked up my assailant off the floor, carried him to the door and threw him out. The assailant jumped up and ran to his vehicle. I went to the man who was now sitting in his car, to thank him. He didn't speak one word to me. But, he followed my girlfriend and I as we drove away from the store, and up to the main highway nearby, to be sure we were safe.


A few days later a policeman came to my house to ask me to identify a photo. I told him the story of what happened and of the man who tossed the assailant out the window. He said "what man?" Again I told him about the man and what he had done. The police officer told me that there was no man on the security tape during the time of the assault. I insisted there was, but the security tape only showed the assailant falling when i push him away, and scrambling off the floor and running for the door. That big, tall man was not on the tape.


When I told my girlfriend who had been waiting in the car for me what the officer had said, she looked at me shocked. She said, "I saw him. He was there. In unison we both said, "it was an angel." I don't doubt it to this day. He came to protect me from harm.


---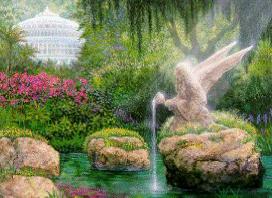 Some may never see with earthly eyes these heavenly beings or know that they exist. Many are unaware of the numerous ways they have protected and guided us. We would like to share with you the stories of people who take pleasure in expressing how real angels are.
---
More Saints
---
---
---
---
---
---
---
---
---
---
---
---
---
---
---
---
---
---