our angels - Angel Stories
By: Kellie purser
Location: LaFayette GA USA
On feb 8, 2001 I was admited to the hospital for premature labor with toxemia and preclampsia. I was not due until May 8 2001. The doctors were very woried that me and the baby would not make it. I was one of the worst cases they have ever had. I was told i would been completly bed rested in the hospital for the next two months. On feb 9, 2001 i was rushed to the next closes hospital that deals with leval 3 nursery in the nicu. At this time the toxemia had set in so bad that I could not see and could not go the bathroom anymore. The nurses then started meds. to help me go in to labor but yet relax me. They told my faimly that they did not exspect both of us to make it. There was more hope for the baby than me. With in the next 24 hours I could not diolate. My body was shutting down. I was on alot of meds to keep me and the baby going. On the night of feb 10 2001, i was buning up with a high temp and was told the baby had to come out the next morning. At this time i was on a magor muscel relaxer that made me have hot flashes. I ask my friend that was there with me to open the window. It was 20 degress out side. Oh it felt good to have cold air come on me. At the same time as the window open four people walked very gracefully to me (from out side of the window) it is almost as if they floated to me. the room went from being very small to a huge white room filled with people. It was weird they all had a glow but i was not scared anymore. Too of the people i remember to this day what they looked like and what they said. I remember evey detail. As I was talking to them my friend got scared and went to get the nurses. As they were walking in i was shaking the mans hand. But I don't recall what my friend and the nurses said to me or even being there. The nurse shut the window and the people were gone. These people i belive were angels sent here to help me and my son. The man told me what i was to name my son and that we would have a hard first years but we would get through it.!
Boy was he right. That next morning i went in to emergencey surgery. the doctors did not want me to be awake, but i refused to be put to sleep. Andrew was born on feb 11 2001. He weighed 3lbs. 6ozs. He had very little heath problems at all. That shocked the doctors. I stated to get better and with in three days i went home. They exspected me to be there a long time. It is like someone came and took all the problems away. We were the talk of the town. My son was the mirical baby he went home on march 3 2001. to this day i look to see if they are around. with my second child i exspected to see them but i did not see them i senced they were there. I never got to know my grandparents befor they died alot of people think it was them. I don't know but what i seen and felt was amazing...

---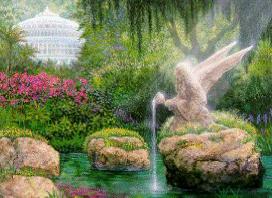 Some may never see with earthly eyes these heavenly beings or know that they exist. Many are unaware of the numerous ways they have protected and guided us. We would like to share with you the stories of people who take pleasure in expressing how real angels are.
---
More Saints
---
---
---
---
---
---
---
---
---
---
---
---
---
---
---
---
---
---