My babyboy Angel - Angel Stories
By: Yessenia Rivera
Location: Del Rey CA USA
My story is somewhat similar to the story that I just read: My son; My angel, by L. Longobucco.

I also lost my baby boy at birth. It was our very first child and we were all so excited. He was also my huband's parents' and my parents' first grandkid, so as you can all imagine everyone was very anxious about having my little boy around.

During the first few months, everything went fine. We were getting ready to have my baby. Something inside me told me that it was going to be a boy before the doctor even told us. And sure enough that's what it was.

It wasn't until when I was about 7 months pregnant that eveything got complicated. One night, I started having small abdominal pains and I was rushed to the hospital. I had a bad infection in my blood and the doctor told me that I hardly had any amniotic fluid. He said that there was very little probability of my baby to survive. I was taken in to surgery, but since I have a slight back problem, I was completely put to sleep so I couldn't see when my baby was born. When I woke up from the surgery, my mom told me that my baby was still alive and that doctors were doing everything they could to help him survive. I wanted to get up and see my baby but I had a really low blood pressure.

The whole rest of the day and night went by and I couldn't get up to see my boy. Finally, the next day came by and I was feeling so much better and excited to see my baby when the doctor came in and gave me the worst news I've ever received in my life. My baby boy had just died. I wasn't allowed to see him and I still don't know why. Doctors said that it would be worst for me if I did and that I'd probably fall into a deeper depression. I asked my mom to take a picture of my little angel for me and she said she would.

Time went by, and it was so hard for me to face the fact that I would never be able to hold my baby in my arms. Then one day, I asked my mom to see the pictures and to my surprise she said that the pictures didn't come out. She said that when she took pictures of my baby boy, he was laying under an image of god that was hanging on the wall over him. On the pictures and on the negatives, all you can see is part of that image but not my son. It was hard for me at first but then I realized that maybe that's the way god wanted things to be and I had to accept it.

I know I have a little angel and maybe that's why I couldn't see him. He doesn't want me to yet and I'll have to wait until he's ready. My biggest dream in life is to one day see my baby and hold him tight!


---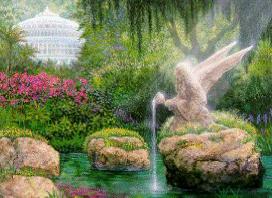 Some may never see with earthly eyes these heavenly beings or know that they exist. Many are unaware of the numerous ways they have protected and guided us. We would like to share with you the stories of people who take pleasure in expressing how real angels are.
---
More Saints
---
---
---
---
---
---
---
---
---
---
---
---
---
---
---
---
---
---