Almost Hit by a Trailer - Angel Stories
By: Judith G.
This story happened a few years ago back in the 90's when I was in college. My mother is a pious woman. She always remind us that a prayerful person will be shielded by God from all evil around us. I am not really a religious type of person but I had given it a thought and made it a habit of saying a little prayer each time I travel.

So, this weird thing happened to me one afternoon as I was bound to go home from school. I just got out of the campus and as I was walking, I thanked God in advance for protecting me. At the back of my mind, I said to Him that I don't know if I'll ever get to see a miracle in my lifetime by praying to Him but I totally submitted myself to His care. I was a few feet from the highway when I saw the traffic light's signal was on a yellow light. I hurried up to get to the other side of the highway. Not far from my left, there was a big trailer just waiting for the traffic light to turn green on their side.I was really determined to run and beat the red light, so to speak, because I wanted to go home early that day. As the traffic light turned red and I was about to run with my feet to the other end, that's when I got the surprise of my life. I couldn't move both of my feet from where I was standing as if an unknown hands where keeping me from moving. Literary, I froze there standing, and the people around me didn't have the slightest idea I was having trouble with my feet! As the big trailer passed by me, chills got into my spine because I was just a few inches away from that big truck. I got scared and told myself I wanted to move backward. That's the only time I was able to move my feet! I felt weak as I slowly stepped backward. I was shocked that I almost got hit by a trailer and at the same time, I was amazed that an unknown force had saved my life. It must be God or my guardian angel who has rescued me.

This experience, is very moving indeed, befitting of a miracle. Deep in my heart I always knew that there is a God in Heaven who always care... A guardian angel who always stays with us whenever we need help. Whenever I remember this incident, I can't help but thank God. Truly, to God, nothing is Impossible.

Glory to God in the Highest!

---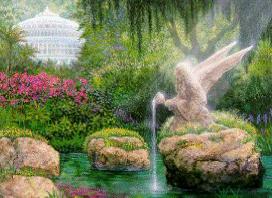 Some may never see with earthly eyes these heavenly beings or know that they exist. Many are unaware of the numerous ways they have protected and guided us. We would like to share with you the stories of people who take pleasure in expressing how real angels are.
---
More Saints
---
---
---
---
---
---
---
---
---
---
---
---
---
---
---
---
---
---