You Should Watch - Angel Stories
By: Christian Duguay
Location: Los Angeles CA USA
When I was nine years old, I lived in the Arizona desert. On walks home from my bus stop, I would cut through a field of cactus and dry brush, and think about God and Heaven. I didn't grow up in a religious family and we never talked about God, but I always knew He was there. There was never any doubt.


As I grew older, however, I fell away from my talks with God, and I stopped my prayers. My faith waned and my heart hardened with the wrong groups of kids and sinful desires.


But, my faith is back now. One thing that always helps bring me back, when I have a weakness of faith, is something that happened during one afternoon walk through the desert. As I wandered along a narrow path through some olive trees and sage brush , a little voice in my head said, "You should watch for snakes." This voice was not a thought. We all know the pattern of our own thoughts. We recognize them as being self-generated. But this voice was not mine. I looked down to see a long rattlesnake stretched out, directly in my path, warming itself in the hot sun. I froze, terrified. For a long moment I couldn't move - scared of the snake, but also petrified that something had just spoken to me.


One could call it a coincidence. People who walk through the desert are always watching out for snakes - this just happened to be an instance when there was one lying in my path. Here's the thing: It happen a split second before I stepped on it. The voice was not mine. I believe it was an angel. I will always be grateful to the angel who spoke to me. Not just for the safety he or she provided me at that moment, but for the faith that moment has instilled in me. And there is meaning in that warning: "You should watch out for snakes."


Indeed, we should watch out for them, and we should watch out not to let ourselves become one.


---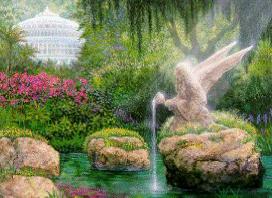 Some may never see with earthly eyes these heavenly beings or know that they exist. Many are unaware of the numerous ways they have protected and guided us. We would like to share with you the stories of people who take pleasure in expressing how real angels are.
---
More Saints
---
---
---
---
---
---
---
---
---
---
---
---
---
---
---
---
---
---