They came to take him home - Angel Stories
By: Elizabeth Conner-Ster
Location: Aviano Italy
My grandfather was sitting in his usual chair that night. My grandma was in the living room, watching her telivison program. It was late, and they would be getting ready to go to bed. My grandfather, who we called Ba, got up to go to the door. He looked out the window, and there was no one there. He sat back down, and continued to sit and do whatever he was doing. A few minutes later, he got up again, walked to the door, looked out the window and there was again no one there. He went to go sit back down.

Then he got up and went back to the door for the last time. He got up to go to the door, and as he turned around he fell to the ground.

The doctor said he died of a heart attack, perhaps a stroke. But the rest of us know, that it was the angels who came to get him and bring him home.
He knew they were comming, thats why he kept getting up, waiting for them. He would have let them in, and instead he let himself go with them.

Sixteen months later, he came to get my grandma. She had woke up in the morning, made herself breakfast and sat down to watch the morning news. She nodded off to sleep and met her husband of 58 years.



---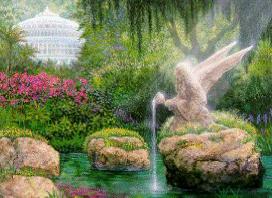 Some may never see with earthly eyes these heavenly beings or know that they exist. Many are unaware of the numerous ways they have protected and guided us. We would like to share with you the stories of people who take pleasure in expressing how real angels are.
---
More Saints
---
---
---
---
---
---
---
---
---
---
---
---
---
---
---
---
---
---