Angel in Waiting - Angel Stories
By: Mike Seddon
Location: Portsmouth Hampshire UK
As a child, I was brought up in quite a religious family though not Catholic. My grandparents did most of my upbringing as my parents had a rocky marriage. When I was 6 yrs old, my uncle who was only two years older than me, drowned in a local swimming pool. Though he was scrictly my uncle, he was for all intents and purposes more like an older brother. I was devastated. As I grew older, I became more and more interested in Jesus and I was drawn to more gentle ways of living. At 18 years old, I left home to train as an RN and during a night shift, I kept getting an uncomfortable feeling, like I had forgotten something important. I also could smell chlorine though I couldnt find the source of it. I was caring for a mature lady who was at the last stage of her life, she was dying alone and her family rarely visited. I felt a strong bond with her. I went to get a bowl of warm water to wash her hands and face but when I had returned, I found the lady had slipped!
away. As tradition dictated back then, I opened a window in her room (I think we thought it let the soul out of the building!). As I looked out of the window, I saw a tall woman standing on the lawn outside, she was glowing with golden light and was looking up at the window, right at me and smiling. At that moment, I knew what the chlorine smell was, I could sense my uncle, I was smelling the chlorine used in swimming pools. I looked back at the lady who had passed away and then back to the glowing woman outside but she had vanished and unless she was an olympic runner, she couldn't have got far but she was nowhere to be seen. I soon met my future wife who was Catholic and I converted, we married and have two fantastic daughters. My wife knows the story about the glowing lady I saw and she believes I saw an Angel who was waiting for the woman who had died and she also thinks my uncle's presence was there to stop me being afraid of what I was witnessing. What ever it was, Im grateful I saw it and the glowing lady's image is so strong still, after 20 years, that I can almost see her anytime I think of her. Angel or not, I'm convinced!

---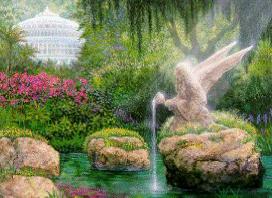 Some may never see with earthly eyes these heavenly beings or know that they exist. Many are unaware of the numerous ways they have protected and guided us. We would like to share with you the stories of people who take pleasure in expressing how real angels are.
---
More Saints
---
---
---
---
---
---
---
---
---
---
---
---
---
---
---
---
---
---