Dad - Angel Stories
By: Kathy Armstrong Alegria
My father's death in 1990 was a total shock to me. It was also the first death in my immediate family. The day my dad passed away, Ifelt it would be nice to stay at my mom's house to keep her company and help her out in her sorrow.

That night, I went to bed in her room, quite early. I was sobbing. Suddenly I felt a wonderful, warm and peaceful feeling that I could not describe enough.

I believe that an angel was letting me know that things were fine and not to worry.

I have not had that wonderful feeling again.
---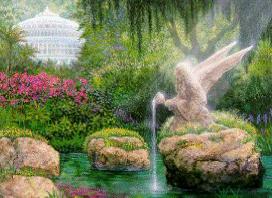 Some may never see with earthly eyes these heavenly beings or know that they exist. Many are unaware of the numerous ways they have protected and guided us. We would like to share with you the stories of people who take pleasure in expressing how real angels are.
---
More Saints
---
---
---
---
---
---
---
---
---
---
---
---
---
---
---
---
---