SARAH - Angel Stories
By: Colleen Ferguson
It was March 2009 when I was laying on my bed praying to Jesus. After my prayer time I felt the need to give my daughter to Jesus. I visualized my daughter and myself walking together. I was taking Sarah to an angel. I envisioned the Angel with wings but as soon as I handed my daughter over to the angel to my surprise the wings dropped to the ground!I watched as my daughter and the angel walked away together arm in arm. I opened my eyes and my eyes began to weep. I then said to Jesus not soon lord not soon that you are going to have my daughter.

In July this I was visiting family in Newcastle near Sydney. On the 6th July 2009 I walked to the local shops as usual and after crossing the road and walking a little way on the shops side walk and thinking about what shop I was going to visit first I noticed a transparent white cloud surrounding me. I continued walking and thinking isn't this strange i'm not walking out of it. I stopped and took my glasses off thinking that they may have been fogged up, I looked around me and the cloud was still there.I stood still and looked up and around again. My first thought was Sarah. I then dismissed this thought and continued walking on the sidewalk within the cloud until it suddenly disappeared.I had a feeling of extreme joy afterward and was walking tall.

I returned to home after the shopping and told my cousin what had happened.And said i don't know what it means but i feel really good. One hour later I received a call from my Sisters husband he told me he had bad news. I replied is it about Dad ( he's 83) the reply was no and could he talk to my cousin. I handed the phone over to him and went into the bedroom and sat on the bed. I knew at this point that it was regarding my daughter.And i thought back to the cloud that surrounded me 1 hour earlier. I believe an angel bought my daughter to me as she wanted to see me before she left.

I caught a flight home and made preparations for the funeral. I was standing out the front of my home disposing of a bag of rubbish in the bin. I felt an isolated pressure on my back near close to the right lower shoulder blade. I didn't thing much of it, (the pressure gave no pain but was like something touching me on the outside) but the pressure became more intense and pressed further to the inside of my body. I realized then that i was touched by God.

During the Funeral. Many were crying. I did not cry and i was filled with peace and grace with an as-surety that my daughter was with Jesus.

After the funeral some people said to me how could i stand up there during the lighting of the candles and not weep. I said that the Lord is with me. A man came over to me and said that i was an inspiration to other women. I replied that it is God in me that is inspirational.
---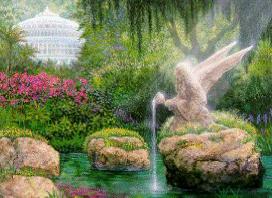 Some may never see with earthly eyes these heavenly beings or know that they exist. Many are unaware of the numerous ways they have protected and guided us. We would like to share with you the stories of people who take pleasure in expressing how real angels are.
---
More Saints
---
---
---
---
---
---
---
---
---
---
---
---
---
---
---
---
---
---