Out Of The Woods - Angel Stories
By: Carol Ross
Growing up a city girl, the only experience I had with woods and Forrest, was a few camping trips in authorized zones of a national forest. I never wandered far from the camp site in fear of getting lost as I seem to have absolutely no sense of direction and GPS systems were an idea several years into the future.

Upon moving with my husband and son to the slower paced, tree covered, state of northeast Oklahoma, I decided I wanted to explore the beauty of surrounding states. One long weekend, I decided to take a trip to Memphis, Tennessee with my son. I had gotten vague directions from a friend on how to head east and find this enchanting city. Getting there was no problem. My problems arose upon my return trip.

It seems rather easy at the time; just reverse the outbound directions to get back home. Well for this theory to work you need to have some sense of direction, which I have already indicated, I do not. I seem to have taken the wrong exit somewhere around Little Rock, Arkansas. I seemed to be heading south rather than west. The sun was slowly disappearing and my anxiety was growing. After a few hours, nothing seemed familiar to me like city names I had noticed when traveling on the first leg of my adventure. Pretty soon, it was dark and I was lost in the dense woods not even sure what state I was driving thru. It was so very dark and no signs in sight of any upcoming towns. My son was asleep in the passenger and being only eight years old, there was no sense of waking him for reassurance on my part. Looking down at the gas gage, I noticed I was getting pretty low on gas too. Feeling the panic beginning to overtake my mind and body, I was starting to freak out. It was at this point; I threw my hands and arms up off the steering wheel and said, "Lord, I am in your hands. Please help me".

A calming sensation came over my entire being. I kept driving and repeating my plea for assistance. About maybe 20 minutes later, I noticed some lights. Hooray I thought. I have finally found a city. Well, not exactly, what appeared out of nowhere was a little cabin like dwelling with what looked like one gas pump standing in front. It was now 2AM and I was astonished the place was open. Pulling up in front of the cabin, I woke up my son and we headed inside. There I saw a lady behind a counter talking with an older man, dressed in a torn, dirty tee shirt and jeans as if he had just come off a working shift in a coal mine or something like that. His shoes were pretty worn out too. I didn't seem to be afraid of him and walked up to the counter. I told the lady I was lost and asked for directions to my town. None to my surprise, the lady was not familiar with the town I was speaking about. I then mentioned the large city of Joplin, Missouri. If I could get to Joplin, I could find my way home. Again, I got a blank stare. Feeling my heart begin to sink, the tattered man looked at me, smiled and said, "I can help you". He then proceeded to pull out an old map and pointed to where my destination was. I said yes that is where I am headed. He then told me I was closer than I thought and to travel on the same road I had been on for hours for another 10.7 miles before coming to a fork in the road. I was to take the right hand fork and stay on that road for another 3.5 miles. At that point, I would see a bridge called Sailboat Bridge. Sailboat Bridge I yelled....I work next to Sailboat Bridge. From that point on, I would know how to get home. I thanked the man and offered him some of the few dollars I had left in my wallet. He said no, smiled and went outside. I then walked over to the one and only gas pump located at this cabin and pumped my fuel. The price per gallon wheel did not seem to work but I could feel the gas going into my tank. I went back inside and asked the lady what I owed her for the gas. She looked at her register and told me the gauge was also broken so $5 would do just fine. After leaving the cabin I headed home following the old man's exact, to the tenth of mile directions. He was spot on.

The following day at work, I was telling my co-worker of my adventure. She asked where on earth I found this cabin. I tried telling her as best I could but she said there was nothing in that direction for several miles and certainly nothing that would stay open all night way out in the woods. I let it go, knowing my lack of directions and just stated I was grateful to falling upon the place.

A short time later that day, I was looking out my office window and saw a cloud in the shape of an angel slowly drifting by. My being was filled with calm and my cry for help was answered and I was blessed with the angel I had requested for help.

Ask and you shall receive.

---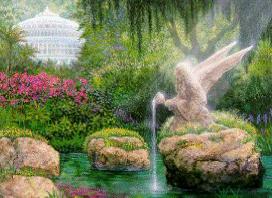 Some may never see with earthly eyes these heavenly beings or know that they exist. Many are unaware of the numerous ways they have protected and guided us. We would like to share with you the stories of people who take pleasure in expressing how real angels are.
---
More Saints
---
---
---
---
---
---
---
---
---
---
---
---
---
---
---
---
---
---