While in France. - Angel Stories
By: Nita C. Hicks
In 1992 I was in Boulogne-Billancourt, France. I was there to visit my dying sister. Sis was married to a Frenchman. I had been saying the Rosary every day praying for sis's healing and restoration to God. I had used my sons small college fund to take my handicapped elderly mother to say goodbye to sis. The first time mom and I went to be with her while she had chemo, we got lost trying to take a city bus to her hospital. That bus driver let us off at the wrong stop. We were left out in the country, in a tiny suburb of Paris. Not in the town where we were suppose to be. We walked for many miles in the August heat. Mom with her crippled arthritic legs and cane. And me practically in tears. We wandered about, until a taxi stopped and asked where we were going. We told him, and he took us there. By then we were exhausted, hot, thirsty, ill. We went in to see sis. And the shock of seeing her attached to the chemo was a finishing blow to mom. As soon as we left sis, and went to wait in the lobby, mom warned me she was going to pass out. I hurried over to the French receptionist, and tried to tell her what was happening to mom. Just then everyone started yelling in French. I looked at mom and she had passed out. I ran over to her. By the time I got to her a tall, slender, black haired man, in an exquisite black suit just took charge of the situation. He started speaking orders in French. Everyone obeyed him, and it was all handled quietly and peacefully. Mom came to and they gave her water and wiped her head. Everyone became quiet and peaceful. Order was restored. Mom was going to be fine. Everyone was chatting on in French. So I wanted to thank the young doctor who helped mom. He had disappeared in the crowd. So I asked the receptionist about the doctor, she said she thought he was my husband! I said no. She did not know who he was. He was not one of their doctors. I asked around. No one knew who he was.
When we went to the Louve a few days later, in some of the paintings, were angels, who looked identicle to the young "doctor". Except for the clothing. I have prayed about it. And the answer I keep getting, is that it was an angel assigned to help us through our ordeal in France, to protect my mom, so her burden would not be too great for her to handle. Sis died one year later in France. Her husband allowed my mom to send for sis's body so mom and sis are buried next to where I will be buried, in Oklahoma.
---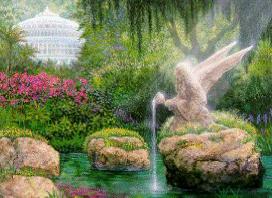 Some may never see with earthly eyes these heavenly beings or know that they exist. Many are unaware of the numerous ways they have protected and guided us. We would like to share with you the stories of people who take pleasure in expressing how real angels are.
---
More Saints
---
---
---
---
---
---
---
---
---
---
---
---
---
---
---
---
---