The Blessed Mother in a dream - Angel Stories
By: D. Mather CA
A while back, maybe a year ago, my mother was so excited to tell my dad and me about her dream the previous night. She got us all pumped up so we all gathered on the couch once everyone was awake and listening. She was so stunned at first that she wouldn't tell us until we nagged her to spit it out. She said that in her dream she stood next to the Blessed Mother and the Blessed Mother was showing her something similar to a slideshow except the images where just there, not really solid, or even projected. Anyway, the images she was seeing were like 150 different images of Mary. Such as Our Lady of Prepetual Sorrows, Our Lady of Fatima, Mary Mother of God, etc. With each image of Mary, she would tell my mom her name in the current image and have my mom repeat its name over and over, "Our Lady of Guadalupe, Our Lady of Guadalupe, Our Lady of Guadalupe." After my mom had gone through the whole "slideshow" she said she woke up, but she had forgotten all the names she had tried so hard to memorize, except for the ones she had known prior to the dream.
It's simple, I know. But it's still something which can be a gift from God. I DO believe in angels, I DO believe in signs and visions and miracles, but most importantly, I DO belive in God the Father Almighty. God bless you and your family...









---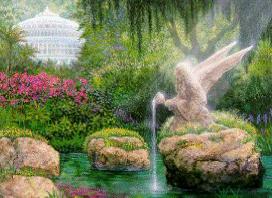 Some may never see with earthly eyes these heavenly beings or know that they exist. Many are unaware of the numerous ways they have protected and guided us. We would like to share with you the stories of people who take pleasure in expressing how real angels are.
---
More Saints
---
---
---
---
---
---
---
---
---
---
---
---
---
---
---
---
---
---