Saved By An Angel - Angel Stories
By: Lisa
When I was around 10 years old my best friend (my Bobbsey Twin since we looked so much alike) and myself decided to go for a bike ride to a park near her home. I did not have my bike with me and used my friends' younger sisters bike instead. Before we left the house my friend's mother tried unsuccessfully to raise the seat so it would be easier for me to ride. No such luck. That seat wouldn't move. We left anyway and after a few hours decided to head home. The street we headed down had a deep incline and I was hesitant to go (helmet laws were not in place and neither one of us had one on). I heard a little voice inside my head saying "don't go." I did not listen to that voice and proceeded to follow my friend. Within less than a minute I was thrown from the bike onto the ground. I briefly lost conciousness and when I woke up I could tell I was hurt pretty badly. A trip to the emergency room revealed something else. Despite the fact that I was not wearing a helmet I had no head injury. No broken bones or sprains either. My injuries consisted of two scraped knees, two scraped elbows, a scraped chin and my front tooth was chipped in half (the dentist fixed that later).
I remember most of the accident like I was behind myself witnessing it. I saw that I was heading for trouble and I remember the bicycle seat jerking toward the left side. I remember thinking how I ruined my friend's sisters bike. Strangely enough the bike seat was intact. It hadn't moved an inch.
I firmly believe an angel was watching over me that day, protecting me. I am forever grateful.
---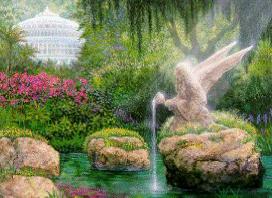 Some may never see with earthly eyes these heavenly beings or know that they exist. Many are unaware of the numerous ways they have protected and guided us. We would like to share with you the stories of people who take pleasure in expressing how real angels are.
---
More Saints
---
---
---
---
---
---
---
---
---
---
---
---
---
---
---
---
---
---