Healing in His Wings - Angel Stories
By: Lisa Twilley
Late one night my husband woke up sick. He had terrible stomach pains. I immediately began to pray for him. At first I was praying to myself then I began praying out loud. When I started praying out loud my husband began repeating what I was praying. I would pray a sentence then he would repeat what I just prayed. This went on for quite a while. Finally, I stopped praying, and right then I saw the most beutiful thing I have ever seen in my life. An angel was floating over our bed. There was an open sky behind him and beams of light shooting out from behind him. I could not see a face but the wings were very clear. White as snow with every color of the rainbow at the tips of the wings. These colors were twinkling like Christmas lights.
The angel just floated there for a few seconds and then lowered over me and dissapeared. I was so overwhelmed I could not speak for a few minutes. Of course my husbad received a healing that night. Praise God!!!
---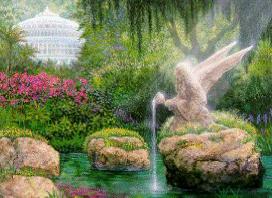 Some may never see with earthly eyes these heavenly beings or know that they exist. Many are unaware of the numerous ways they have protected and guided us. We would like to share with you the stories of people who take pleasure in expressing how real angels are.
---
More Saints
---
---
---
---
---
---
---
---
---
---
---
---
---
---
---
---
---
---